Online Articles: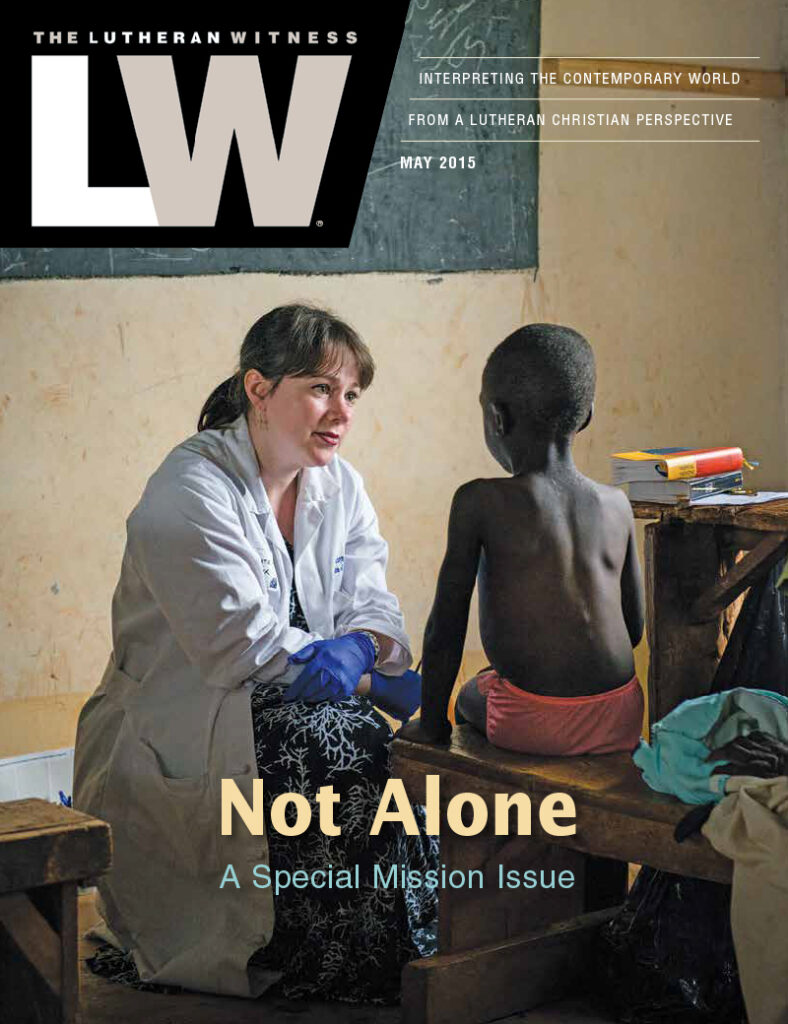 From the editor
The Lutheran Witness — May 2015
A different language. New food. Loneliness. The challenges our LCMS missionaries face as they take up mission work are plentiful, but greater still are the joys: sharing Christ's Gospel, assisting partner churches in training their indigenous pastors and learning alongside fellow Christians in new countries.
In this special mission issue of The Lutheran Witness, I invite you to meet your LCMS missionaries, to see their faces and get a glimpse into how God is at work through them, to hear their stories and to pray for them. From deaconesses serving in the Dominican Republic to husbands and wives teaching the faith in Taiwan to theological educators in Africa, LCMS men and women are faithfully bearing witness to Christ to the ends of the earth. And we give thanks to God for that!
Additionally, in "Signs of Christ's Care," Paula Schlueter Ross shares the exciting news that 16 new career missionaries are ready to be sent out into the field, while the Rev. David Preus, one of those new missionaries who recently accepted a call to serve in the Dominican Republic, explains what missionary orientation training taught him and his family in "Why Go There?"
"Support and Nurture," by the Rev. Dr. Albert B. Collver, tells the story of the Lutheran Church of Norway who seeks to remain faithful to Christ in the midst of pressure to do otherwise. "Mission and Ministry Mash Up" by the Rev. Dr. Lucas Woodford and the Rev. Dr. Harold Senkbeil encourages Christians to remember that in this fast-changing world, "the real challenge is not to contextualize the Gospel, but to textualize people." Finally, we hear about "Lutheran Churches—Lutheran Missions" from one of the greatest theologians and missiologists of the twentieth century, Friedrich Hopf, whose translated work outlines the basic, biblical and long-held principles of Lutheran mission work.
And there's one more thing that causes us to give thanks: As this magazine goes press, the Board for International Mission has called 105 career missionaries, more than half of the goal set by the 2013 Synod in convention (Res. 1-11) to double the number of career missionaries, then at 68. It's an exciting time in the LCMS, and it's our hope that, within these pages, you also find joy in meeting your LCMS missionaries — career or short-term, lay member or church worker — the ones through whom our Lord is caring for His children around the world. And as you see their faces and hear how they are serving Christ and their neighbor, please pray for them as they experience different languages, new food and loneliness, but greater still, as they live in and by Christ's love and forgiveness, which knows all languages and no bounds.
Go to www.cph.org/witness to subscribe to the magazine, and Like the magazine at www.facebook.com/thelutheranwitness to receive daily updates.
Adriane Heins, Managing Editor
The Lutheran Witness