Online Stories:
From the editor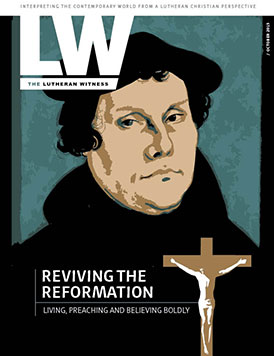 For too many of us, the extent of our Martin Luther knowledge begins with his thunderstorm-on-the-road experience and ends at his infamous phrase, "Here I stand." But with the 500th anniversary of the Lutheran Reformation fast approaching in 2017, it's time to bone up!
In this issue of The Lutheran Witness, you'll hear more about Luther the man, the way he pointed to Jesus and what ultimately led him to post the 95 Theses on the door of Wittenberg's Castle Church. You'll discover how to confess the faith boldly, what indulgences actually were and why Luther was a passionate yet pastoral defender of the Gospel.
You'll also learn what resources are available to assist you and your congregation or school in celebrating the Reformation, why Luther knew — even 500 years ago — that our culture's self-obsession is dangerous, how to use his catechism in your daily life and what he had to say about preaching, sermons and those of us in the pew who hear them.
This October, we give thanks for Martin Luther and for his relentless endeavor to point people to Jesus, delivering to us a heritage that focuses solely on, as cover story author the Rev. Dr. Robert Rosin explains, just one thing: "Promises culminating in Christ and cross and empty tomb are still 'for you' with Christ in the Word spoken, in the water and in the bread and wine."
For you!
Adriane Heins, Managing Editor
The Lutheran Witness