Online: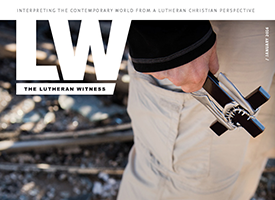 From the editor
The world watches the ball drop, flings confetti and sips champagne. But the Church abides by a different calendar — the Church Year — that teaches us to order our days according to Christ.
Because of the Church Year, we are re-focused on the life of the Christ, the way in which we show mercy to our neighbors and bearing bold witness to Him. In other words, the Church Year sets the standard for all of life.
In this issue of The Lutheran Witness, we return to a study of that calendar and why it matters to us as Lutherans. We'll learn how it teaches us to order every week according to Christ, how it teaches us to clear our schedules to be where God is, how we plan life around where He comes to us. We'll discover how the Church Year – with all its colors and feasts and seasons — teaches us to take church seriously, to fill our homes continually with things that make us think on Christ and His cross, to look up our neighbors and ask our friends to church, urging them to be where Christ has promised He is.
The Church Year is a very different calendar from the world's way of keeping time. But it also sets our compass to Christ, to His humility, to the way in which He became one of us to save us. And it sets the tone for how we live as Christians in the weeks before and following, not just Christmas and Epiphany but Easter and Pentecost and Advent and every day before and after and in between.
Adriane Heins, Managing Editor
The Lutheran Witness