by Augusta Mennell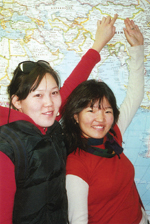 May I ask you a question?" Enkhchimeg Sengee (Chika) asked.
I could hardly believe my ears. This made me a little nervous, but I replied, "Yes."
The question she asked was music to my ears. It's one that all Christians love to hear: "Why do you do what you do?"
Chika and Batchimeg Sambalkhundev (Chimegee) are international students at Slippery Rock University, in western Pennsylvania. They are here for one year and then they'll return to their native Mongolia. We had the opportunity to visit during lunch. Before going to the restaurant, the two Mongolian students came into the Lutheran Center where they fell in love with our very large National Geographic wall map. They pointed out their country and told me about their country's history, obviously proud of their heritage. They intend to work to help their countrymen have better lives. They want to help.
The food they ordered at lunch was OK, but not wonderful. They missed the spices from home. What was wonderful was talking. Chika told about her mother, a university professor, and her sister, a doctor. She talked about changes in Mongolia and about a conference she will attend in Philadelphia. They told of travels to Slovakia and Hungary.
Chimegee asked if I knew how huge the Mongolian Empire had been at one time. She described the power of Genghis Khan and stated that some of his sons had married Christians. She described the Mongolian people as being nomadic until settling down recently, and said that Mongolia became democratic in 1990.
Chika and Chimegee did not know each other in Mongolia. They earned scholarships to study in the United States. They displayed hearts filled with concern for their country and minds eager to absorb all they can about America. Chimegee has asked for, and been given, a Friendship Family at All Saints Lutheran Church, Jason and Jessica Huntsberger, so that she can know America better.
It was natural to talk about the U.S. elections, world environmental issues, and religion. They said they were Shamanists (the belief that powerful spirits in the world can only be appeased by priestly magicians) because this is the traditional religion of Mongolia. They said they believed that it is right to believe in whatever religion a person felt comfortable with. I mentioned that Christians believe that there is only one true God.
As the time drew near to end lunch and go to classes, Chika asked me if it was OK to ask a question: "Mrs. Mennell, why do you do what you do?"
What a magnificent question! It allowed me to explain that God wants all people to believe in Jesus, that Christianity isn't just a Western or American religion. I answered that being a campus ministry director gave me the chance to be a friend to international students and through that friendship it was possible to share the news about Jesus. I explained that according to the Bible there is only one way to life with God and that is Jesus and that it is my passion for all the internationals to get a chance to know this.
Chika and Chimegee thanked me for the answer. They were pleased to hear why I do what I do. They felt comfortable enough to attend the best movie night we've ever had at All Saints. They felt safe enough to come and carve faces on pumpkins and watch "It's the Great Pumpkin, Charlie Brown." They and several other American and international students were at ease carving faces, baking pumpkin seeds, eating pizza, and watching the DVD.
What a thrilling opportunity to share why we do what we do here at All Saints Lutheran Church and Student Center. Maybe future lunches will lead to another student asking that wonderful question, "Mrs. Mennell, why do you do what you do?"