by Ann Schwartz

Dear God,
Thank You for camp!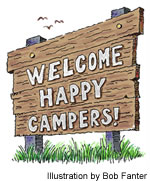 Kristin (not her real name), an energetic 8-year-old with an infectious laugh, began her letter to God this way. Last summer, I had the joy of serving as Kristin's camp counselor. Every summer, many children eagerly anticipate going to camp, and for the 50-plus children who attended camp with Kristin, the excitement was intense. Being at camp meant a week of swimming, fishing, crafts, singing, and Bible stories. But that was not all. The children at this camp were lavished with love and buoyed by encouragement. For one week, they also were not singled out or stigmatized for being in foster care. That's because all of the children at the camp were residing with foster families.
Children in foster care struggle with the impact of past abuse and neglect. In entering out-of-home care, they also experience the loss of established relationships. They may be separated, not only from birth parents, but also from siblings and extended family members. They may have to attend a new school or move to a different neighborhood. These losses are compounded for children who spend time in multiple foster homes.
At this camp, children who have dealt with so much loss had the chance to hear about God's love and see it demonstrated in powerful ways. The camp was structured so that the children received a great deal of personal, loving attention from adults. The ratio of counselor to camper was only one to two, allowing the development of strong connections. Other adults also served as surrogate grandparents.
The week's theme, "Journeys with Joseph," allowed the children to travel with Joseph, whose story culminates with these words to his brothers: "You intended to harm me, but God intended it for good to accomplish what is now being done, the saving of many lives" (Gen. 50:20). What a story of promise for children who, like Joseph, have faced rejection and separation!
A highlight of the week was the "Everybody's Special Day" party held on the final evening. It was an elaborate birthday party thrown for all of the children. An evening that might be seen as an excessive display under other circumstances was an incredible time of wonder for children who had experienced few, if any, previous birthday celebrations.
At the party, as I had the chance to sing, shout, and eat cake, I was struck by how the party also evoked powerful images of God's grace and blessings. As the children were called forward to receive their presents, all eagerly anticipating the moment, I found that I could not hold back my tears. The children tore off ribbons and unwrapped colorful boxes. Every time they thought they were finished, they found one more thing inside.  As I observed this scene (over 50 times), I was reminded of a beautiful passage in Ephesians 1:
 Praise be to the God and Father of our Lord Jesus Christ, who has blessed us in the heavenly realms with every spiritual blessing in Christ. … In Him we have redemption, through His blood, the forgiveness of sins, in accordance with the riches of God's grace that He lavished on us with all wisdom and understanding (Eph. 1:3–8)."
The children had a glimpse of heaven that night. But what God has given them is so much greater than the best birthday party they could imagine.
I pray that Kristin and all the children who went to camp last year will continue to grow in the love of our Lord and receive that love from those around them, even if they are unable to be reunited with their parents or find adoptive parents. May they be comforted by the love of a Father who has adopted them, who is, as Luther once exclaimed, "extravagantly rich in His grace."