by Rev. Ronald E. Nelson
Mision Gracia (Grace Mission), East Moline, Ill., is a ministry of the Central Illinois District, partially funded by gifts to Fan into Flame. District Missionary-at-Large Pablo Dominguez directs the ministry. Currently serving the Quad Cities community from a 1,000-square-foot, three-room storefront, the mission is seeking a larger, permanent facility. About half the funding necessary has been raised.
The "Quad Cities" include Rock Island and Moline, Ill., and Davenport and Bettendorf, Iowa.
A challenge to the mission's ministry is the mobility of Hispanics in the area. People served by Grace Lutheran Mission come and go frequently. However, in God's wider plan, this mobility can be a blessing, as many people reached for Christ take their faith with them.
Despite many challenges, the mission's ministry is having a positive effect. Recent activities include the
following:
A July 4 East Moline parade float. St. John Lutheran, East Moline, and Grace Mission members handed out pencils, magnets, and flyers with information about church activities. A subsequent July 8 picnic drew 14 Hispanic families.
A school-supply fair in August. Fifty-two families came to the supply distribution. Before supplies were distributed, the recipients watched a video explaining what Lutherans believe. Rock Island Circuit churches donated the supplies.
Broadcasts in Spanish every Sunday morning from 7:00–7:30 a.m. on KAL-FM. As Pastor Dominguez makes contacts, Hispanics often tell him they heard his program.
A partnership with the East Moline Correctional Center chaplain to provide Bible study to Hispanic inmates.
Computer and English-language classes.
Cub Scout Pack 51. This multiethnic group meets every Tuesday.
A new Hispanic evangelism small group at Immanuel, Rock Island.
Pastor Dominguez sees the Spirit's blessing on the ministry the congregation provides, and with the help of Fan into Flame gifts, he looks forward to sharing the Gospel with many more Hispanics.
Update: St. Michael, St. Petersburg, Russia
Almost $700,000 in gifts and pledges has now been received toward a $1 million goal for the renovation of St. Michael Lutheran Church.
The original story about this Fan into Flame project appeared in the June/July issue of The Lutheran Witness. The renovation will have a special impact on the congregation's unique music ministry.
From December 2005 through May 2007, St. Michael held 75 sacred-music concerts. These were so popular that people were often turned away due to lack of space. Since May, St. Michael has presented music concerts every Saturday. On average, 120–130 people attend each event, which begins with Pastor Tatarenko sharing a bit about St. Michael and the Lutheran faith, as well as offering a prayer.
Because the concerts are held in the congregation's temporary sanctuary, the same lack of space limits Sunday worship attendance. Maximum seating is currently about 150. Pastor Tatarenko eagerly awaits the day when a large worship center with space for 500 will be completed.
With the renovation, St. Michael is undergoing a significant revitalization. Hundreds more people will be exposed to the Word of God in various ways as the capacity of the building grows and ministry expands.
---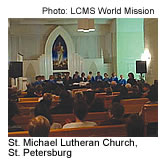 Fan into Flame is the national campaign in support of the Ablaze! vision of LCMS World Mission and its partners to share the Gospel with 100 million unreached or uncommitted people globally by 2017. The campaign, approved by the 2004 LCMS convention (Res. 1-04), supports outreach activities of Ablaze! and seeks gifts of $100 million by 2010.
Fan into Flame unrestricted funds are distributed quarterly based on an Acts 1:8 model: "You will be my witnesses in Jerusalem,… Judea and Samaria, and to the ends of the earth." Of the net proceeds, distributions consist of:
15 percent to participating congregations;
15 percent to the district;
20 percent for national mission projects;
50 percent to fund LCMS World Mission global projects.