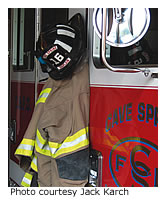 by Rev. Jack Karch
I'm a Lutheran pastor, a husband, and a dad. I'm a firefighter, fire-department chaplain, and an EMT. I've been in rooms when people breathed their last and were called home by the Lord, and I've used the Lord's peace to help them find calm.
I've been with firefighters after they lost a victim in a house fire and have brought the Lord's peace to them by what I call "the ministry of presence." I've pulled people out of wrecks. But the most demanding, eye-opening, faith-strengthening role I've ever had is that of a dad. It's in that role that I learned firsthand the deepest meaning of "for those who love God all things work together for good" (Rom. 8:28 ESV).
Three years ago, my son, Justin, then 25, had his gall bladder removed. Due to complications from the surgery, he became sick, so sick we rushed him to the emergency room in septic shock, almost losing him on the ER table. Thank God for His mercy, the excellent ER staff and doctors, and the CCU unit where he spent the next two weeks. Everything worked together for good.
Several months after that episode, during a checkup, Justin complained about nausea and double vision. The doctor sent us to the radiology department for a CT scan. As they were finishing up with Justin, the receptionist told me the doctor wanted us back in his office immediately.
The doctor said something had shown up on the CT scan. He needed the help of his colleagues, he said. The next morning we were at a neurologist's office and within two minutes of entering his room we were told, "Justin, you have a brain tumor, and it needs to come out Friday." Now, how does that go again? Everything works together for good?
Justin had surgery to remove the tumor and radiation treatments to get what the surgery didn't. OK, we're back to everything works together for good. I like that.
During his recovery Justin became ill again. After rushing him to the ER several times and having a spinal puncture done each time, the doctors decided to put a shunt in his head to drain the excess fluid.
"I think we are in the middle of everything working together for good, Lord," I said to myself. As Justin recovered from the shunt surgery, his spinal fluid became infected. As we say in my native New Jersey, "This ain't good."
Back in the hospital, the doctor said Justin had bacterial meningitis. This definitely ain't good.
I have never prayed as hard as I did that night and next day for the Lord to bless my son when the doctors could do nothing.
The next day as my wife and I entered the hospital room, the doctor said he had different news. He didn't say good news, just different news. He said Justin didn't have bacterial meningitis; he had a strep infection in his spinal fluid. He would try to treat it. Is this good or bad?
That afternoon the doctor came to our room. He said, "I have good news. Justin has a staph infection, and it is treatable with antibiotics."
You know what happened. "Thank You, Lord! This is great news! By the love and grace of God, everything works together for good for those who love Him!"
Several weeks ago I arrived on the scene of a head-on collision. The occupant of one car, a 15-year-old boy, had died.
As the rescue crew cut away the metal, my role as a dad kicked in. One of my partners and I entered the wreckage and gently lifted the lifeless boy out of the vehicle. I pray that one day, even in this tragedy, his mom and dad will realize the true, deep meaning of "for those who love God all things work together for good."