by Rev. Bruce Kaltwasser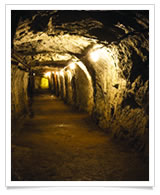 Who was not moved by the rescue of the 33 miners in Chile? A tunnel collapsed in early August, trapping them under ground. Early rescue attempts failed. People gave up hope. But miraculously, after 17 days, Chileans rejoiced when they learned the miners were alive.The rescue captured the world's imagination. Imagine being trapped under tons of stone, unable to see the sun for 70 days. Imagine the fear of running out of oxygen, the stagnant air, the heat. Some compared it to hell.
When the rescue began, one man at a time emerged from the ground. Eventually, all 33 trapped miners were rescued. Each time there was a celebration: tears, prayers and thanksgiving to God. Their loved ones were saved.
Trapped in a virtual hell, some turned in faith to Jesus. Before his rescue, 19-year-old Jimmy Sanchez wrote a note proclaiming: "There are actually 34 of us, because God has never left us down here." Another said, "God and the devil were fighting over me, and God won."
Compared to heaven, life here on earth is not that much different than living in underground darkness. We get used to the darkness of this world. It begins to seem normal over time, but it's not. God has prepared a better place for us.
Like those Chilean miners, a day comes for Christians when they are lifted up, one by one, into the heavenly world. "These are the ones coming out of the great tribulation. They have washed their robes and made them white in the blood of the Lamb" (Rev. 7:14). One day, we shall be lifted up out of this fallen world and emerge in heaven. When we arrive in the light of heaven, there will be loved ones to embrace us, too, and to welcome us to our heavenly home.
In all the drama of the miners' rescue, Manuel Gonzalez was overlooked. Manuel was the first man sent down to the trapped miners. Imagine their joy in seeing the face of Manuel, the one who had come to save them.
Leaving the safety of the surface, he joined them in the darkness. Before anyone could come out, this man risked his own life to see if the capsule could make the journey. Manuel came to save the miners. To save them, he had to put himself in their position.
Manuel didn't leave until the last miner had been rescued. Then he was left alone in the rocks. Yet his heroism has been largely overlooked.
So it is with Jesus. He left the safety of heaven to descend into the depths of this fallen world. He did it to save us. He put Himself in our position. Yet, like Manuel, He is overlooked by many.
Manuel's appearance brought great joy. And better still, his name is Manuel, short for Immanuel, "God is with us."
Jesus' appearance in the fallen world brought great joy too. It showed that "God was with us." The Son of God healed people of their illnesses, but most important, He showed the way out. He showed the way of salvation.
There is a difference between Manuel and Jesus: Jesus Christ did die to save us. He came into the dungeon of this world knowing that, for us to be saved, He would have to take our place. He would have to die for our sins. But then He rose from the dead.
Through Baptism, we have been saved from hell. We can say as the miner did: "God and the devil were fighting over me, and God won."
One day, we, too, will be lifted up by angels out of this great tribulation to heaven. And like each Chilean miner, we will be welcomed by our loved ones who died in faith. There will be a great celebration. Praise and thanks be to Jesus, our Immanuel.
—
About the Author: Rev. Bruce Kaltwasser is pastor of Trinity Lutheran Church, Osage, Iowa.
February 2011

" />" />