Online:
From the editor
Bloggers will convince you Lent is about purging your closets and simplifying your life. Television will inform you Easter is a time to question whether or not Jesus really existed. And Facebook will ironically tell you Lent is really just a time to get off social media. When it comes right down to it, Lent and Easter are getting the short shrift.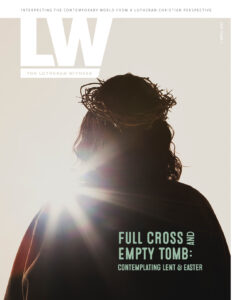 This month, we're turning off the TV and exiting out of Facebook. We're talking instead about how we observe Lent within our own families, what makes Good Friday truly good, and whether or not giving things up for Lent is something Lutherans do.
We're discussing all things Easter too. We're learning about the Easter Vigil service, covering things we should and shouldn't expect to hear in Easter sermons, and remembering why Christians – in the midst of a world of darkness and death – are a resurrection-remembering people.
You can clean out your closets and listen to the History Channel's take on Jesus' hair color. But this Lent and Easter, learn instead from your Savior, who hangs on a cross for you, lies in the tomb for you, and is risen – and returning! – all for you.
Adriane Heins, Managing Editor
The Lutheran Witness