Celebrate the 500th anniversary of the Lutheran Reformation and learn about the 95 Theses, Luther's rose, "A Mighty Fortress" and more in this month's issue of The Lutheran Witness.
Contents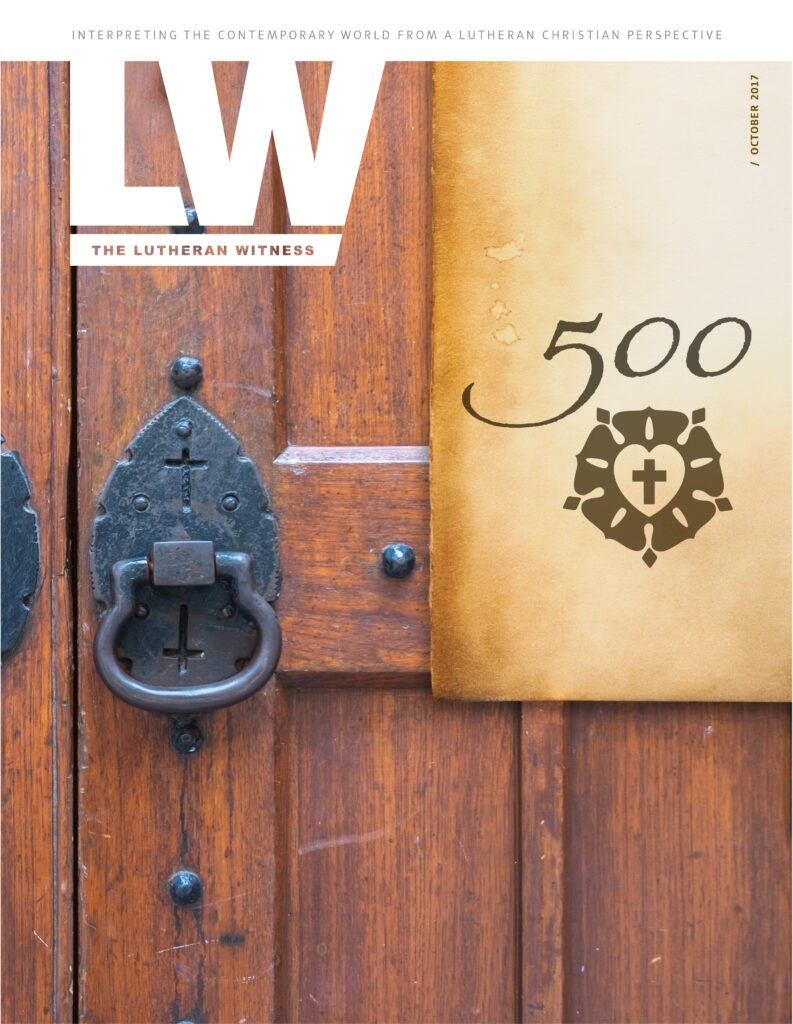 Features:
Luther on Lutheranism — Cameron A. MacKenzie
The 95 Theses: A readers' guide — Kevin A. Armbrust
The reformation tour of a lifetime — Kevin E. Voss and Christian C. Tiews
The quotable Luther
Luther's rose
500 (and counting) — Jeni Miller
Luther's hymns: true or false? — Paul Grime
The day and the man
Departments:
vdma: Indulgences then and now — Brian A. Flamme
faith and family: How to teach children a Reformation hymn — Katie Schuermann
this month in church: A Mighty Fortress — Albert Collver
searching scriptures: Faith or works? — Joshua P. H. Conradt
From the editor
Guess what? It's time!
After months and years of mounting excitement and anticipation, October 31, 2017 — the 500th anniversary of the Lutheran Reformation — is finally at hand.
As you'll read in Jeni Miller's article "500 (and counting)" (p. 12), Lutherans around the world are celebrating this momentous milestone, and the LW team is no exception. In this issue, you'll find articles on indulgences and the 95 Theses, on Luther's seal and Luther's hymns — and much more besides.
Yes, October 2017 is a wonderful month in which to remember and take pride in our Lutheran heritage. More than pride, though, what I'm really feeling at this moment is gratitude — deep, abiding gratitude for the privilege of standing shoulder to shoulder with this great multitude of saints who, for 500 years, have boldly proclaimed together the good news of God's salvation by grace, through faith in our Lord Jesus Christ.
Soli deo Gloria. To God alone be the glory.
Rachel Bomberger
Managing Editor, The Lutheran Witness