In its Easter issue, The Lutheran Witness goes "to the ends of the earth" as it explores connections between the resurrection message and the ongoing mission of the Church.
Contents
Features:
Therefore go — Klaus Detlev Schulz
The place where it happened — John R. Denninger
Easter to the ends of the earth — Jeni Miller
Easter where the missiles are — Q&A with Matt Wassmund
The paschal lamb and the angel of death — David R. Maxwell
Tortured silence — Rachel Bomberger
Departments:
world views: A monthly news column from Gene Edward Veith
searching scriptures: Breaking bread at Emmaus — Dan Chambers
bene+diction: A glimpse of heaven — Ruth Meyer
From the editor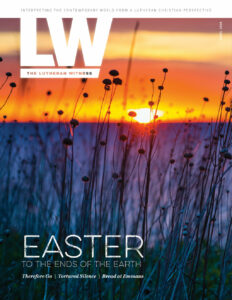 "For I delivered to you as of first importance what I also received: that Christ died for our sins in accordance with the Scriptures, that he was buried, that he was raised on the third day in accordance with the Scriptures, and that he appeared to Cephas, then to the twelve" (1 Cor. 15:3–5).
From Easter morning onward, the message of cross and resurrection has been inextricably tied to the mission of the Church. "Christ has died; Christ is risen; Christ will come again" — this glorious Gospel is and always has been too good not to share. It drove Peter, Paul and all the apostles to the ends of the earth, where they boldly proclaimed the Good News to people of all tribes and nations. It continues to drive LCMS missionaries today.
In this issue of The Lutheran Witness, we'll look at Christian missions through the lens of Easter — and see Easter anew through the eyes of LCMS missionaries around the world. We'll travel through time (to the Early Church) and space (to the place where it all happened) as we celebrate Christ's resurrection together with all the saints in heaven and on earth. We'll stare together into the darkness of death and fear
in Papua New Guinea, and catch a glimpse of heavenly glory in a Siberian gymnasium.
What an amazing journey this issue has turned out to be.
He is risen indeed! Alleluia!
Rachel Bomberger
Managing Editor, The Lutheran Witness
lutheran.witness@lcms.org