In its Lenten issue, The Lutheran Witness explores some of the elements that make up the Bible's counter-cultural vision for "the good life," including prayer, fasting, devotion, piety and trusting in God's Word.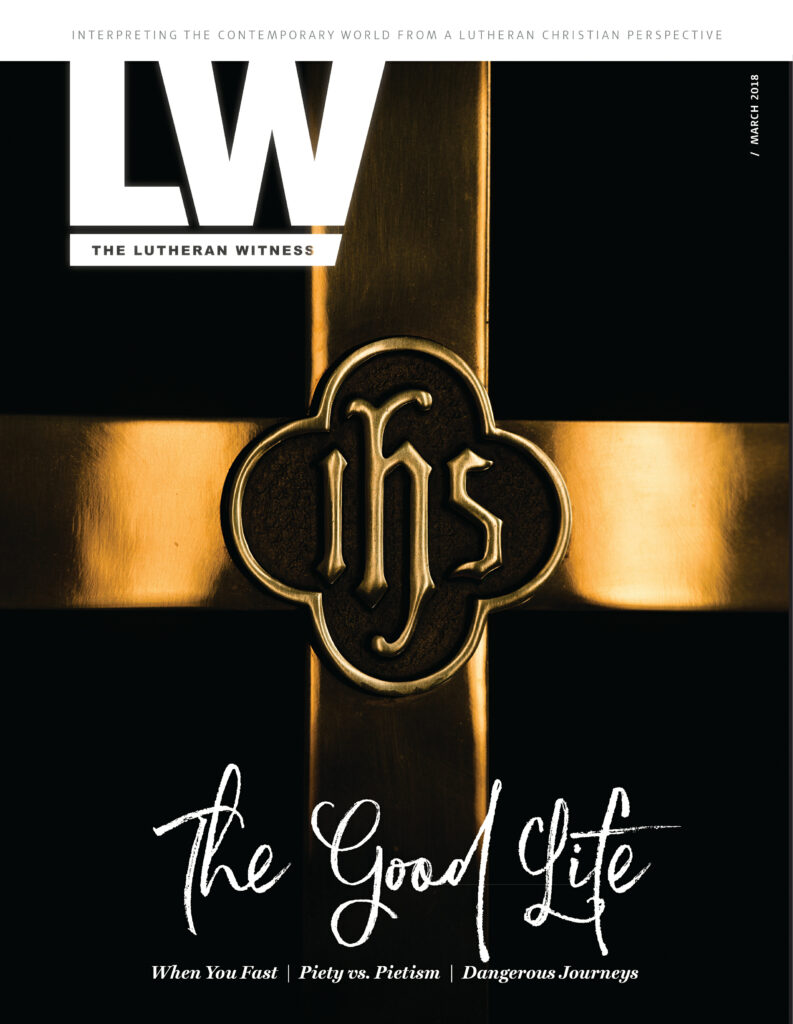 Contents
Features:
When you fast — William Weedon
Praying the hymnal — David R. Schmitt
Piety vs. Pietism — Russell P. Dawn
More than a feeling — Bryan Wolfmueller
Thy will be done — Jeffrey Gibbs
Dangerous journeys — Lisa Deam
Departments:
world views: A monthly news column from Gene Edward Veith
searching scriptures: Prayerful confessions of faith — Mark W. Love
bene+diction: Lent for earthlings — Anna Mussmann
From the editor
As Christians, we trust in Jesus Christ alone for our eternal salvation and look forward in hope to the heavenly joy that awaits us at the end of all things. Here and now, however, we may well find ourselves wondering: How on earth are we to live in the meantime?
Ask the world around you what it means to live "the good life," and you will likely end up with a laundry list of must-haves: money, power, fame, health, beauty — with perhaps a splash or two of altruism to add balance and meaning.
Ask the Bible what living "the good life" means, and you'll get a very different set of answers. It means devotion to God (Deut. 6:5) and self-sacrifice for the sake of others (Luke 10:37). It means living each day nourished by God's Word and Sacraments (Acts 2:42), sustained by prayer (1 Thess. 5:17) and led by the Spirit to "seek first the kingdom of God and his righteousness" (Matt. 6:33).
Is all this difficult? Sure. Counter-cultural? Yes. But is it good? Most definitely.
It is this biblical vision of "the good life" that permeates every page of our Lenten issue on piety and prayer. May you enjoy and be blessed by the articles you find here.
Rachel Bomberger
Managing Editor, The Lutheran Witness
lutheran.witness@lcms.org