The power-packed June/July issue of The Lutheran Witness magazine welcomes the Rev. John Kleinig, The Rev. Hans Fiene, the Rev. Jeffrey Hemmer and others to share their incisive insights on toxic masculinity, godly fatherhood, the religious gender gap and what it means to be "men at church" today.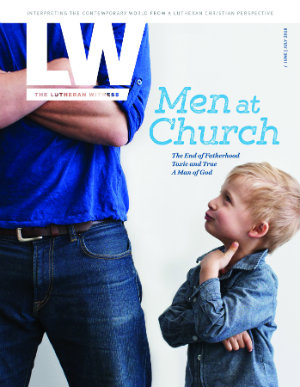 Contents
Features:
The end of fatherhood — Joel Biermann
Men in crisis
The toxic and the true — Jeffrey Hemmer
Men at church
Spiritual fathers — John Kleinig
A man of God — Jennifer Duffy
The man who taught Sunday school — Bror Erickson
Players, not plays — James Pingel
Departments:
world views: A monthly news column from Gene Edward Veith
searching scriptures: Biblical manliness — Dan Chambers
bene+diction: An open letter to single ladies — Hans Fiene
From the editor
What does it mean to be a man? More importantly, what does it mean to be a man of God?
As a woman, I'll freely confess that these are not questions I've ever had to grapple with for my own sake. Yet now, as I watch my only son rush headlong toward adolescence, questions like this have begun to take on a new and personal urgency for me.
The world today tells boys that their impending manhood isn't anything special (girls and boys being all equal and interchangeable and whatnot), but it is dangerous. It tells them that their masculine strength, far from being a beautiful part of the created order, is a wild and unstable force that must be tamed, caged and kept on a short leash at all times.
No wonder so many young men today are left feeling confused and frustrated.
Thanks be to God, the Word offers us a more beautiful vision than the world can give us. In its light, we see men set free — free to be loving husbands, caring fathers, bold proclaimers of the Gospel and self-sacrificial images of Jesus Christ.
I am grateful to have been able to think through the topic "men at church" with the wise folks who have contributed to this issue. Every one of their articles has helped to add some new depth and dimension to my own understanding of what it means to be a "man after God's own heart." It is my fervent hope that all of our readers — including my son — will be as blessed by their words as I have been.
Rachel Bomberger
Managing Editor, The Lutheran Witness
lutheran.witness@lcms.org