by Frank J. Pies
Through a chance meeting, a pastor discovers firsthand the spiritual benefits of a 'little' project on which he had worked.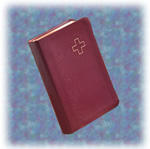 I had no doubt that our Synod's little 4-by-6 Pastoral Care Companion (right) would be a rich blessing to Christ's holy people when, several years ago, I was invited to assist in its development.  I never anticipated, however, that I would experience that blessing firsthand as dramatically as I did.
Shortly after Concordia published the Companion earlier this year, I received a copy and began using it immediately. Early one weekday morning, it accompanied me to a large medical complex, where I visited a teenage girl undergoing treatment for a rare type of cancer.
I ministered to her with the aid of the Companion and proceeded to leave the hospital. To my utter surprise, I met another member of my congregation, who was equally surprised to see me.
I am convinced that our paths crossed, not by chance, but by the gracious direction of our heavenly Father; for this member had not been active in our congregation for a while, and I was totally unaware of the tragedy that he and his family were facing.
"Pastor," the man asked in a quivering voice, "could you please come and help us? My daughter's eight-month-old unborn child has died in her womb, and she is getting ready to deliver the little one."
Expressing my sympathies and assuring him that I would certainly serve him and his sorrowing family, we took the elevator to the fourth floor of the hospital.
He tearfully explained how complications had quickly and unexpectedly reversed his daughter's pregnancy. Tears welled from my eyes as I listened, and I silently called upon the Lord's Spirit to guide me in bringing the truth and comfort of Christ's Gospel to these grieving people. I was also very grateful I had my Companion to assist me at such a critical moment.
As the father entered his daughter's room to announce my presence, her mother and sister came out to greet me in the hallway. We embraced and expressed our love for each other in the Lord. I asked them to allow me to prepare to see their daughter and her husband. I opened the Companion and in a matter of seconds located the section, "Childbirth, Special Situations." From the wealth of material now at my fingertips, I was quickly able to select the Scripture passages and prayers that I knew would meet the spiritual needs of this family.
Simultaneously, there flashed in my mind a deep sense of humility and awe. In the manner and to a degree I had never imagined, I was the beneficiary of a resource I had helped to write—this Companion in the ministry of the Gospel. With fear and trembling I entered the somber hospital room.
During the hours I was with them that day and in the days to follow, the Holy Spirit deeply nourished this family's faith in Christ and brought them comfort and peace through the Word of God conveyed by the Companion. In my estimation, had this little pastoral "toolbox" been published only for the sake of this one family and their loved ones—to say nothing about the wonderful help it gave me—it would have been worth the effort.
It is my fervent prayer that our gracious Lord would continue to bless the use of the Pastoral Care Companion in His church in the many venues for which it is intended, all to the good of His people and to the glory and praise of our merciful God, the Father, the Son, and the Holy Spirit. Amen.
Dr. Frank J. Pies is pastor of Our Savior Lutheran Church, Hartland, Mich.  He served on the Agenda Committee for the development of the Lutheran Service Book and its companion volumes.