by Rev. Timothy C. Cartwright
A half century ago I was baptized on the same day as my father, expectant mother, brother, and sister. The waters of Baptism were held in a unique font. The basin was cradled in the top of a massive, upright cedar log at First Lutheran Church in Dunsmuir, Calif. Dunsmuir was a mining, logging, and railroad town nestled in the rugged mountains near the Oregon border.
They called the little church The Rustic Chapel, seating capacity, 75. The congregation no longer worships in the sanctuary where I was baptized. The Lutheran congregation in Dunsmuir actually shut the doors of the church. They sold the "Rustic Chapel." They left town and moved, lock, stock, and barrel to Mount Shasta 10 miles north. I've often wondered if the font was sold when they vacated the premises.
First Lutheran Church was made, inside and out, top and bottom, of milled, majestic cedar trees. The pulpit and font were meticulously hewn from cedar logs; bark still in place. The rich, pungent aroma of cedar was creation's incense in that nave. An impressive lava-rock fireplace adorned the side wall of the sanctuary and warmed worshipers in winter.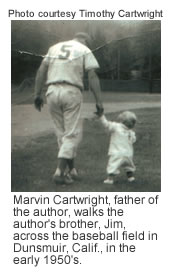 Recently, I made a pastoral, in-home visit with a senior member of our parish here in southern Oregon. Marian has not been able to attend church because of health matters. She is 87. We were speaking about our roots. The conversation wandered from topic to topic. I was there to bring her Holy Communion. She mentioned that her mother and her aunt were twin sisters.
She reminisced that her aunt had married a clergyman whose family carried the nickname "Shabby." Actually, the man's name was Martin Schabacker, she said. I paused. I asked Marian if her Uncle Martin had been the pastor of the little chapel in Dunsmuir. She told me he had been the congregation's pastor in the 1950s.
I told Marian that her uncle's shabby hands had raised water from a cedar font to baptize me. His lips spoke the Word of promise connected with the water.
I recall that Pastor Schabacker loved baseball and sports in general. His breath always smelled of menthol throat lozenges. He was a big, gentle man with a big, gentle spirit. He had the build and slight strut of a linebacker. I discovered that one of his sons played football at the University of Nebraska.
He always looked up when he preached, looked up to heaven, to the cedar timbers that held the chapel roof. His voice seemed to sing his sermons. His glasses would drift down the bridge of his nose. He would adjust them with a huge finger. He had a hobby of cutting and polishing rare rocks in the parsonage basement directly across the street from the chapel.
It was Martin Schabacker's love of minor-league baseball that God used to find a young and growing Cartwright family some 50 years ago. My father was an unchurched, ex-minor-league catcher who could hit the ball a country mile. His team, the Dunsmuir Merchants, played semi-minor-league baseball when baseball was big in little towns in the 1950s.
The Merchants' baseball circuit was loosely affiliated with the Pacific Coast League. Martin introduced himself to my father and made it a point to get to know this player who many said had the swing of the Babe. Rev. Schabacker was subtle and intentional. He made sure the "Lutheran" Merchants invited this ballplayer with three little children, a with-child spouse, and a Ruth-like swing, to worship in the cedar-log church. They invited. Eventually he came. My whole family was baptized on July 3, 1955, by shabby hands in a rustic chapel that is no more. There is nothing shabby about the sweet, cedar smell of the Gospel.