by Rev. Matthew C. Harrison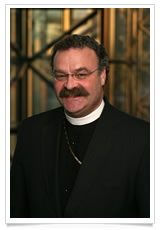 Luther well knew what he was preaching on that St. Stephen's Day in 1523. He did not believe that the response of the apostolic church in Acts 6 to the problem of needy widows was merely a temporary glitch in the Church's life. Neither did C. F. W. Walther. Right from his earliest years in America, this text from Luther began to appear again and again in Walther's writings on the Church. Why? Our fathers and mothers in the faith knew Luther, and they knew the New Testament.
Dr. Walther asserts that the pastor is also to be concerned with the poor, the needy, and the weak within the congregation. And yet, he asserts that in times of need and disaster, the congregation is to be concerned with those outside the church. He refers to Galatians.
"When James and Cephas and John, who seemed to be pillars, perceived the grace that was given to me, they gave the right hand of fellowship [koinonia; LIFE TOGETHER] to Barnabas and me, that we should go to the Gentiles and they to the circumcised [WITNESS]. Only, they asked us to remember the poor, the very thing I was eager to do [MERCY]" (Gal. 2:9–10).
Here three things come together:
The apostles carefully resolved the doctrinal and practical challenges that always result from taking the Gospel to new peoples—for the sake of WITNESS to Jesus [Acts 15].
The apostles were deeply concerned that the Church be a locus of MERCY to those suffering physical need.
This WITNESS and MERCY were part and parcel of the Church's very life—yes, its LIFE TOGETHER.
This is the threefold key to the future of The Lutheran Church—Missouri Synod. Hear Luther:
From this story (Acts 6) we learn in the first place how a Christian community should be constituted. In addition, we have a true pattern of spiritual government [geistlichen Regiments] that the apostles here provide. They care for souls, occupy themselves with preaching and prayer, and yet also see to it that the body is cared for; for they suggest several men who are to distribute the goods, as you have heard. Thus the Christian rule is concerned for the people in both body and soul [Leib und Seele] so that no one suffers want . . . that all were richly fed and well cared for in both body and soul.
This is a very fine pattern and example, and it would be well for us to do likewise, if only the people were so minded. A city could be divided, as here, into four or five parts, and every part would receive a preacher [Prediger] and several deacons to supply the people with preaching, distribute the goods, visit the sick, and see to it that no one suffers want. But we do not have the persons for that. . . . A "bishop" means a steward [Amtmann] of God who is to distribute the divine and spiritual gifts, preach the Gospel, and supply the people with the Word of God. He must have ministers, and these are the deacons who serve the community in such a way that they have a list of all the poor people and care for them in all their needs with the money of the community, visit the sick, and in every way handle the supplies with great care."
("Sermon for St. Stephen's Day, Dec. 26, 1522;" WA 12:693 ff.; quoted by Walther, Church and Ministry, Theses VIII, On the Ministry)

God grant it!
Pastor Matthew Harrison

"Let's go!" Mark 1:38
e-mail: president@lcms.org
Web page: www.lcms.org/president
blog: www.wmltblog.org