Online Articles:
From the editor
America changed on Jan. 22, 1973. Prior to that, children in the womb still had some measure of protection. They were still valued. They still had worth. But when the Supreme Court ruled on Roe v. Wade, the dignity and respect inherent in human life were flipped on their end.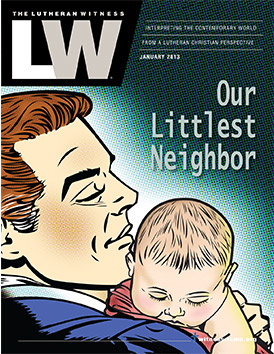 Forty years later, and it seems the country is more upside down than ever. It is easy to lose hope, to wonder if the Lord has heard our prayers to end the deaths of 3,200 unborn infants in America each day, to despair that He doesn't even care. But within the following pages, you'll find that He does, that He always has and that His will for each child, each mother, each father is good and perfect and right.
The Rev. Jason Braaten's "3 Ways to Talk About Life" provides LCMS youth with conversation starters to talk to their friends about life. The Rev. Dr. Robert W. Weise explains whether or not embryos in petri dishes are really human in "Shaped by God," and the Rev. Dr. Peter Scaer encourages Christians to boldly defend life in "A Better Way."
In "Bios and Biology," the Rev. Dr. Gilbert Meilaender explains bioethics and why the faithful ought to care about them, and the Rev. Dr. Kevin E. Voss' "Wonder and Elegance" outlines examples of God's marvelous design in the creation of the human body.
"God Is Not Done with You," by the Rev. David Petersen, offers Christ's comfort and hope to families who have lost children because of a miscarriage, and "Hope for Rachel," by the Rev. Dr. James Lamb, outlines what the Church has to offer those women who are suffering the physical and emotional trauma effects of an abortion.
Forty years ago this month, the value of human life was flipped on its end. But the Lord didn't allow the Church to be silenced on the matter. He didn't abandon His people. And He continues to provide His faithful with the strength to speak out, to endure, to defend life.
"Keep your voice from weeping, and your eyes from tears … there is hope for your future, declares the Lord" (Jer. 31:16–17). He is faithful, and by His grace, we will endure.
Correction: The September 2012 issue of The Lutheran Witness incorrectly listed the Kansas District pledge as $639,948. The correct pledge amount is $543,000. Thus, the 2012 pledge of $585,000 was an increase of $42,000 from 2011.
Adriane Heins, Managing Editor
The Lutheran Witness