Online:
From the editor
"Your funeral is not about you. . . . Your funeral is about Jesus and His resurrection." Now that one of this month's authors, the Rev. Dr. Mark Birkholz, has your attention, let's talk death and dying (not the kind that the world promotes — death with dignity or physician-assisted suicide – but the kind that prepares in faith for meeting Jesus, who suffered His own death for us!).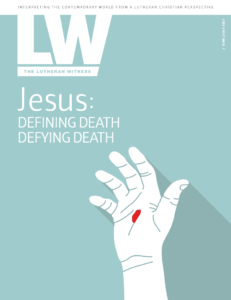 In this issue, ponder your own mortality, the fall into sin that caused it and how Christ alone has put death to death. Discover why God never intended for man to die, learn the state of the soul between death and resurrection and consider what we know about heaven.
Get tips on how to plan your own funeral with your pastor, and discover some different options for faithful hymnody that will proclaim Christ crucified and risen to those in attendance. See how to talk with your kids and grandkids about death and the hope that the Christian has despite it.
Your funeral isn't about you, but "You were baptized into Jesus' death and resurrection. You were fed with His risen body and blood," Rev. Dr. Birkholz reminds us. In the midst of death and sadness – indeed, any day! — that's worth remembering.
Adriane Heins, Managing Editor
The Lutheran Witness