by Kim Plummer Krull
This month, some 4,000 volunteers will lend a hand with the Lutheran Laymen's League 'mission statement on wheels' at the Tournament of Roses Parade.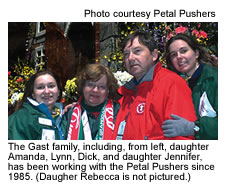 It was New Year's Eve 1985 when a somewhat desperate Dick Gast loaded wife, Lynn, and three toddlers under age five into the family station wagon. The family's first Christmas in California felt lonely, with no money to fly home to Wisconsin, and a babysitter, who, at the last minute, canceled the couple's plans to ring in 1986.
"Let's go see what this parade is all about," said Gast, heading for Pasadena, the site of the famous New Year's Day Tournament of Roses Parade.
The family, members of Abiding Savior Lutheran Church in Lake Forest, happened on workers finishing what turned out to be the float of the Southern California District of the International Lutheran Laymen's League (LLL). Someone called a "Petal Pusher" asked if the Gasts wanted to attach a few flowers.
Twenty-two years later, the Gast family is still working with the Petal Pushers—volunteers, primarily LCMS members, who trek from throughout the country to lend a hand with the Rose Parade's only religious float, a "mission statement on wheels" proclaiming the Good News of Jesus Christ to millions worldwide.
"Our pastor says coincidences don't just happen," Dick Gast observes.
In the 'seed' business
In December, some 4,000 Petal Pushers are expected to gather in Pasadena to decorate this year's Lutheran Hour float and assist with other Rose Parade entries.
"If we only worked with fellow Lutherans on the Lutheran Hour float, that would be like singing to the choir," says Lynn Gast, now in her 18th year as Petal Pushers chairwoman.
Volunteers, sporting Petal Pushers sweatshirts, also work on other floats. As contracted workers, their effort generates income for the Lutheran Hour project—and opportunities to share a Christian witness.
"We're in the seed business," says Dick Gast, who has been involved with the float every year since his family "accidentally" discovered the Petal Pushers. He now serves as the Lutheran Hour Float Committee general chairman. "Our prayer is that the Holy Spirit would work in the hearts of those who come into contact with the Petal Pushers and all those spectators who see the float, in person and through the media," he says.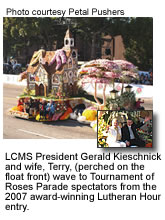 This will be the 58th year that the LLL's Southern California District participates in the New Year's Day extravaganza that features floats covered in seeds, leaves, bark, and, of course, flowers. The potential audience, Gast says, numbers an estimated 450 million—more than 1 million people who line the 51/2-mile parade route plus television viewers in the United States and around the globe.
Such a widespread witness is what motivates Petal Pushers to leave home during the holidays and pay their own expenses for the pilgrimage to Pasadena. These volunteers include congregation groups, youth organizations, families, and individuals. Their ages run from 13 (the minimum allowed by insurance regulations) to 90.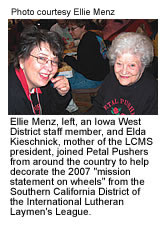 That's how many years young Elda Kieschnick, mother of LCMS President Rev. Gerald B. Kieschnick, was last year when she impressed fellow Petal Pushers with her knack for popping off mum heads.
"What's so great is that they put everybody to work—there's a job everyone can do," says Elda Kieschnick, a member of Cross Lutheran Church, New Braunfels, Texas. "It was a thrill!"
Most Petal Pushers help with the "big push," beginning the day after Christmas through the day before the New Year's Day parade.
"It's an amazing experience—a spiritual growth opportunity that's so much more than just gluing flowers," says Ellie Menz, an Iowa District West staffer who coordinates mission and outreach opportunities. This will be her sixth year to lead Iowans—usually at least 25, from college students on up—to the Rose Palace float barn.
Like many Americans, Menz grew up watching the Rose Parade. "When I found out that the Lutheran Hour float is the only Christian float in the parade, I wanted to do what I could to help keep it there," she says.
Veteran Petal Pushers Forest and Joelyn Saemrow, members of Redeemer Lutheran Church, Austin, Texas, enjoy lending a hand to the other floats, typically sponsored by corporations and service organizations. They like helping workers who may be struggling to finish their entries by parade day.
"Petal Pushers are highly thought of by the other float groups because we do quality work and are happy to help," says Forest Saemrow, 76. "Our motivation is having a real heart for the ministry. When you sit in the stands on New Year's Day and see this beautiful float proclaiming Christ to the world, it's exciting to know that you played even a very small part in it."
President Kieschnick and his wife, Terry, experienced the Petal Pushers' camaraderie and commitment firsthand when they helped decorate last year's Lutheran Hour float. "God's Great Nature"—a blossomcovered cathedral—won the Princess Trophy for the most beautiful entry under 35 feet in length.
Terry Kieschnick called working on the Lutheran Hour float a one-of-a-kind experience. "You feel like a little kid, walking into this huge building that smells just wonderful (because of the flowers), and you get to cut and glue again," she says. "It's wonderful to rub elbows with people from all over the country and talk about your faith. What a terrific witness!"
The Synod president—who, with Terry, rode in the parade—says the Petal Pushers are "one of The Lutheran Church—Missouri Synod's best-kept secrets."
"To have the only religious float in this parade says a lot about their dedication," says Kieschnick, referring to the Gast family, LLL Southern California District members, and the Petal Pushers. "They are a wonderful example of people who have a vision and who pull it all together to do something positive, constructive, and connected to the possibility of someone coming to Christ."
Staying Afloat—Year-Round
Keeping the Lutheran Hour float afloat demands a year-round effort. Volunteers handle planning, designing, promoting, and recruiting. Along with her parents, those volunteers include Jennifer Gast, 26, a teacher at Abiding Savior Lutheran School, who is serving her 12th year as Lutheran Hour float foreman. (Sisters Amanda, 25, and Rebecca, 23, also continue their involvement with the Petal Pushers, working as foremen for other floats that, in the past, have used the Lutheran Hour volunteers as contracted help.)
This self-funded project gets no money from LLL or LCMS budgets. Petal Pushers merchandise, from Christmas cards to sweatshirts, helps generate financial support.
But in the Rose Palace, as Petal Pushers vial thousands of snipped blossoms and glue untold amounts of flora, conversations don't focus on fund-raising. Dick and Lynn Gast—whose non-float jobs are, respectively, the owner of an executive recruiting business and a registered nurse—share stories of how working on the Lutheran Hour float has planted seeds for Christ.
Dick tells about an unchurched float builder who "claimed to be nothing" but eventually got his two grandchildren baptized and enrolled in a Lutheran school after getting to know the Petal Pushers.
And a float worker once told Lynn Gast, referring to the Petal Pushers: "I don't know what you people have, but I want it. I want that peace and joy, too."
To learn more about the Petal Pushers or to help support the Lutheran Hour float, visit petalpushers.org.
---
Lutheran Hour Float to Feature Firsts
"Joy to the World, the Lord Has Come" is the theme for the 2008 Lutheran Hour entry in the 119th Rose Parade, which begins at 8 a.m. PST Jan. 1. The procession showcases world celebrations, with the entry from the Southern California District of the International Lutheran Laymen's League (LLL) highlighting Christmas.
The Lutheran Hour float will feature a live nativity and some float firsts:
• A strawflower-covered star catapulted above a manger
• Three wise men "out walkers" (people who stroll alongside the float)
• Live camels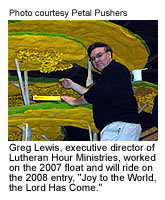 Float riders include Greg Lewis, executive director of the Lutheran Hour Ministries.
And here's a tip for parade viewers who, in the past, may have missed the Lutheran Hour float on television. While most stations show the Rose Parade, the Lutheran Hour float gets no guaranteed coverage due to commercials and other TV commitments. The pride of the Petal Pushers and the LLL is scheduled as number 33 in the parade line-up, says Lutheran Hour Float Committee General Chairman Dick Gast, who recommends tuning into the Home and Garden (HGTV) cable channel. HGTV plans to show the entire event, he says, plus a one-hour, pre-parade special that is expected to include the making of the Lutheran Hour float.