by Rev. Ronald E. Nelson
Fan into Flame kindles ministry in Florida
Hispanic outreach in the area surrounding Immokalee, Fla., has taken a quantum leap as a result of multiple distributions of Fan into Flame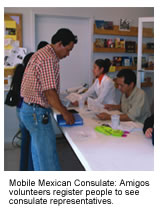 funds. More than $137,000 from dedicated lead gifts has been distributed for Amigos en Cristo ("friends in Christ"), a ministry of the LCMS Southwest Florida Outreach Council.
Immigrants and migrant workers seek out Amigos en Cristo to help with problems and information concerning their arrival and residence. Amigos en Cristo helps newcomers learn English; find housing and jobs; enroll children in school; and learn about tax, labor, and immigration laws. As part of its "welcoming ministry," council members invite newcomers to small gatherings, where they are able to effectively share the Good News of salvation in Jesus Christ.
Historic church in Russia reclaimed
The Evangelical Lutheran Church of Ingria in Russia, a partner church of the LCMS, has regained possession of a historic cathedral in St. Petersburg. The building is located at a transportation crossroads, near a busy streetcar stop in a vibrant part of the city, a few blocks from St. Petersburg University. Membership includes many students and university faculty.
Fan into Flame campaign gifts are being sent on a regular basis to support urgent building renovation. The latest distribution was $25,000. With a steady flow of funds, members of the congregation can meet government requirements for renovation progress.
The church was organized in 1732, 29 years after the founding of St. Petersburg itself. The current 1876 structure was taken over by the Russian government in 1935 and converted into a sports-equipment factory. As part of the agreement to return the building to the congregation, the Russian government expects the congregation, St. Michael, to restore the building to its original condition. Renovation is ongoing on the first and second floors, but two more interior floors plus the exterior must be renovated or the building will revert to the city for demolition.
Renovations already completed provide space for many activities, which serve as outreach opportunities for members. In addition to regular worship services, Saturday evening concerts are becoming a tradition at St. Michael. More than 150 people regularly attend each performance, providing a great opportunity for evangelistic outreach. A street-level Internet café and Christian bookstore are also open. English-language classes are being taught, and AIDS awareness seminars are being conducted for youth. As renovation continues through the distribution of Fan into Flame gifts, the congregation is becoming a center of community activity.
To discover how Fan into Flame will help your congregation and district ignite the hearts of the unreached with the Gospel, call 1-800-977-2017 or visit the Web site at www.fanintoflamelcms.org.
---
Fan into Flame is the national campaign in support of the Ablaze! vision of LCMS World Mission and its partners to share the Gospel with 100 million unreached or uncommitted people globally by 2017.  The campaign, approved by the 2004 LCMS convention (Res. 1–04), supports outreach activities of Ablaze! and seeks gifts of $100 million by 2010.
Fan into Flame unrestricted funds are distributed quarterly based on an Acts 1:8 model: "You will be my witnesses in Jerusalem … Judea and Samaria, and to the ends of the earth." Of the net proceeds, distributions consist of
• 15 percent to participating congregations;
• 15 percent to the district;
• 20 percent for national mission projects;
• 50 percent to fund LCMS World Mission global projects.