by Paula Schlueter Ross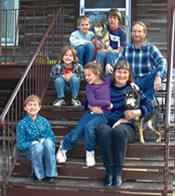 Just two years ago, Jonathan and Mary Stahlke, a 40-something Chicago couple, led a quiet life. They read. They talked. They packed lunches for two.
Today, there are eight gallons of milk in the fridge, three sets of bunk beds in the upstairs bedrooms, and five toothbrushes in pink plastic cups on the bathroom sink.
They still read, but now it's Dr. Seuss. They still talk, but it's often interrupted by the chatter of little voices. And they still pack lunches, but now it's enough for an army of seven.
Things can change in a hurry,  especially when you're childless and you adopt a "sibling group" of five children from a foreign country such as Ukraine.
But the rewards have made it all worthwhile, say the couple, and there's no way they'd go back to their former no-kids lifestyle.
Mary Stahlke smiles when she recalls the time the two older boys, Paul, 13, and Adam, 11, lugged home eight old tires they'd found in a trash heap because they figured the family could use them.
She convinced the boys that a mechanic down the street could make better use of the tires, so the entire family rolled the tires the two blocks to the auto-repair shop.
It was quite a sight, she said—a family of seven "walking" tires down the street, the younger ones shrieking as they chased "runaways" that refused to roll straight.
Jonathan enjoys an equally entertaining memory—taking an unexpected dip in the Black Sea, in his underwear (he hadn't brought a swimsuit), nervously dodging jellyfish as he tried to bond with Paul upon their first meeting in Ukraine.
Family life is a "rollercoaster," Mary admits, full of "great joys and great challenges," but she and Jonathan feel "really good" about their role as parents, she says. Likewise, the kids, she adds, "are making a huge impact on us—I learn from them every day."
Before they adopted their five children in August 2005, the couple gave the idea of international adoption a lot of thought and did extensive research. For example, even though Jonathan was born and raised in Guatemala and speaks fluent Spanish, they opted to go with a non-Spanish-speaking country so that language wouldn't give Jonathan an edge and hinder the children's bond with Mary.
They also decided to go with an "inconspicuous" adoption—one in which the children and adoptive parents share the same racial features—to spare the kids from any embarrassing questions strangers might pose, such as "How much did they cost?" They just viewed it as one more way to keep the challenges of adopting a large sibling group to a minimum.
And, once they settled on adopting from Ukraine, the two learned as much as they could about Ukrainian culture and spent six months with a tutor, learning the basics of the language.
Friends thought they were "out of their minds" to consider adopting so many children at once, recalled Dr. David Rogner, an English professor at Concordia University Chicago in River Forest, Ill., and a co-worker of Jonathan's, a music professor.
"It's hard for me to imagine making this kind of commitment," says Rogner, who doesn't have children but has four siblings. In most families, children "come one at a time—and you get used to having multiple children at home," he said. "But to get five all at once and have to deal with them is just amazing."
What's equally amazing, perhaps, is the fact that the couple is preparing to adopt sibling number six—Mikola, or "Kola," a 4-year-old brother who wasn't available for adoption in 2005, but is now.
How the Stahlkes have handled the first five "is nothing short of miraculous," Rogner says. Within days of arriving in the United States, all the children, then ages 6 to 11, had been baptized and were attending school, and soon after were speaking English.
And, he adds, "this commitment to keep the family together and to return for number six is, again, an amazing act of love."
Jonathan and Mary are "extraordinary people," Rogner says, "who refuse to accept the obstacles that seem so obviously to be there."
Jonathan explains the couple's resolve with "it's hard, but not impossible. And if you really want it, then that makes it all the more possible."
To come up with the $38,000 or so they spent on the first five adoptions, the Stahlkes refinanced their house and accepted significant financial gifts from relatives.
Going back for Kola will cost another $27,000, but nevertheless is "a no-brainer—you go," says Mary. "It doesn't matter what it takes—we have to go."
This time around, their congregation—Trinity Lutheran in Villa Park, Ill.—and other groups are helping out with fund-raisers and a "Stahlke Adoption Fund."
A recent benefit raised more than $5,000, according to Trinity Pastor Rob Rogers, and included a nice perk for the family: They got to take home the leftovers.
Rogers, who has two adopted sons, says the Trinity congregation is very "family oriented" and has "really taken possession of [the Stahlke] children."
Jonathan and Mary "may think they're the parents, but there are about 400 other people who think they are, too," he said.
The Stahlkes say they're grateful for the help they've received from others—lots of hand-me-down clothing ("We buy shoes," says Mary), donations of furniture and food, and help with home remodeling projects.
But they also see God's hand in their lives. Jonathan says he's always wanted five children, even before he married, but never knew why. And Mary says, for some reason, she felt drawn to adopt children from Ukraine.
Their search for a group of five siblings in Ukraine led them to their current children, who have kept their Ukrainian names as middle names: Paul Ruslan, 13; Adam Bogdan, 11; Rachel Ludmila, 10; Sarah Olena, 9; and David Mihailo, 7.
Had they been looking for a group of six, they never would have found this group of six, Mary says, since Kola was not yet available.
Getting the older children first also worked out well, she adds. With all of them in school on weekdays, it gave the couple more time to adjust without the "sleep deprivation" most new parents endure.
And, the Stahlkes wonder, why did they decide to buy an eight-seat minivan rather than the seven-seater they were also considering six months before the adoptions?
"God knew," Mary muses, adding that the adoptions were finalized on Aug. 18, 2005-the couple's 15th wedding anniversary.
"In terms of being 'extraordinary,' I think we feel much more called-like God has laid this at our feet and has made it possible," says Jonathan.
"All the biblical figures that have done unusual things-God worked with what He had there, and we feel the same way."
---
Meet the kids

Paul Ruslan, 13, is reserved, independent, a "little suspicious of strangers," athletic, and has a wry sense of humor. He loves "monster trucks" and serving as an acolyte at the family's church, Trinity Lutheran in Villa Park, Ill. He brought home an infant car seat he found-filled with snow-for "Kola," his 4-year-old brother, still in Ukraine, that the family hopes to adopt.

Adam Bogdan, 11, is fun-loving, a daredevil, and a "social butterfly" who was voted to his school's student council the very first year. He and his older brother are proud of the backyard vegetable garden they've planted with corn, peas, peppers, tomatoes, radishes, and melons. It makes him feel good to sometimes sleep in Kola's bed, the empty lower bunk bed in the boys' room.

Rachel Ludmila, or "Luda," is an "exceedingly responsible, very disciplined" 10-year-old who took ballet her first year in Chicago and danced selections from "The Nutcracker." She never forgets her schoolbooks, and if anyone in the family is missing mittens, "it's only because she's not with us," says her dad. She's often the enforcer of family rules, and once admonished her pastor, Rev. Rob Rogers, for saying "dang," a word "papa doesn't allow."

Sarah Olena, or "Lena," 9, is a "wild child," a "spitfire," who says what she thinks and is often "hilarious," according to Rogers. She's also "rather meticulous," adds her dad, who says she "packed and repacked her bag for hours" before leaving Ukraine. Every Sunday after worship, she pushes a congregation member in a wheelchair out to her car in the parking lot.

David Mihailo, or "Misha," 7, is cute, cuddly, and a "dreamer" who loves dressing in costumes and pretending. He's made a "fort" under the front porch of the house, and has fun donning a homemade mask and claws and "growling" like a fierce animal. He's growing his hair out, he says, to "be like" his dad, who wears a ponytail.
The Stahlke children are "very open" and "very loving," says Pastor Rogers, and "bring their own gifts to everything." They are not, he added with a grin, "kids that I dread having in youth group."
---
Adopting Internationally
A lot of Americans have misconceptions about international adoption-"that it takes years and years, for example, or that it costs so much money," says Susan Myers, director of the Baltimore-based Lutheran Adoption Network.
In reality, the average international adoption—for one child or a sibling group—takes about 18 months (some take less than a year from start to finish) and costs about as much as a new car—anywhere from $15,000 to $30,000 for everything, according to Myers.
Some 22,000 children are brought into the United States each year through such adoptions, Myers says, and, although the Stahlke's brood of five is the largest she's worked with, "there are more and more families adopting siblings from countries like Ukraine and Russia," she said.
As an alliance of 29 Lutheran social ministry organizations nationwide, the Lutheran Adoption Network (LAN) links singles and couples of any faith with local agencies that can help arrange international adoptions, as well as domestic infant and special-needs adoptions.
The Stahlkes of Chicago, for example, worked with two LAN agencies—Lutheran Social Services of New England, one of five LAN members that handle international adoptions, and Lutheran Social Services of Illinois, which took care of their "home study," post-placement visits, and other local requirements.
LSS of Illinois adoption specialist Wendy Ince said she was "very impressed" by Jonathan and Mary Stahlke because they were more prepared than most adoptive parents-to-be.
"They didn't seem to be idealistic about it. They didn't seem to think it was just going to be a fairy tale," said Ince, an adoptive parent herself with two children from Guatemala. "They had done their research, and they were very, very open to learning as much as possible and preparing as much as they could." The couple even took a 33-hour foster parents training course at Ince's suggestion—something that wasn't required—and studied the Ukrainian language.
A year and a half later, the family is doing "remarkably well," she said.
Anyone considering international adoption should be willing to "embrace a child's [racial and cultural] differences," advises Myers. Being "flexible and patient" also is helpful, she added, "because the process of an international adoption can sometimes be stressful."
That process includes a home study; preparing numerous legal documents, which may include birth, marriage, and divorce certificates, background checks and fingerprinting, medical evaluations, and financial statements; choosing a child or sibling group; a one- to five-week stay in the country from which you are adopting; and "post-placement" visits and reports by a local caseworker.
---
Blogging the Memories
Mary Stahlke has been writing a "blog," or Web-based log, since June 2005—the summer she and her husband, Jonathan, made their trek to Ukraine to adopt a "sibling group" of three boys and two girls.
The blog—at www.stahlkeadoption.blogspot.com—includes dozens of entries documenting the Stahlke's international adoption experience, as well as more recent updates on how their five children are adjusting to life in America.
The following is an excerpt about Mikola, nicknamed "Kola," the 4-year-old brother of the Stahlke children who recently became available for adoption in Ukraine. The Stahlkes have submitted the necessary paperwork to adopt Kola and plan to fly to Ukraine to complete the adoption as soon as authorities there ask them to come.
From Mary's blog:
"Kola's Birthday (Thursday, March 29, 2007): Today is Kola's fourth birthday. It is important for our children that we mark such an important day, and we've planned a birthday celebration after school. We'll sing 'Happy Birthday' to him and all blow out the candles on his cake.
"Last year on March 29, Kola's birthday fell on a Wednesday. Because of after-school activities and Lenten services, the only time that all of us were together was before school. So we had birthday cake for breakfast! It was very emotional. The children were excited to be singing and eating cake, but when an innocent joke was taken wrong, one of them burst out crying. It was clear that underneath the birthday excitement was a great deal of grief and frustration.
"Hopefully, next year at this time we can celebrate with Mikola."