by Kim Plummer Krull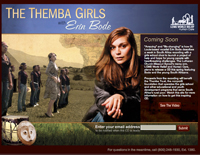 Singer Erin Bode has performed on network television, toured internationally, and was featured on Garrison Keillor's national-radio program, "A Prairie Home Companion."
But for this rising young star with deep Lutheran roots, nothing compares to the week she and her band spent in South Africa making a CD to help build hope in the midst of heartbreaking challenges.
"This was by far the best thing I've ever done," said the jazz/pop singer, talking about the unique LCMS World Relief and Human Care project that took her to the remote village of Dirkiesdorp to record with a choir of young South Africans.
"When you make a career out of music, it's easy to see music as something you do for yourself," Bode said. "But this experience taught us that music is a gift that is given to us and that we can use to help others."
Great things in difficult situation
Rev. Matthew Harrison often travels to Africa but visited the continent's south tip for the first time last year to explore a new ministry partnership opportunity. While in South Africa, the LCMS World Relief and Human Care executive director visited the Themba Trust, a foundation that lives up to its name in a land of great poverty and limited education opportunities, and where one in eight South Africans is HIV-positive.
"Themba" (TEM-bah) means "hope" in the language of the Zulu, the predominant tribe where the agency is based southeast of Johannesburg in rural Dirkiesdorp. Since 1989, LCMS World Relief and Human Care, the Synod's mercy arm, has provided grants to the Themba Trust that help impoverished young people get an education and develop skills so they can, in the words of a Themba trustee, "live purposefully in Christ."
"I wanted to see this faith-based organization that is doing great things in the midst of one of the world's most difficult situations," Harrison said.
Themba's roots began with mission work by German Lutherans more than a century ago. Today, the foundation operates two residential high schools (one each for boys and girls) that offer some 500 young "learners" (students) quality academics and Christian values, rare gems in a chaotic, state-funded education system notorious for sexual abuse of female students in exchange for passing grades or pocket money.
But Harrison also discovered a surprise at Themba. The schools offer no formal music instruction, but choirs have blossomed. One ensemble at Siyathemba (the girls school) caught the pastor's ear, and wheels turned.
"I've heard many African youth choirs, but these girls were extraordinary," Harrison said. "I wondered if their gift could be a blessing that could help raise awareness of our work and the needs in South Africa."
The pure, joyful voices of the "Themba Girls" also reminded Harrison of Erin Bode. He wondered if the popular recording artist might have a heart for Themba.
She did, although Bode admits to feeling "a little intimidated" after LCMS World Relief approached her about making a CD with the girls in South Africa. "Do we want to mess things up? I wasn't sure," said the 29-year-old St. Louis-based singer, already juggling a busy tour schedule and plans to record her third CD.
But Bode felt God nudging her toward a partnership with the Synod's international mercy arm. She grew up in the LCMS. Branches on her Lutheran family tree include her father, Rev. Gerhard Bode, pastor of Peace Lutheran Church, Hutchinson, Minn.; her grand-father Dr. Gerhard Bode, a former Oklahoma District president; her uncle, Dr. Jacob A.O. Preus, president of Concordia University, Irvine, Calif.; her late grandfather, Dr. J.A.O. Preus, a former Synod president; two brothers who are LCMS pastors, and a sister who is married to a pastor.
"When Pastor Harrison contacted us with this opportunity, we could never say no. But we knew that our lives were about to change," Bode said. "We knew going in that God had something planned for us."
Meeting the Themba Girls
The 17 "Themba Girls" had graduated since that day when they captured Matt Harrison's attention. But the teens eagerly returned to the school to record with Erin Bode.
"When we arrived (at Themba), the girls were singing. They sang all the time," said Bode, who trekked to South Africa with fellow musicians Syd Rodway (Bode's husband), Adam Maness, and Derrek Phillips. Rounding out the project team were a sound engineer, a two-person video production crew, and LCMS World Relief and Human Care deaconess Rachel Mumme.
With a nod to the project's many challenges, Harrison had asked Mumme to "deaconess the whole thing."
LCMS World Relief and Human Care had coordinated major, multi-million dollar responses after the tsunami in Asia and hurricanes on the Gulf Coast. But producing a CD with 17 teens and an American recording artist in a remote African village was a first. Harrison knew he could count on Deaconess Mumme's compassionate care and top-notch organizational skills to help the ministry avoid something it typically embraces, a disaster.
Lives of hardships and heartaches
Nolwazi. Zanele. Lindiwe. Nokuthula. Zandile. Senzy.
"The girls told us their names, and they sounded musical, as is fitting with the Zulu language," said Mumme, recalling the day the young Africans and Americans first gathered at Themba.
"From the time we stepped out of the van to meet the girls and heard them singing, any doubts that may have been lingering were erased," she said. "The honesty and pure joy in their faces brought immediate smiles to ours. We were amazed how easy it was to relate to the girls, and they to us, and how quickly and deeply we loved them."
The girls, ages 17 to 19, radiated what Bode calls teens' best qualities. "They were excited, energetic, and passionate, but without any of the attitude that we remembered having as teenagers," Bode said, laughing. "They were so sweet and so joyful."
But in the backs of their minds, the Americans were painfully aware of the hardships and heartaches suffered in South Africa. Many Themba students come from meager homes with no electricity. Many have known hunger and abuse. Nearly all have lost loved ones to AIDS.
"As the father of a teen-age daughter, it was hard for me to imagine the challenges these girls have faced," said Philip Hohle, video producer for the Themba project and a member of Concordia Lutheran Church, Kirkwood, Mo. "I pray that our project brings a little hope for kids like this in Africa who face such a bleak future."
Throughout the week, the Africans and Americans sang favorite sacred music, Bode in English, the teens in Zulu. They sang outdoors with beautiful soaring mountains as their backdrop. They recorded in an old thatched-roof church on the school grounds.
When they weren't singing, Bode and the Themba Girls (who speak excellent English) spent a lot of time talking. They prayed together before meals. They sat together at chapel and church services.
"It was very clear that we share a common bond, our faith," Bode said of her immediate love for the teens. "It's very humbling to be able to go to this remote place in the world and find people who have the same gift that you do. Faith is a total gift from God."
"To live purposefully in Christ"
In South Africa, families must pay for their children to attend school. Because few parents can afford the fees required for the better institutions, most students flounder in classrooms with little discipline and high absenteeism. Two-thirds of South African students drop out before graduation.
Many Themba students come from poor families who are members of congregations of the Lutheran Church in Southern Africa, an LCMS partner church. Many parents are "desperate for their children to attend a school that offers solid Christian values in a safe, sex-free, crime-free, and drug-free environment with a relatively high standard of education," said Reinhild Niebuhr, a Themba trustee.
Niebuhr is a South African whose German ancestors took part in the early mission work that planted Themba's seeds. Passionate and articulate, Niebuhr shared her fervor for helping young Africans with Bode and the LCMS World Relief project team.
"Some of our sponsored learners arrive with exactly one set of clothes, their school uniform. They wear this around the clock," Niebuhr said. "They bring one old blanket, no sheets."
Every year, the foundation covers the tuition and boarding costs of about a third of the total enrollment at both schools, about 167 "sponsored learners." That means Themba must raise at least $300,000 annually to educate youngsters from extremely poor families.
Because of the tragic impact of HIV/AIDS, Themba also provides for a growing number of "unexpected beneficiaries." "We generally need to plan for about 10 percent of learners to struggle with payments halfway through the year owing to the death of the breadwinner in the family," Niebuhr said.
The full cost of tuition and boarding is 1,000 rand (about $150) a month. When a student loses a parent, the foundation struggles to arrange financial assistance so the youth can remain in school, despite the major cash-flow problems such crises create for Themba.
"We cannot possibly send a child home for non-payment, knowing the trauma of losing a parent and then living in the fear of losing a place at his or her beloved boarding school," Niebuhr said.
The Themba Trust depends heavily on charitable donations. Supporters include the Independent Evangelical Lutheran Church in Germany and the Free Evangelical Lutheran Synod in South Africa, also LCMS partner churches.
LCMS World Relief and Human Care is another longtime supporter. Proceeds from the ministry's new Themba Girls/Erin Bode CD will go into the foundation's "bursary fund" that provides scholarships for needy students.
If those scholarships are fully funded, Niebuhr also wants to use some funds to start a program that, considering the CD project's original inspiration, sounds most appropriate. She would like to start a Themba "music centre" to offer students vocal and instrumental training and, eventually, develop and record the music of Lutheran African congregations.
"I am truly grateful for the opportunity created by LCMS World Relief and Human Care in cooperation with Erin Bode and her group to raise awareness of the potential of young people in Africa among people in the United States," Niebuhr wrote via e-mail.
"God has blessed America with so much material wealth and so many wonderful people," she continued. "Imagine if each one of them could be motivated to share their knowledge and experience with youth in Africa and help make it possible for young people in Africa to develop the skills they need to live purposefully in Christ."
You get back more than you give
Soon after returning home from Dirkiesdorp, Bode and her band hit the studio to mix and record the new CD. Harrison and Bode will introduce the CD, "The Themba Girls with The Erin Bode Group", at a celebration concert, April 23, in St. Louis. (See accompanying story.)
This inspiring CD includes Zulu sacred songs and beloved American hymns "Go My Children with My Blessing" and "Were You There?" It features original songs penned by Bode and the band while they were in Themba. Also on the CD is a music video shot in South Africa that shows breathtaking scenery and beautiful music, and friendships, in the making.
"We wanted to give people the opportunity to feel what we felt, to share this wonderful experience with these beautiful and amazing girls," said Bode, her eyes welling with tears.
Along with funding scholarships for needy students, Bode hopes the new CD might open a door for the Themba Girls themselves. All earned "matric certificates" (high school diplomas) at Themba. "Whether they want to continue their academic education or pursue music or a vocation, I want these girls to have choices and opportunities for an education that enables them to choose what they want to do in the future," Bode said.
Finally, Bode wants the Themba Girls CD to encourage people to get involved and help others. "I'd never been this involved with a charity or volunteer work before. It can be a challenge to reach out, do more, and commit emotionally," she said. "But you get back so much more than you give."