by James Heine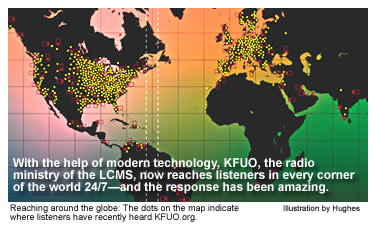 Visit the facilities of KFUO, the radio ministry of the LCMS, on a damp early-May afternoon, and a familiar sight beckons. Tucked into a corner of the campus of Concordia Seminary in St. Louis is KFUO's familiar radio tower, and next to it, the cozy collegiate-gothic building that is the stone-and-mortar incarnation of the broadcast dreams of KFUO's 20th-century founders: Richard T. Kretzschmar, John H.C. Fritz, and Walter A. Maier.
Inside KFUO's headquarters—the oldest continuously operating broadcast facility in the U.S., notes Dennis Stortz, director of broadcast operations—Rev. Kretzschmar, Dr. Fritz, and Dr. Maier would today find much that is familiar. Studio A, the station's traditional "performance" studio, remains just inside the lobby. Off to the left of the lobby, and a few steps down a hall, is Studio C, the not-so-large booth from which Dr. Maier broadcast his "Lutheran Hour" messages. Down another hall is the museum, in which they would find office and broadcasting equipment from their own years at the station.
In the beginning, in 1924, just after the advent of commercial radio, KFUO-AM shared its position on the radio dial with KSD-AM, then the radio station of the St. Louis Post-Dispatch, and both stations struggled—and often competed at cross-purposes—to reach their listeners, Stortz explains. Later, KFUO-AM acquired its present home on the dial, 850, and the reach of its daytime signal encompassed about 100 miles, as it does today.
Yet today, he notes, the trio of founders would probably be delighted to learn that their station—which they donated to the LCMS in 1926—reaches around the world, thanks to the Internet and "streaming"—computer-speak for the technology that allows listeners to access programming via the Web.
"We like to say that with kfuoam.org and classic99.com, 'We are where you are,'" says Stortz, smiling, "but it's more than that. Now we can be where you aren't. That's important for the mission of the church and our contributions to the culture.
"On your behalf, via kfuoam.org, we can reach South Africa or Thailand or China with the Good News of Jesus," Stortz adds. "Meanwhile, with classic99.com, we can provide great classical programming whether you're in Lexington, Ky., or Lisbon, Portugal. We can be a familiar voice from home for our members and friends around the world—and for our soldiers in Iraq and Afghanistan, as some of them have told us via e-mail."
The advent of streaming continues the "miracle of radio" his father foresaw, observes Dr. Paul L. Maier, professor of ancient history at Western Michigan University, a frequent contributor to this magazine, and second vice-president of the Synod.
"As the principal founder of KFUO, my father thought many more KFUOs would be necessary across the world to convey the Gospel via radio," Maier recalls. "But 'chain broadcasting'—the networks—came along and partially solved that problem, and 'The Lutheran Hour' was born."
Echoing Stortz, Maier observed in a recent e-mail exchange that live Internet streaming creates an entirely new dimension for radio.
"To say that my father would be thrilled by this development is to understate," he wrote. "I, personally, rejoice in the fact that I am sending you this message from Frankfurt, Germany, while listening to beautiful music courtesy of KFUO's CLASSIC99."
The AM side of KFUO began streaming its programming in 1998; the FM side (CLASSIC99), in 1999, Stortz explains. CLASSIC99, however, discontinued streaming in 2002 amid industry-wide disputes about copyright regulations pertaining to voice talent, music ownership, and commercial content. "The industry issues have now been resolved, and CLASSIC99 returned to Internet streaming last fall," he says.
The response to the Internet availability of KFUO-AM and CLASSIC99 has been rewarding—and sometimes touching, Stortz adds. Comments flow in from around the world—not only from Germany, as in the case of Dr. Maier, but also from Italy, France, Iceland, Hungary, Mexico, and the Philippines, among others.
Dr. Robert Roegner, executive director of LCMS World Mission, has no doubt the Internet and streaming have opened up radio broadcasting as never before. "We've just scratched the surface," he says. "I think we're at the beginning of some wonderful opportunities as it relates to the Internet and computer technology."
Technology aside, the focus of KFUO has remained constant through its 83-year history, Stortz observes. He has reviewed the program log of the inaugural broadcast on Dec. 14, 1924: "Rev. Kretzschmar was the first on-air person to speak, a prayer was offered, thanking God for this new opportunity to spread the Gospel, and then they played a Brahms quartet. To me, KFUO still represents that kind of programming."
If you review the program logs from the 1930s, 1940s, and 1950s, and even today, "the station—two stations, really—has always offered a unique mix of Gospel and music, talk and music, and cultural and fine-arts presentations," Stortz continues.
Until the mid-1970s, programming on the AM and FM stations was nearly identical, Stortz says, but with changes mandated by new FCC regulations in 1975, which decreed that in a multiple-license situation such as that of KFUO-AM and -FM programming should be different, CLASSIC99 expanded its fine-arts broadcasting while KFUO-AM retained its focus on inspirational programming.
"If the founders were here today, to see the capability we now have with Internet technology, they would be absolutely delighted," says Rev. Paul Devantier, the popular host of KFUO's syndicated "By the Way."
Their vision at the time was that radio—then an emerging technology itself—"would ultimately provide an opportunity for the LCMS to reach around the world," Devantier explains. "They would say, 'Halleluiah! Praise the Lord. Thanks for this new gift.'"
From his laptop in Germany, Maier agrees: Now "KFUO—'The Gospel Voice'—covers the world indeed!" he observes.
---
We Are Where You Are
If you have broadband Internet access, you can find KFUO-AM on the Web at kfuoam.org and KFUO-FM at classic99.com. From either site, you can simply click on "Listen Now" and tune in via your computer.
Popular programs on KFUO-AM include "Issues, Etc."; "The Morning Show"; "Law and Gospel;" "Front Porch Parenting;" and "The Meyer Minute."
In addition to fine music 24/7, CLASSIC99, KFUO-FM, offers programming that includes "Friday Morning with the Arts," "St. Louis Symphony Preview," "Composer's Datebook," "Classic Kids," "Broadway Spotlight," and "Live from the Garden."
KFUO/CLASSIC99 also carries religious programming, including Sunday morning worship services, "Joy," "Bach at the Sem," and sacred-music offerings at the holidays and during other festival seasons of the church year.
KFUO is a listener-supported radio station. If you would like to help KFUO take the Gospel message "to the ends of the earth," please make your gift payable to KFUO Radio and send it to KFUO Radio, 85 Founders Lane, St. Louis, MO  63105-9907.
You can also make a credit-card gift by phone at (888) 930-4438, ext. 1019, or via the Internet at www.kfuo.org.
---
Praise for classic99 hits the high notes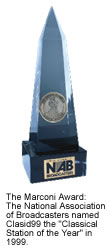 As with the AM license in 1924, KFUO acquired the FM license for CLASSIC99 with little fanfare and expense in 1948, says Dennis Stortz, KFUO director of broadcast operations.
At the time, few people were interested in FM, he explains. The medium really didn't come into its own until the mid-1960s, and by that time a lot of organizations had given up on it.
The leadership of the LCMS, and of KFUO, didn't give up, how-ever, and today the FM license is "unbelievably valuable, not only in dollars and cents, but because of its position on the dial, and its clarity and signal," Stortz says.
CLASSIC99 is immeasurably valuable in another sense, too, Stortz, adds. In many ways, it serves as the cultural voice of the region, and now with the addition of classic99.com, it offers that voice and perspective to the world, just in time for its 60th anniversary.

David Robertson, music director and principal conductor of the St. Louis Symphony Orchestra, concurs. The region is fortunate to have a station such as CLASSIC99. It "provides an access to all sorts of aspects of the arts, music principally, because that's where the broadcast medium really excels," he says.
Charles MacKay, Opera Theatre of St. Louis general director, agrees: Long before Opera Theatre made its debut in St. Louis, KFUO championed vocal music, including opera. KFUO has "brought the joy of singing into households all over this area by broadcasting live performances by the Metropolitan Opera and Lyric Opera of Chicago, as well as historic performances from around the globe," he says.
Compared with other fine-arts stations around the country, KFUO excels—and distinguishes itself—in its commitment to the region, Robertson observes.
"Many fine-arts programs tend to forget they are in a specific community," he says. "One of the hallmarks of CLASSIC99 is that it really is concerned that its listeners know what's going on in and around St. Louis, so that people can experience the arts firsthand."
---
E-notes from KFUO Listeners around the World
"I just wanted to write and say how much I enjoy your podcasts over here in England. I live near Cambridge, in the east of England, and the miracle of the Internet means I can still hear you loud and clear."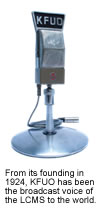 "I'm thankful to God for your Christian service through your broadcasts. It is a great service to the church and the world. Being now here in Taiwan, I'm particularly thankful that you're online, and I can easily access your live streaming or your archived programs."
— Two KFUO-AM listeners
"We listen online to KFUO-AM in the morning and CLASSIC99 in the afternoon and evenings from Budapest. We sure appreciate the touch from home. We've been missionaries with the Free Methodist Church in Hungary since 1996. … Thanks for 'being there' day and night."
"I listened to CLASSIC99 for years when I lived in the St. Louis area. Now, as a resident of Bermuda, I'm delighted to find you on the Web. Thanks for keeping me connected with St. Louis and the arts."
"Just a little note to let you know that I'm listening to CLASSIC99 (via the Internet, of course), on a hot (100° F) Sunday afternoon at Al-Taqaddum Air Base at the side of beautiful Lake Habbaniyah in Iraq. Thanks for the great work."
— Comments from CLASSIC99 listeners