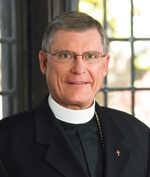 by Jerry Kieschnick
Last month, I began to share with you the hopes, dreams, and objectives that I have for the Synod. You may recall that I started with two: keeping focused on our Lord's mission to reach the lost for Christ, and restoring health and vitality to our congregations.
Here are two more that regularly are on my heart and mind:
— Recruitment, training, compensation, and retention of professional church workers.
Concordia Plan Services, which provides the retirement plan for our church workers, reports that 50 percent of currently active LCMS pastors will reach or surpass retirement age in the next 10 years. That's an average attrition of 250–300 pastors per year. Add to that nearly 200 more pastoral missional leaders needed for each of the next 10 years to meet an Ablaze! challenge—to begin 2,000 new missions by 2017—and we will need 450–500 new pastors per year for at least the next decade.
In 2006, from both seminaries combined, we placed 187 seminary graduates in LCMS congregations and mission stations. The gap is obvious!
The need also is great for recruitment of other professional church workers. While blessed with arguably the best system of higher education in Protestantism, we desperately need renewal of training in practical aspects of congregational life, including, for example, evangelism and stewardship. Both sorely need to be elevated from elective to required-course status.
Proper compensation of professional church workers needs and is receiving attention at all levels. Jesus said, "The worker deserves his wages" (Luke 10:7). Yet many professional church workers, especially commissioned ministers, leave full-time church work in search of vocations and professions with greater financial remuneration.
Our workers are vital for the future of our Synod. Recruitment, training, compensation, and retention are critical needs demanding resourceful attention.
— Funding the mission.
Not long ago, I learned from a significant segment of our district presidents that 70–90 percent of congregations in their districts do absolutely nothing regarding individual or congregational stewardship! That is incredible and unacceptable—not merely for the sake of generating sufficient revenue for funding the mission at all levels, but also for the sake of the spiritual health and vitality of individual Lutheran Christians. Jesus said, "For where your treasure is, there your heart will be also" (Matt. 6:21).
In its report issued last year, the Blue Ribbon Task Force for Funding the Mission, created by the 2004 Synod convention, places heavy emphasis on stewardship education and motivation in the congregations of our Synod. The task force says, "We must initiate a stewardship renaissance within the church for the good of the church and to the benefit of those who would otherwise be lost for all eternity."
You can find the report online at www.lcms.org?10295.
A major stewardship initiative and emphasis involving LCMS congregations, colleges, universities, seminaries, districts, and national Synod will address this vital need.
For example, the Lutheran Church Extension Fund offers a "Consecrated Stewards" program, which trains and provides "certified guest leaders" to help congregations with stewardship education. According to LCEF President Merle Freitag, congre-gations that have used the program have seen a 25 percent average increase in giving. For information, contact your district stewardship executive or go online to www.lcef.org/services/capital_funding and click on "Consecrated Stewards" on the left side of the Web page.
We are in the season of Lent. May our heavenly Father bless your Lenten reflection on all that He has done for us in the life and death of His Son, Jesus Christ, as we look forward to the joyous festival of His resurrection!