by Paula Schlueter Ross
The trees in Greensburg, Kan., are freakishly short—their tops sheared off by an unusually powerful tornado that thundered down Main Street in a 1.7-mile-wide swath May 4.
But their splintered branches, stripped of bark and sticking out at odd angles, are green with a summer's worth of new growth: an omen, say some residents, that the town can—and will—rebuild.
There are other signs. As of Oct. 1, Greensburg's city hall—though still housed in a temporary structure—had issued dozens of building permits: 174 for repairs to homes, 58 to erect new ones, and 10 for new businesses.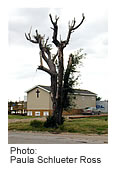 Surveyors are in town, property is being bought, and some residents are moving back. The city is installing shiny new street signs, which stand alongside rough, homemade ones that seem to fit the still-eery scenery.
And all eight Greensburg churches that were reduced to rubble in the 200-mph winds are back in operation, including Peace Lutheran Church, a 50-year-old Lutheran Church—Missouri Synod congregation.
Technically, although its building was demolished, the Peace congregation never stopped worshiping together.
First its members met in a tent, then in the living room of an unscathed home on the edge of town, using a card table for an altar and folding chairs for pews.
"We've never missed a Sunday," said Max Liggett, an elder for the congregation. "It was important to keep the church going."
Rev. Timothy J. Henning, pastor of both Peace and Our Savior Lutheran Church in Pratt, Kan., about 30 miles away, led services at the house church for about 20 of the congregation's members who remained in the area.
Thirteen Peace families lost their homes, furniture, cars, clothing—all their possessions—in the deadly storm. No members were killed.
"Can you imagine what it means to lose everything, in a matter of minutes, except your life?" asked Henning, who lives with his family in Pratt and escaped the damaging winds.
Just flat gone
The twister, which has been called the strongest in the U.S. in nearly a decade and, categorized at F-5—the National Weather Service's highest rating for tornadoes–took 10 lives in Greensburg, every one of the town's 37 businesses, and some 1,100 homes. Ninety-five percent of the town was "just flat gone," according to one survivor.

Chris and Julie Gardiner, and their teenage daughter, Megan, crouched in their basement with a neighboring family as the giant tornado roared overhead for a full four minutes.
"Stuff's starting to fly, and I'm thinking, 'Wow, this is really it,'" recalled Chris Gardiner, 49, a physician's assistant. "And then you can hear the house creaking and tearing apart, and then, all of a sudden, the floor [above] just took off. And then things really started flying around."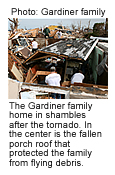 The winds, he said, "ripped the entire house off the top of us—subflooring and everything. We were totally exposed." An interior wall collapsed, then the porch roof miraculously landed overhead, acting as a shield, protecting the families from falling debris.
Two nights later, Gardiner dreamed that the porch roof had been the hand of God covering them.
After hearing all the stories of amazing survival amid total wreckage, Gardiner surmised that "God and His angels were everywhere in town" that Friday night just before 10 p.m.
"You know, I lost every material thing I owned. Everything," he said. "I had a five-bedroom house, three bathrooms, two family rooms—I had it all."
But Gardiner says he is thankful to God because he still has "the important things … I have my wife and my daughter, my son [Matthew, who was away at college]. And my dog [Joe, a boxer]," he added, laughing. The sobering experience has changed the way he views life: "My priorities have absolutely been realigned—with God and family at the top."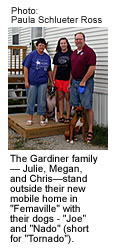 In July, the family moved from a friend's basement in Pratt to one of 300 mobile homes provided by the Federal Emergency Management Agency in an area of Greensburg known as "Femaville."
Even when they lived in Pratt, close to Our Savior's, they drove the half-hour to Greensburg to worship with other Peace members because "there's a connection here," Gardiner said.
That "connection" was evident on Sunday, Oct. 7, when nearly 50 Peace and Our Savior members, plus a few guests, shook hands, hugged, shared news, and laughed with one another as they arrived at 321 South Walnut Street for the dedication of a new Peace Lutheran Church building.
The modest 14-by-52-foot modular unit—a gift from LCMS World Relief and Human Care and Orphan Grain Train–is located on the church property, right next to the concrete slab on which the former building had stood.
It is, says Pastor Henning, "a sign from God that Peace congregation is here to stay. … We want to maintain a Lutheran presence here, lifting high the Gospel message of Jesus Christ."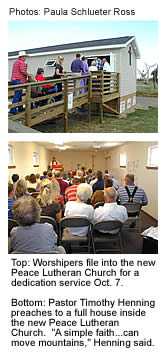 "I love the new building—I think it's great," said Richard Huckriede, 78, a Peace member for 50 years. Although the former Greensburg resident now lives in a "senior apartment" in Pratt and worships at Our Savior, Huckriede says he's keeping his membership at Peace.
"It was so nice to be able to be there with the group this morning," he said after the dedication.
"It's good to be here," Henning said at the beginning of the service.
"We give thanks for a new space for planning the work that God has for Peace to do," he said.
Henning blessed the new church—sporting a donated altar, pulpit, keyboard, and a couple of actual pews amid rows of folding chairs—and encouraged the congregation to "let your faith be wind-driven" as God uses them "to bring the seed of the Gospel into the hearts of many."
Enveloped by Love
Henning believes Greensburg will rebound, but added "it's going to take awhile."
Likewise, Peace Lutheran Church has ample opportunities to grow. "We have all kinds of doors open to us now, that weren't open before," he said.
A new town will bring new people, Henning added, and when that happens, Peace's members will be ready to reach out to them, inviting their neighbors to experience God's love, just as they have.
That love was evident even as the tornado was swirling and has enveloped the congregation in the months that followed, according to Henning.
"The love and mercy shown to us from throughout the Synod has been phenomenal," he said. LCMS World Relief and Human Care sent $30,000 "immediately," which helped 16 families with emergency needs after their homes—and lives—were suddenly ripped apart.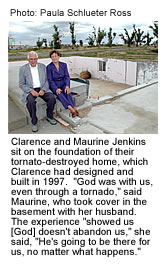 Since then, some 400 LCMS congregations and other groups, such as vacation Bible schools and Lutheran Women's Missionary League chapters, also have sent donations.
"God's been with us all the time," said Stan Adolph, who rode out the tornado in the basement of his daughter's home, which no longer exists. He and his wife, Dolly, he said, are thankful that God protected them, their daughter, Debbie, and two grandchildren, Alexis and Alec.
The couple also is grateful that the Peace congregation has been able to worship together every Sunday since the storm, even though their "church" was, in fact, someone's home.
The new church building "is a lot better," Stan says. "It's small, but it's ours."