by Roland Lovstad
One Message: Christ
The 63rd Regular LCMS Convention meets July 14–19 in Houston.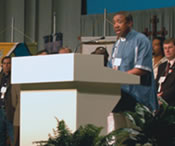 "One Message: Christ" will be the theme for the 63rd Regular Convention of The Lutheran Church—Missouri Synod when it meets July 14–19 in Houston, Texas.
As many as 1,250 voting delegates and 400 advisory delegates are expected to attend the triennial convention. Delegates will elect officers and members of boards and commissions, consider reports, debate resolutions, worship, and enjoy fellowship. Missionaries and representatives of partner churches will attend, and the colleges and seminaries will host gatherings for alumni and friends. A large exhibit area will host displays from Synod ministries, higher-education institutions, recognized service organizations, and vendors.
Among significant issues coming before the convention are proposals for increasing funding for the "at large" work of national and district offices, a procedure for training and ordaining "specific ministry pastors," review of the Synod's dispute-resolution process, and a proposal to fine-tune the 2004 convention's action regarding the authority of the Synod's Board of Directors.
Early business will include the election of officers. Candidates for president (see p. 16) include Dr. Gerald B. Kieschnick, Dr. John C. Wohlrabe Jr., Dr. Wallace R. Schulz, Dr. William R. Diekelman, and Rev. Daniel Preus.
The convention will also elect the Synod's five vice-presidents, its secretary and treasurer, and members of its board of directors, as well as the members of various other boards, commissions, and corporate entities.
On the agenda
In early May, the Office of the Secretary of the Synod sent the Convention Workbook to all delegates and alternates, board and commission members, and rostered church workers.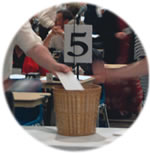 The Workbook includes reports from boards and commissions, documents from the Commission on Theology and Church Relations, opinions of the Commission on Constitutional Matters, and reports from the Synod's 35 districts. It also contains 361 overtures (proposed resolutions) submitted by congregations, district conventions, church-worker conferences, and other official entities.
Synod Secretary Raymond Hartwig said the Workbook has 44 fewer pages than the 2004 edition.  He said 133 fewer overtures were submitted for this convention.
"The Synod has obligated itself to respond to every overture that is properly submitted to the convention," Hartwig explained. "They are assigned to convention floor committees, and these committees decide what will be done with each overture. All are taken seriously."
Eight floor committees—comprised of convention delegates and representatives—met May 18–21 in St. Louis to review the reports and overtures and to draft resolutions for the convention. The floor committees will meet again, prior to the convention, and will hold open hearings July 14 in Houston. They will continue to function during the convention, presenting their resolutions according to the agenda of the day.
The 68 reports in the Workbook are also assigned to a floor committee. Hartwig said the committees have the liberty to draft resolutions based on information and recommendations made in those reports.
Following are topics, grouped by floor committee, likely to be considered by the convention.
Missions.
A number of overtures deal with the Synod's Ablaze! movement to share the Gospel with 100 million unreached or uncommitted people worldwide by 2017, the 500th anniversary of the Reformation. The overtures deal with giving priority to foreign missions, encouraging mission-planting partnerships, clarifying terms used in Ablaze! materials, and accounting of funds. Other mission-related overtures deal with cooperative work in campus ministry and military chaplaincy.
District and Congregational Services.
Doctrinal concerns about worship styles and materials flavor many of the overtures. Others encourage planning for anniversaries, including the 500th anniversary of the Reformation in 2017 and the 200th birthdays of Synod pioneers Wilhelm Loehe (2008), Friedrich Wyneken (2010), and C.F.W. Walther (2011). Other overtures deal with youth ministry. One calls for a Synod staff member for Hispanic ministry.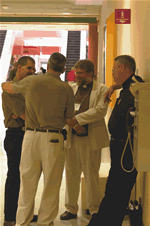 Theology and Church Relations.
The convention will act on a recommendation from the Commission on Theology and Church Relations (CTCR) to declare altar and pulpit fellowship with The American Association of Lutheran Churches. The AALC was established in 1987 by pastors and congregations concerned about doctrinal positions of church bodies involved in a merger that resulted in the Evangelical Lutheran Church in America on Jan. 1, 1988. Representatives of the AALC and LCMS have conducted doctrinal discussions toward fellowship since 2005. With headquarters in Minneapolis, the AALC has 79 congregations, 107 active pastors, and 14,137 baptized members.
An array of other issues will be considered, including review of CTCR guidelines for participation in civic events, the practice of "close" Communion, the service of women in the church, and a request for theological guidance on ministry to undocumented immigrants.
Program and Finance.
At the request of the 2004 convention, a Blue Ribbon Task Force for Funding the Mission looked at the trend toward increased funding of ministries by direct gifts and decreased funding through traditional "unified budgets" of district and national offices. The task force issued its report last July. Offering 11 recommendations, the task force affirmed the direct-giving process but called for renewed stewardship and evangelism emphasis and education in congregations, efforts to improve communication, increased management efficiencies, and triennial fiscal conferences involving district and national offices. The task force also proposed financial support from corporate entities and recognized service organizations.
The report generated a number of overtures. Some oppose specific recommendations or propose outright rejection of the report. Another suggests some recommendations have no scriptural basis.
The convention also will consider a bylaw change to rename Worker Benefit Plans to Concordia Plan Services. It also will recognize the LCMS Foundation's 50th anniversary in 2009.
Seminary and University Education.
For some years, the Synod has sought to provide pastoral ministry for unique circumstances such as small rural and urban parishes and among immigrant communities, as well as for church planting and mission opportunities.
This year, the convention will consider a proposal from the Board for Pastoral Ministry for a "Specific Ministry Pastor" program. Men would gain basic competencies through a program of study developed by the seminary faculties and then take their ordination vows and complete further studies while serving a specific ministry. Much of the study would be done via the Internet and video, short-term seminars, and mentors.
A number of other overtures from congregations and seminary faculties also address training pastors.
Also coming before the convention will be proposals to enlarge the boards of regents at the Synod's 10 Concordia colleges and universities and the two seminaries. The intent is to draw additional expertise onto the boards from individuals in fields such as finance, law, and business. Conventions would continue to elect a portion of the regents, and the local boards would appoint additional members.
Human Care.
A small number of memorials seek to address human-care issues. However, they show a variety of topics: thanks for care and support after Hurricane Katrina, assisting congregations in ministering to undocumented immigrants, stating an LCMS position on stem-cell research, and establishing guidelines for sabbaticals for professional church workers.
Planning and Administration.
Several revisions to Synod bylaws have been proposed. Among them are processes for removing a board member and disclosure of potential conflicts of interest, delegate representation to conventions, and elections processes. Also to be considered are the membership and selection of the Commission on Constitutional Matters.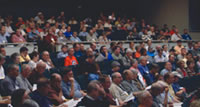 Synod Structure and Governance.
A number of overtures deal with a 2004 convention action that defined the authority of the Board of Directors. Under provisions of the 2004 action, the Synod President and the Board of Directors appointed a special committee to give further attention to the issue and report to this convention.
The last convention adopted a process to deal with ecclesiastical supervision, discipline, and expulsion from membership. The topics will return this year:
A number of memorials seek to rescind or change the process.
A Blue Ribbon Task Force on Synod Structure and Governance is currently at work and will report to the next convention in 2010. In light of its work, some issues may be referred to the task force for incorporation into its report. The task force has issued a study document to encourage discussion of theological principles for the LCMS structure and governance.
In other matters of structure and governance, this year's convention will deal with a number of overtures to affirm or decline specific opinions of the Commission on Constitutional Matters.
Staying informed
Readers may obtain more information about the convention via the Internet from www.lcms.org/convention. During the convention, the site will be updated frequently with election results and other reports.