by Scott A. Schmieding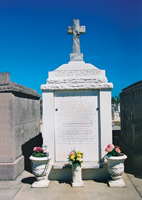 Cemeteries are different down in bayou country. The deceased are usually "buried" above ground. As Hurricane Katrina vividly demonstrated, much of the city of New Orleans is six or more feet below sea level. When the system of levees and pumping stations failed and the city was inundated, many caskets were dislodged by the floodwaters and simply floated away.
The first settlers of "Nouvelle-Orléans" quickly discovered they had to find new ways to bury the dead since graves would fill with water as soon as they were dug. So they began using above-ground tombs.
Today there are dozens of above-ground cemeteries throughout the Big Easy. They are laid out in grid patterns resembling miniature cities filled with narrow paths and a variety of ornate architecture, sculpture, and ironwork.
New Orleans cemeteries generally have three different types of above-ground tombs. The most prominent are the rows of family mausoleums. There are also wall vaults placed in rows and stacked three or more layers high. Most of the remaining burial plots are elevated mounds of dirt, rock, or seashells retained by short walls.
In the mausoleums and wall vaults, the dead are usually placed in a wooden casket. The hot, humid conditions of New Orleans speed the process of decay. The wooden caskets disintegrate, and human remains quickly decompose.
City regulations specify that after one year and one day the remains of a person laid to rest in an above-ground tomb may be collected and deposited in a communal pit at the bottom of the tomb. Then the next deceased person can be placed in the same tomb. It's not uncommon to find individual tombs that contain the remains of 15 or more people. As bodies are added over the years, the bottom chamber of a tomb becomes a mixture of the remains of every person interred there.
Two realities
While burial practices in New Orleans may seem unusual to people from other areas of the country, they remind us that death is an ugly reality we all face—dust to dust, ashes to ashes. Yet we rejoice in another reality beyond death. We are living in the aftermath of Christ's resurrection. Our "Alleluias!" continue to ring out. Death has lost its sting because Jesus, our Good Shepherd, laid down His life for His sheep.
In death's dark vale I fear no ill
With thee, dear Lord, beside me,
Thy rod and staff my comfort still,
Thy cross before to guide me.
Lutheran Service Book, Hymn 709
Our resurrected Good Shepherd leads us along the pathways of life and even through the "valley of the shadow of death." In John 11, Jesus said to Martha (and to us), "I am the Resurrection and the Life. He who believes in me will live, even though he dies; and whoever lives and believes in me will never die."
Our Savior, once crucified, is resurrection personified. His resurrection is a preview of our resurrection. Our human remains will be changed at the final judgment. Our lifeless remains, whatever their location or condition, will be resurrected. We will be given new, perfect, and glorified bodies beyond our wildest imagination. Rejoice in the resurrection!
We are resurrection people by virtue of our baptism. What happened almost 2,000 years ago on Good Friday and on the first Resurrection Day is God's gift to us right now. Apostle Paul tells us in Romans 6: "Don't you know that all of us who were baptized into Christ Jesus were baptized into His death? We were therefore buried with Him through baptism into death in order that, just as Christ was raised from the dead through the glory of the Father, we too may live a new life. If we have been united with Him like this in His death, we will certainly also be united with Him in His resurrection."
There is something different about us—we are resurrection people. Eternal life is God's promise to us for our souls and for our bodies.
Living with hope
How comforting it is for Christians to confess, "I believe … in the resurrection of the body." We live with hope and joy every day as people who have died to sin and been raised with Christ.
While burial practices in New Orleans may seem like a mixed up, morbid mess, they demonstrate our need for the resurrection. Because Jesus is "the Resurrection and the Life," it doesn't matter whether we are buried New Orleans style, cremated, lost at sea, or sealed in airtight containers. God promises us eternal life with Him and a glorious resurrection.
Rejoice that because of Christ's resurrection, the resurrection is and will be a reality for us!