by Anita Stohs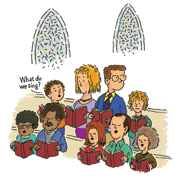 It was Sunday morning and my family and I were visiting a church in a community away from home. It had taken us longer to find the church than we had expected, so we arrived a few minutes late. The parking lot was full, and there were no parking spots reserved for visitors. My husband dropped the family off at the door and drove off in search of a parking place.
Not wanting to end up in the front row at a church whose worship style might be different from that of our home church, we were happy to find room in the back pew. We scooted in just in time to sing the first hymn. Except we couldn't figure out what it was. Neither the hymn text nor number was printed in the worship folder. I fumbled through several of the inserts and handouts that came with the worship folder, but couldn't find any reference to any of the hymns to be sung that day.
"What do we sing?" my son whispered as he held his hymnbook out to me.
"I don't know," I whispered back.
I looked around for a hymn board, but saw none. A woman was sitting at one end of the pew in front of us, and I was able to get her to turn around and show me the number of the hymn the congregation was singing.
By the second hymn, we still had not figured out where to find the hymn numbers, and the woman I had just asked for help showed no interest in assisting us a second time. I used the index at the back of the hymnbook and was able to join in the last stanza. But we never figured out what the third hymn of the day was.
Before the closing hymn, I finally found a hymn board tucked into a spot on the wall that was nearly impossible to see from the back pew.
I quickly told the rest of the family, and we joined the congregation in the last hymn of the day.
As we left the church, the pastor was friendly, but the church members gathered in their tight groups, showing no interest in us as first-time visitors. Finally, as we got into our van to leave, someone did speak to us. An elderly couple parked beside us shared their optimistic predictions of victory later that day for the local football team.
As we drove away, we reflected on the morning's experience. What if, instead of being one-time visitors, we had been new neighbors of that congregation searching for a church home? Would we have come back to that church, or would we have looked elsewhere for a more "visitor friendly" church?
We are all called by our Lord to be "Great Commission" people. The mission of a congregation is not to center on itself but to look for ways to share the Good News with others. Welcoming visitors to our church is one way to reach out to our community neighbors who want to know more about Jesus' saving love for them.
This Sunday, as you worship the Lord at your congregation, try to view the experience through the eyes of a first-time visitor. Is there visitor parking near your church building? Will someone be there to help pick up worship aids and hymnbooks, and does the worship folder provide clear instructions to lead the visitor through the worship service? What more can your congregation do to make the "stranger in a strange pew" welcome in your congregation?
With the idea of writing an article for The Lutheran Witness, I asked my family to visit several area churches to find out how their members welcomed strangers in their pews. Here are some of the people we encountered and the things they did to make us first-time visitors feel welcome:
– Several pastors noticed that our daughter has a developmental disability and made a special effort to talk with her.
– An elderly usher showed he cared by scurrying across the narthex to help us the minute we walked in through the church door.
– A young man stepped across the aisle to make sure we were at the right place in the hymnbook, and then checked later in the service to see that we were still following along.
– A man sat down in the pew next to my husband when the service was over and struck up a friendly conversation.
– Another woman looked at the registration book when it came back to her so that she could welcome us by name at the end of the service.
– At one church, several people stopped me as I got a cup of coffee after services, asking who we were and inviting us to come again.
– A couple stopped my husband and me as we passed by the visitor's table, eager to find out more about us and establish a relationship that would encourage us to come again.
– Some members not only introduced themselves, they also invited us to stay for Sunday school and adult Bible class, pointing out the rooms where they met and what topics were being discussed that morning.
– Several churches contacted us by mail later that same week.
– Most pastors wrote personal letters, not form letters, thanking us for coming and asking us to come again.
– A layman at one congregation wrote a personal letter.
– Our 15-year-old son received a youth-group newsletter from a church where he had entered his name and age in the registration book.
– A vicar at one church phoned us, as did a retired gentleman from another church. Both thanked us for coming and asked if we would like more information about their church.
– Once when we didn't include our phone number on the pew register sheet at another church, someone from the evangelism group took the time to look up the number and was calling our home at the moment we walked in the front door, thanking us for coming and asking if there was any way his church could help us.
While none of these is a great revelation or a new idea, perhaps you will find some helpful reminders as to what you can do at your church, whether you serve as an usher, volunteer in the office, sit on a church board, teach Sunday school, or simply sit next to someone who is struggling to follow the worship service.
The effect that these simple efforts to reach out to visitors can have at your congregation is illustrated by the answer a friend of mine gave when I asked her why she and her husband had joined one of the churches we visited: "Because they seemed to care so much about us, we really felt they wanted to show us Christ's love," she explained.
"Someone from this congregation visited us during the week that followed our first visit, and each month someone from this church phoned to find out if we had any prayer requests."
Pray that God will fill your heart, as well as the hearts of your fellow congregation members, with the desire and wisdom to show true Christian hospitality to those who come to join you in your worship. Let's all do what we can individually and collectively to help the "strangers in our pews" feel welcome as brothers or sisters in Christ.