by Rev. Jerry Kieschnick
God cares enough to have sent His very best.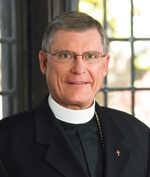 When I think about Christmases past, I have especially fond memories of certain gifts I received as a child. Most of us probably have similar joyous memories of Christmas when we were children, of some of the more special gifts we received (regardless of their monetary value), and of those who gave us those gifts.
One of those memories for me is of my first bicycle.
When I tried to learn to ride that bike—with training wheels, of course—I chose to do so on a sidewalk that sloped downhill by our house. I didn't fall off the bike while I was riding down the hill, but I must have missed the lesson about brakes, since I promptly ran into a stop sign! (I should note that the bike and I did survive our first encounter with a stationary object.)
I didn't think about it at the time, but I realize now that this bicycle represented a significant sacrifice on the part of my parents. In addition to their one son, yours truly, they also had three daughters to house, clothe, and feed—and for whom to buy Christmas presents.
On the flip side, I can remember my parents' sheer joy over giving my sisters and me so many gifts throughout our lives, notwithstanding the sacrifices involved. The words of Jesus are so true. It really is more blessed to give than to receive (Acts 20:35).
Christmas is a time of giving. Families gather from near and far on Christmas Eve or Christmas Day to follow what often is a time-honored tradition of giving each other gifts, tangible expressions of their love and care for each other.
Thinking about Christmas and Christmas gifts, the love with which they are purchased and exchanged, and the sacrifice that often is involved reminds us that these same factors are descriptive also of the greatest gift of all. I am referring, of course, to the Incarnation—God the Son sent to us as a man by His Father, who, by adoption, is our Father, too. Christ Jesus, the King of the universe and Savior of the world, arrived as a little baby, God's gift to humankind, wrapped in swaddling cloths and laid in a manger.
God cares enough to have sent His very best. "For God so loved the world, that He gave His only Son, that whoever believes in Him should not perish but have eternal life. For God did not send His Son into the world to condemn the world, but in order that the world might be saved through Him" (John 3:16–17).
The sacrifice of the Son was a sacrifice for the Father. He gave His Son into death for the life of the world. That is the greatest gift of all.
At this special and festive time of year, Terry and I offer our heartfelt greetings and our sincere expression of Christian love to you all. We pray that your celebration of the Festival of our Lord's Incarnation will bring great joy and peace to you and your family. As you once again hear the Christmas story in worship, may the Holy Spirit empower you to radiate that peace and joy to all those around you.
A blessed and joyful Christmas to you all!
e-mail: president@lcms.org
Web page: www.lcms.org/president
—