by Kim Plummer Krull
Special relationships always sprout at summer camp. So it's no surprise that Concordia University Wisconsin student Joel Bahr, an elementary-education major from Grand Rapids, Mich., is making plans to visit his new friends from a first-ever camp at his Mequon campus. But Bahr admits he "still can't fathom" that he now knows Dante Hall, Chris Long, and other St. Louis Rams football players.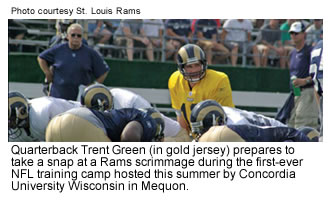 "Never in my life did I think something like that would happen," said Bahr, 20, who worked as a "boy Friday" when the university, owned and operated by The Lutheran Church—Missouri Synod, hosted a three-week National Football League preseason training camp.
Bahr is one of about 25 student employees who "rubbed shoulder pads" with Rams players after team officials made CUW its last-minute, surprise pick for their July 25–Aug. 15 camp.
CUW "got the football rolling" when administrators read that the Rams were scouting training sites in Wisconsin. The team primarily focused on large state universities, but Concordia persuaded the search committee to visit Mequon as the last stop on a whirlwind campus tour.
The school made its pitch to the Rams much as it approaches prospective students. "Our experience is that once students visit us on campus, we have a strong chance of seeing them enroll here," said CUW President Dr. Patrick T. Ferry. "We are blessed with a beautiful setting, wonderful facilities, and wonderful people."
Jeff Horton, offensive assistant/special assistant to Rams Head Coach Scott Linehan, agrees. Concordia, he says, "ended up being the last place we visited, and I wish we had started there."
Rooms with a View
CUW began a series of major renovations several years ago to enrich programs and attract students. But administrators realized their school's picturesque perch on Lake Michigan and state-of-the-art facilities also might appeal to NFL teams looking for preseason campsites.
Nearly 400 miles south of Mequon, Linehan decided his team might benefit from training away from St. Louis—where summertime heat and humidity can feel overbearing.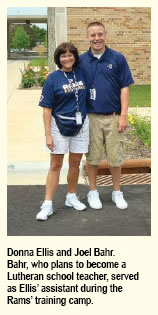 CUW's top-notch practice and training facilities immediately scored a touchdown when Rams officials visited in April. Adding an extra point for the university was the new $22 million Coburg Residence Hall. The Rams were the debut "roomies" in one wing of the dorm, which features four-bedroom suites, a spectacular view of Lake Michigan, and flat-screen televisions.
"The guys kept saying they didn't have dorms that looked like that where they went to school," Horton said.
Donna Ellis, executive assistant to Linehan, raves how the university transformed the dorm's fifth-floor commons area into
her office overlooking the lake. "It was like a little piece of paradise every morning," she said. "The lake is breathtaking and looks like the ocean, with beautiful changing colors. I promise you, the view is like you're on a cruise ship."
Another heavenly feature: the cool Wisconsin weather. To stay hydrated during sweltering afternoon practices in St. Louis, the team might need as many as 20 IVs a day, Horton said. In Mequon, two sufficed for the entire camp.

'Like a Family'
But more than the superb climate or facilities, the Rams credit Concordia's staff and students with turning the training camp into a winner.
While the campus sits in the midst of a Green Bay Packers-crazy state, more than 14,000 people turned out for Rams practices—more than the numbers drawn to summer camps on the team's home turf.
Yes, those football fans trekked to Concordia to see an NFL team in action. But CUW's Ken Gaschk notes many also took their first look at the university. "We got great exposure," said Gaschk, vice president of enrollment services. (See sidebar.)
Along with public-relations opportunities, the training camp also provided witness opportunities. One of Joel Bahr's duties was to transport the car-free Rams to stores, restaurants, the airport, and, on occasion, the nearby hospital. Such travels allowed ample talk time—including one discussion the CUW student says he never expected to have with professional football players.
"I can't tell you how many times people asked me about the Lutheran church and what it means to be Lutheran," Bahr said. "They didn't know what we believe and confess. I talked about my faith I don't know how many times."
Bahr also worshiped with players and coaches. Some accompanied him to the Thursday evening service at Concordia's bluff-side amphitheatre on Lake Michigan, hosted by First Immanuel Lutheran Church, Cedarburg. Other Rams attended Sunday service at the university's Chapel of Christ Triumphant.
Several players arrived at worship carrying the Bibles from their dorm rooms, also courtesy of First Immanuel Lutheran.
Although the training camp broke in August, the ties between the campus and the team continue. By early September, CUW's Ken Gaschk and his family already had rooted for the Rams at a preseason game. Rams Strength and Conditioning Coach Dana LeDuc told Gaschk he plans to see the Concordia Football Falcons in action.
The text messages have been buzzing between Bahr and several players and staff. In September, the CUW student was planning a drive to St. Louis for a Rams game. "Some of these guys are my friends now," Bahr said. "They've told me to be sure and let them know when I'm coming to a game so we can hang out."
Concordia's mission is to help students develop in mind, body, and spirit. If the St. Louis Rams enjoy a winning season, might the university take a little credit for helping a certain professional football team improve its development?
"Well, you know, we feel we're part of their team now, too," Gaschk said.
Likewise, Horton says, "Concordia felt like a family. They made us feel that accommodating us and doing things right and getting involved was really important. They wanted to make this our best training camp ever."
---
Opening Doors: For the University and the Church
Riding herd on nearly 6,000 college students seems challenging enough.
So why does a small Lutheran liberal arts university tackle the extra challenge of hosting an NFL training camp that includes about 140 players and staff plus 150,000 pounds of training, practice, and video equipment?
for one answer, thumb through Concordia University Wisconsin President Dr. Patrick T. Ferry's binder stuffed with newspaper and video clips. All note CUW's pick as the St. Louis Rams new training camp and, overwhelmingly, praise the school's location, facilities, and staff.
"It's all basically free advertising," said Ferry.
In September, the school already was fielding inquiries from prospective students and families who discovered the LCMS campus through the NFL training camp.
The camp has drawn additional and welcome attention to the campus, from St. Louis, other places, and even our own community, Ferry said. I can't tell you how often we hear that people didn't know we are here."
Before the Rams arrived on campus, some expressed concern that 300 pound linemen might, well, exert a little unnecessary roughness" on the new Coburg dorm rooms. instead, CUW administrators say, the team proved to be "all pro" guests.
"We were very clear with the Rams management from the beginning, and they were clear with us about their expectations, Ferry said. Both the university and team officials set and followed the ground rules.
Since the camp coincided with a relatively quiet time on campus, few academic classes were moved to accommodate the team. About 25 students who served as camp employees gained summer jobs and, in some cases, solid work experience related to majors such as community relations and athletic training.
Elementary education major Joel Bahr worked as a special assistant at the Rams training camp and, with a laugh, says the experience will look good on his resume. "The joke is that if I can take care of NFL players, I can take care of kids," he said.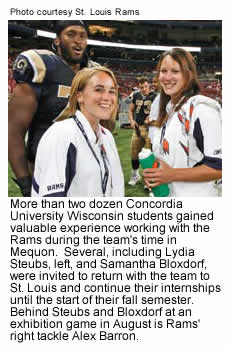 At the camp's end, the Rams invited three students in CUW's athletic training program Samantha Bloxdorf, Lydia Steubs, and Chad Moeller to return with the team to St. Louis and continue working until the start of the fall semester.
Recent Concordia graduate Andy Roeske impressed the Rams so much during training camp that the team hired him for its video crew. from a budget standpoint, Ferry calls the training camp a break-even operation. We did a few projects to get things ready, but from a capital perspective, all those things were part of our improvement plans anyway," he said.
Says CUW's Vice President of Enrollment Services Ken Gaschk: "We didn't do this to make a lot of money. But the opportunity to expose more people to Concordia was invaluable."