by Rev. Jerry Kieschnick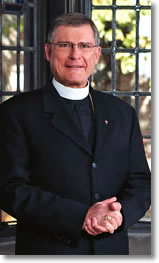 When I am "out and about" and meet someone new, it is not unusual for that person to tell me his or her name and then say, "I'm just a layman (or a laywoman)."
When I hear those words, I reply with an affirmation of that person as a redeemed child of God, a faithful member of a congregation, and a man or woman called by God to a life of service in his or her chosen vocation.
As I think about the calling of God in our lives and see the involvement of Lutheran people in so many facets of Christian service, I am ever thankful to be a member of the Christian church, and specifically of The Lutheran Church—Missouri Synod.
This sort of involvement is apparent throughout this edition of The Lutheran Witness. In the articles about Hurricane Katrina, the Midwest floods, and "Mission Central" in Iowa, we see stories of God's people active in mission and ministry.
Consider, for example, the article that revisits the horrific hurricane of 2005 whose name has become a household word, Katrina. Because of the care and concern shown by people of the LCMS who helped their Gulf Coast neighbors so severely afflicted by Katrina, these years since the hurricane may well go down in the annals of history as one of our Synod's "finest moments."
Thousands and thousands of our people—the number is not fully known—contributed thousands and thousands of hours and millions of dollars to help people along the Gulf Coast rebuild their lives and restore their property.
Those who have labored thus far in the hurricane's wake know that many opportunities developed for them to give witness to "the hope that is within us," namely, Christ as the incarnation of God's love for humanity. So much physical labor and caring at the hands of strangers captured the attention of those receiving the help. Then they learned that these strangers—that's you and I—were motivated to be there by the love of Christ.
It is because God first loved us and sent Christ into the world to earn for us the forgiveness of our sin and the free gift of eternal life that so many were moved to get off their couches and away from their TVs to find ways to ease the burdens of others.
We see this happening also in the aftermath of the flooding that devastated so many places in the Midwest this year. Indeed, other natural disasters and catastrophes— earthquakes, typhoons, tsunamis, tornados—also are regular stories in the news these days. These wreak havoc and destruction in our land and across the face of the globe, wrecking homes and devastating lives.
Serving God and others with our gifts of knowledge, wisdom, time, and financial resources is a very important part of our Christian calling. The worldwide need for us to use our gifts in this way is huge. As Christians, we respond as God enables us by His grace and with His gifts.
Just a layman? A layman to be sure. But you are so much more. You are a baptized child of God, seeking to do what you can with the gifts God has given you.
Serving God and others with our gifts of knowledge, wisdom, time, and financial resources is a very important part of our Christian calling.
e-mail: president@lcms.org
Web page: www.lcms.org/president
—