by Kim Plummer Krull
When Rev. Robert Wiest told the secretary at Our Redeemer Lutheran Church, Staplehurst, Neb., that he and his wife, Kathy, planned to attend a Grace Place Retreat, the alarmed secretary asked, "Are you sick? Is there a problem?"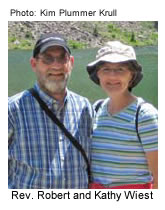 Wiest spoke with the church elders and ran a brief explanation in the newsletter. But he suspected many in the congregation had misconceptions. Some wrongly assumed that going to Grace Place meant the pastor was going on vacation. And the folks in the Our Redeemer pews are not alone.
Since 1999, nearly 2,000 LCMS professional church workers and their spouses have taken part in almost 100 Grace Place retreats. Alumni include LCMS President Gerald B. Kieschnick and his wife, Terry; most of the LCMS district presidents; and parish pastors and teachers from throughout the United States.
But despite the Recognized Service Organization's track record, founder and executive director Dr. John Eckrich calls Grace Place one of the Synod's most misunderstood ministries—and most urgently needed.
A St. Louis, Mo., physician and life-long Lutheran, Eckrich started Grace Place Retreat Ministries after years of treating a growing number of church workers and their families. "I saw how struggles related to ministry bring on health problems," said Eckrich, whose gastroenterology practice at that time sat two blocks from the LCMS International Center. "Our clergy were burning themselves out while they cared for others but did not take care of themselves."
Working with pastoral-care professionals and Lutheran leaders, Eckrich developed his vision for a continuing-education ministry to offer a "pause point" or "minisabbatical" for church workers and their spouses—an opportunity to recharge spiritually, physically, and emotionally.
Concerned about growing church-worker burnout and a dwindling supply of future pastors and teachers, Eckrich and his team designed Grace Place with one main goal. "We need to preserve every shepherd we can preserve," he said. "Every shepherd is a precious commodity for our church."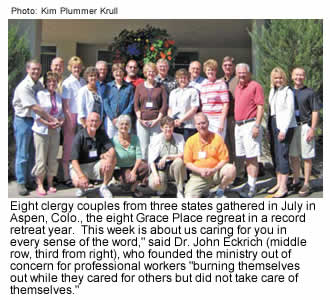 In July, eight clergy couples gathered in Aspen, Colo., the eighth Grace Place retreat in a record year of 19 scheduled for 2008. While retreats vary in length and location (Mackinac Island, Mich., the Pocono Mountains in Pennsylvania), this was a typical gathering—five nights amid a beautiful setting.
The group included couples from Nebraska, Montana, and Texas. Ages ranged from 30s to 60s; ministry tenures ran from five to 30-plus years.
"This is a wonderful opportunity to spend time with fellow pastors and realize that they are going through some of the same things," said Rev. Allen Bergstrazer, pastor at St. Paul Lutheran Church, Chambers, Neb., at the retreat with wife Carol. "Everyone needs personal renewal time and time to be with your spouse."
The first full retreat day begins with devotions, followed by stretching to soothing music. Eckrich leads both.
"This week is about us caring for you in every sense of the word," said Eckrich in his relaxed, reassuring manner. "We want you to feel completely cared for. I know that you pastors are accustomed to caring for others, but this week, I ask that you allow us to care for you."
Educational sessions follow, with professionals sharing biblically based strategies to help couples cope with ministry challenges. Topics include physical health, healthy marriages and relationships, and fiscal health.
A Grace Place clergy couple serves each retreat, guiding sessions and offering private consultations. "What we want a pastor and his wife to take away is that the foundation of his ministry begins with his marriage and home life. The healthier they are as a couple, the better able they are to bring that health to their congregation," said Dr. David Ludwig, a licensed therapist, author, and associate pastor at Christ Lutheran Church, Hickory, N.C.
Ludwig and his wife, Kathy, helped develop the Grace Place curriculum and lead most retreats with Eckrich. In Aspen, Rev. Darwin Karsten, a veteran parish pastor and mission coordinator in the Missouri Ozarks, and his wife, Jan, served as the clergy couple.
The Grace Place day is built around four prayer times. With the Lutheran Service Book in hand, couples gather for early-morning, noon, early-evening, and close-of-day devotions. One of the most appreciated retreat features: ample time for Bible reading and reflection.
"I would like to spend more time in the Word, but then the phone rings, and I'm jumping in the car and racing to the hospital," said Wiest. "Here, you get that time."
Afternoons in Aspen featured recreational activities—hiking, biking, rafting. Napping was another option.
At the Colorado retreat, "date night" was a highlight. "What a great opportunity to pause and focus on topics we don't get to when we're at home, [topics] other than work and the kids," said Rev. Scott Bruick, pastor at St. John Lutheran Church, Seward, Neb., attending the retreat with spouse Jan. "At dinner, we actually talked about our relationship."
Clergy wives say they benefit as much as—if not more than—their spouses.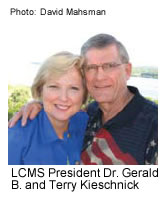 "Grace Place is a safe place, a place where women who understand the unique role each other is in can laugh together, cry together, and pray together," said Terry Kieschnick, who, with the LCMS president, took part in a retreat for the LCMS Council of Presidents in June in New Haven, Mo.
President Kieschnick appreciates how Grace Place helps strengthen a critical component of congregations—ministerial health. "With all the stresses and pressures experienced by pastors and their spouses, Grace Place is a great opportunity to build strength and maintain health," he said. "Healthy pastors make for healthy congregations."
Originally designed for Lutheran pastors, Grace Place has expanded to serve other church workers: Christian educators, parish nurses, ministers of music, and fourth-year seminary students.
The ministry now reaches beyond the U.S. This spring, Eckrich and his staff guided clergy couples from the Australian Lutheran Synod in retreats "Down Under." Next August, the Grace Place team will lead a retreat in conjunction with the International Lutheran Council conference in Seoul, Korea, including leaders from 34 confessional Lutheran church bodies from six continents.
In addition, 19 retreats already are on the Grace Place 2009 calendar.
Wherever the location, a Grace Place gathering ends with a beautiful divine service and a celebration of health and healing, including the Sacrament of Holy Communion and anointing with oil. LCMS leaders and spouses embraced after the closing service in New Haven. Many dabbed tears of joy.
"This has been a time of spiritual renewal for my wife and me, a time to connect with the Lord and with each other in a way that we don't always have time for in everyday life," said Synod First Vice President William R. Diekelman, at the retreat with wife Carol. "Ultimately, what happens here can be replicated throughout the Synod."
"It's all about grace," Vivi Diefenthaler, wife of Southeastern District President Rev. Jon Diefenthaler, said about her Grace Place experience. "You are renewed spiritually so you can spread the Gospel wherever you are."
---
Appreciating Our Shepherds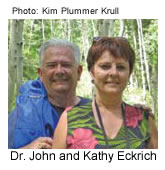 October is traditionally Pastor Appreciation Month on the Synod calendar. But for Grace Place Retreat Ministries founder and Executive Director Dr. John Eckrich, appreciating our LCMS church workers and helping them "appreciate" in value and service to their ministries is a year-round mission.
"Pastors are very hesitant to ask their congregation for anything that could be seen as asking for something for themselves. But there's a ripple effect; the congregation benefits, too," said Eckrich, who operated Grace Place on a part-time basis until 2007, when he retired from his medical practice to focus full time on the ministry. "We can't give this gift [of retreat participation] to our pastors without our generous donors who share our vision."
In 1999, Eckrich created that vision, building on the family retreats he and wife Kathy coordinated at their congregation, Concordia Lutheran Church, in the St. Louis suburb of Kirkwood. Thrivent Financial for Lutherans and the Lutheran Foundation of St. Louis (formerly Lutheran Charities Foundation of St. Louis) provided grant money for the pilot retreat.
Today, Grace Place depends on grants and donations to make retreats affordable. Clergy couples pay $300 for a week's retreat, plus travel expenses. The actual week's cost is about $2,000 per couple.
Lutheran businessman Gregg Smith supports the ministry commitment to "shepherding our shepherds."
"I see the challenges and the attrition in the ranks of our pastorate, and something preventative must be done," said Smith, who worships at Messiah Lutheran Church, Carrollwood, Fla., and has taken part in Grace Place programs. "These retreats are faith-driven, Spirit-driven, renewing experiences."
"So much is required of our pastors and their wives today," said Rupert Dunklau, a member of Trinity Lutheran Church, Fremont, Neb., and president of the Rupert Dunklau Foundation. "I love my Savior. If my foundation can be of assistance to strengthen our clergy, that's what I want to do."
To learn more about Grace Place, visit graceplaceretreats.org or call (314) 842-3077.