by Rev. Jerry Kieschnick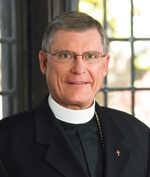 Has something like this ever happened to you? You are walking down the frozen-food aisle at the supermarket when you spot someone with whom you have a strained relationship—and your first inclination is to head in the opposite direction and hide in the soft-drink section.
There are any number of reasons you may want to avoid that person. Perhaps you have experienced some conflict with him or her. There could be an unresolved disagreement. Maybe that person made a hurtful or judgmental comment about you that soiled your reputation.
Unresolved conflict can range from fairly insignificant differences of opinion to matters of greater gravity and importance. It can lead to unhealthy—even sinful—emotions and feelings toward another person. It can find expression in such behaviors as gossip, slander, the bringing of lawsuits, or acts of violence.
Such conflict has a way of hanging on to us, and we have a way of holding on to it and even cultivating it. This can damage our relationship with God and make it even more difficult to resolve the conflict.
The apostle Paul's words in 2 Cor. 5:17–19 are very helpful in this regard: "Therefore, if anyone is in Christ, he is a new creation. The old has passed away; behold, the new has come. All this is from God, who through Christ reconciled us to Himself and gave us the ministry of reconciliation; that is, in Christ God was reconciling the world to Himself, not counting their trespasses against them, and entrusting to us the message of reconciliation."
Because of Christ Jesus and what He did for us, God forgives us our sins, which makes it not only our duty, but our privilege, to forgive and reconcile with those who sin against us.
I am reminded of Martin Luther's explanation of the Fifth Petition of the Lord's Prayer, "And forgive us our trespasses as we forgive those who trespass against us." Luther explains, "We pray in this petition that our Father in heaven would not look at our sins, or deny our prayer because of them. We are neither worthy of the things for which we pray, nor have we deserved them, but we ask that He would give them all to us by grace, for we daily sin much and surely deserve nothing but punishment. So we too will sincerely forgive and gladly do good to those who sin against us."
Ted Kober, who writes about reconciliation in this issue of The Lutheran Witness, says, "Reconciliation is the best witness program the church has ever had." Maybe you never thought of it this way, but consider how Paul continues after telling us that God has entrusted to us the "message of reconciliation." He writes, "Therefore, we are ambassadors for Christ, God making His appeal through us. We implore you on behalf of Christ, be reconciled to God" (2 Cor. 5:20).
May God bless your efforts at the reconciliation of any conflict in which you may be involved, and may He give you many opportunities to share His message of reconciliation with others!
e-mail: president@lcms.org
Web page: www.lcms.org/president