by Audrey Kletscher Helbling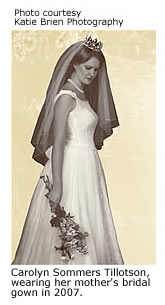 When Carolyn Sommers of Bloomington, Minn., walked down the aisle of Trinity Lutheran Church in Faribault, Minn., on Aug. 11, 2007, she continued a family tradition that began 45 years earlier. She wore her mother's wedding gown, a dress also worn by all three of her sisters.
"I pretty much knew I would be wearing Mom's dress," explains Carolyn, the youngest of the Sommers daughters. "I wanted to keep it a tradition."
That tradition began on June 9, 1962, when Delores Boernsen, a native of Hartley, Iowa, donned the nylon organza full bouffant-skirted bridal gown and a crown seed-pearl headpiece and married Roger Sommers at Trinity.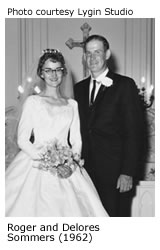 Delores Sommers never expected that someday she would have four daughters who would wear her $69 wedding dress. But her daughters, starting with twin Laurie, did just that. "I love it," Delores says. "I really appreciate that they thought so much of using my dress."
For Laurie Meyer of Trimont, Minn., the decision to wear her mother's gown was one of taste and economics. At the time of their Sept. 12, 1987, marriage, husband John, now pastor of Trinity Lutheran Church in Trimont, was serving his vicarage at Holy Cross Lutheran Church in St. Cloud, Minn., and money was tight. The dress appealed to her and fit her budget.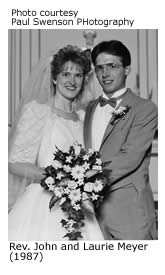 "I just really liked the dress. I liked the simple, classic lines," Laurie says. "I thought it would be nice to wear my mom's dress."
With some alterations—full-length sleeves replaced with near-elbow-length lace sleeves, removal of some rose appliqués, a new lace front panel to cover several stains, and her own headpiece—the ensemble became Laurie's. Like her parents before her, Laurie was wed at Trinity in Faribault.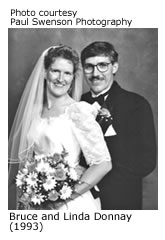 Six years later, on July 17, 1993, Laurie's twin sister, Linda, walked down the aisle of Trinity's new sanctuary and married Bruce Donnay. She too wore her mom's dress, unchanged since Laurie's wedding. And, like her twin before her, Linda, now of Glencoe, Minn., and a staff member at First Evangelical Lutheran School in Glencoe, chose the dress for sentimental reasons and purchased a headpiece to make the ensemble hers.
When the next Sommers daughter, Christine, married Sean Austin on Sept. 4, 1999, at University Lutheran Chapel in Boulder, Colorado, the wedding gown underwent a major change. Per her daughter's request, Delores removed the lace sleeves as she and Roger drove west from their Minnesota home to the wedding.
Christine, who now lives in Bozeman, Mont., always knew she would follow tradition and wear her mother's dress. "It was mainly to honor my mother," she says, ". . . because I loved my mother dearly and always looked up to her."
But she also appreciated the era and the femininity of the gown. At the time of her marriage, she was living in a rustic cabin and wearing Carharts, and she wanted something feminine, Christine explains. She completed her Cinderella-type image by wearing her mom's cultured pearl necklace and earrings and her mom's crown headpiece, all part of the original ensemble. (The original imported silk illusion veil was swapped for new tulle.) Christine also wore her mother's white leather high-heeled bridal shoes, the same heels she pulled on while playing dress-up as a child.
While growing up, the youngest of the Sommers sisters, Carolyn, remembers trying on her mother's gown numerous times when friends visited. The dress hung in her bedroom closet. She knew even then that someday she would follow family tradition and wear the dress on her wedding day. That day came on Aug. 11, when Carolyn married David Tillotson. Like her sisters before her, Carolyn made some alterations. Fraying lace on the 45-year-old gown was replaced, and the front skirt panel was restored with fabric similar to the original material. Carolyn completed her vintage look with her mom's crown headpiece.
She also included daisies among her wedding flowers, just like all the Sommers women. And like her mother and two of her sisters, Carolyn walked down the aisle of Trinity in Faribault to exchange vows with her husband-to-be.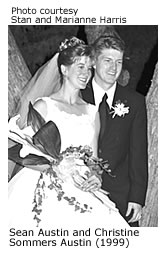 Whether more Sommers women will continue the family wedding-dress tradition remains to be seen. Maybe a granddaughter will wear her dress someday, Delores Sommers speculates, maybe not. For now, Delores says she's honored that all four of her daughters chose to wear her bridal gown on their special days.