by Edie Sodowsky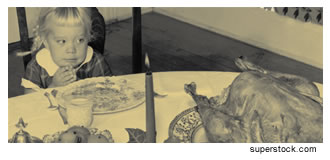 Norman Rockwell probably would have loved to paint the Thanksgiving of my childhood. He would have needed more than one canvas to do so, however. When our substantial extended family gathered in our Texas farmhouse to thank God for the harvest and ask God's blessing on the feast, we filled two rooms.
Children ate during the first three-table shift. When their bellies were filled, they poured out of the house to play hide-and-seek in the yard, build hay forts in the barn, or have "China berry" wars in the trees by the chicken house. The adults then ate in leisure, telling stories and swapping jokes. Frequent gales of laughter echoed off the walls and wafted through the windows.
Thanksgiving was always celebrated at our house. We had room for everyone, but we also raised the turkey—and a hundred or so others. A stuffed 30-pound bird entered the oven on Wednesday night and roasted into the morning. Mom prepared other dishes from our vegetable and fruit bounty, and everyone who came brought their specialty to add. Scrumptious dishes packed the refrigerator, countertops, and side tables. Milk flowed freely from the dairy-barn cooler, as children gulped away their thirst.
The "extended family" seated at our Thanksgiving tables often included people not related to us—a neighboring family, foster children living with relatives, or college friends of my older siblings. An assortment of foreign students got their first experience of an American Thanksgiving with us. In almost every way, the Thanksgiving Days of my youth were days of joy and plenty. It didn't matter that I wore hand-me-down clothing, worked hard even as a child, and didn't have a lot of "things." It was easy to give thanks.
I never imagined how much my Thanksgiving celebrations would change in the years to come. Varying circumstances would alter the form, family connection, foundation for thanksgiving, and faith responses involved in my Thanksgiving Day activities. I would gain new perspectives on 1 Thess. 5:18, which urges us to "give thanks in all circumstances, for this is God's will for you in Christ Jesus."
My first Thanksgiving away from the bountiful table of my youth came during my year of service with Prince of Peace Volunteers. POPV was an outreach program of our Synod's youth-ministry arm known then as the Walther League. Everything about my life in Indianapolis' inner city stood in stark contrast to the life I had known: environment, culture, demographics—and the hopelessness of poverty. I missed being with my family, but I had new appreciation for God's grace and provision in my life.
In subsequent years of isolation from family, I became aware that for many individuals, couples, and intimate family units, Thanksgiving is a most difficult holiday to spend separated from kin. As a newlywed, it seemed only natural to expand our table to include others. My husband, Lee, was a vicar, so we welcomed other single and married vicars as our "family" for the day.
Separation from the larger family often strengthens the bond between those sharing the ritual meal. It was true for my sister and me when we ate at a table for two in St. Louis. It was true when our young family of five was the guest of a family in our congregation. It was true when my young adult daughter and I helped friends with cognitive disabilities prepare a Thanksgiving meal in their group home. Each celebration had its own form and a different "family" dynamic, but every situation gave me new reason to give thanks for the people God put in my life.
Marriage changed the shape of my family, connecting me with a new family with strong faith and family traditions of their own. Our children benefit from the heritage of both families. I was filled with gratitude when my son's children became the fourth generation eating at the Thanksgiving table of his paternal grandparents, Cecil and Juanita Sodowsky.
Their table was not complete, however, because my husband was not there. His parents still grieved his loss, our son missed his guidance, and our grandchildren regreted knowing their grandfather only through pictures and stories. Yet, they expressed gratitude for God's faithfulness to Lee and to them.
Loss shakes the foundations of our thanksgiving—not just loss from death, but also loss due to illness or disability, unemployment, or other adverse circumstances. Loss challenges our faith response.
My last seven Thanksgiving Day celebrations have been radically different from those before. Multiple-impact head trauma in 2001 left my daughter, Jennifer, with constant dizziness, frequent migraines, and hypersensitivity to many things, including smells.
Celebrating a traditional Thanksgiving is no longer an option. Dinner is scaled down to what can be prepared in a turkey roaster and crock pot on the patio—and only if it doesn't rain. Ordering in isn't a choice, because many common foods are now migraine triggers. Group activity increases her symptoms, as does even short-distance travel.
Last year, I flew to Kansas to celebrate Thanksgiving with my sons Joel and Wayne and their families prior to Wayne's deployment to Iraq. We ate together Wednesday evening, keenly aware that Jennifer could not be with us. I spent much of Thanksgiving Day in the air, flying back so that Jennifer would not have to spend the entire day alone. It was a migraine day, and she was too ill to even think about turkey dinner. Still, I didn't regret hurrying home. And I gave thanks.
I gave thanks for safe travel, for the ability to be in both places on the same day, and for my family's willingness to accommodate my need to do so. I gave thanks for my children and grandchildren who all enrich my life and who share faith in Christ. I gave thanks that Wayne was an excellent leader who would be a witness to his troops and to the Iraqi people he'd meet.
I sometimes joke that I am glad God only calls us to give thanks in all circumstances, not for them. I might be hard pressed to thank God for hard financial times, for unemployment, for my daughter's lack of recovery, or for my son's being in harm's way. But I can give thanks for God's provision—often through other Christians—in every circumstance.
---
Circumstantial Evidence of a Thankful Heart
When challenged to come up with ways to demonstrate our gratitude to God by reaching out to others at Thanksgiving, we typically think of collecting money or items for food baskets for families in need or helping serve a meal at a homeless shelter. These are, indeed, excellent means of outreach, but we can add other ways with just a little effort—and make a difference in another person's life. Here are some possibilities:
Add a personal touch to food baskets. With other families in your congregation, "adopt" a family in need to whom each church family will deliver the basket or box. Tell the recipients that your family wants to support them in prayer, and ask if they are willing to share prayer needs. If a need is a tangible one that you may be able to supply, consider doing so.
Don't leave as soon as food is served at the homeless shelter or soup kitchen, but sit down and talk with people who have come for the food. Ask the facility director if it would be appropriate to bring a bag with a variety of low-cost games, New Testaments, paper, pens, and envelopes for use after the tables are cleared, or for individuals to take with them.
Write a personal note modeled after Phil. 1:3ff. Tell someone why you thank God for him/her. Be specific about the gift(s) you see in them and the ways they are a blessing to you. Remember not only your elders and peers, but also the children in your life.
Share your table with others, especially those who may be far from family. Ask single adults of all ages—at work, church, or in your community—if they have a place to go for Thanksgiving; remember those who are widowed or divorced. Invite couples or families with no relatives in the area. Check with a local college to see how you might include several students who cannot go home.
Spend part of your day with shut-ins, individuals in supported-living situations, or people who are incarcerated. They may be isolated, not only from their families, but also from the outside world.