by Paula Schlueter Ross

They've been together only a year, but members of Living Water Community Church already have lots of friends in Richardson, Texas.
There's Fernando Medina, principal of Dover Elementary School, who credits the congregation for showing students and their parents "that we have to work together to make things better."
"Kids feel the love and feel they're being taken care of" by Living Water members, says Margarita Hamane, the school's parent liaison. "[The] parents love them."
"They're a huge asset," says Larry Breazeale, president of Dover's PTA. "The kids enjoy being here now."
"There are no stipulations, no expectations," observes Mariella Alvarado, a counselor at Dover. "They just come here to serve."
And serve they do. Living Water members volunteer regularly at the public school, where more than 80 percent of the 483 students in grades K–6 are from low-income Hispanic families.
The fledgling congregation of just 35 mostly "Anglo" members has helped with Dover Elementary's "storybook carnival," organized a "garage sale" that raised more than $800 for the PTA, hosted a Christmas party and appreciation luncheon for teachers, and provided snacks to students during statewide testing. A Living Water member serves on Dover's PTA board, even though she has no children attending the school.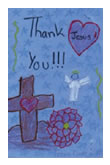 But that's not all. Living Water also provides most of the volunteers at "Kidz Pointe," a Christian after-school program at a nearby apartment complex where most of the Dover students live.
Kidz Pointe staff member Carrie Boehmer views the participation of Living Water's volunteers as a blessing. "Their congregation is a group with servants' hearts," she says. "They blow me away."
Pastor Gerald Nichols admits that the word "Community" isn't just the church's middle name—it's the reason the congregation was founded: to serve the community with the love of Christ.
Through their service, Living Water members "want people to feel, first of all, how deeply they are loved by God—unconditionally—and then, along with us, to pass that love on to others," says Nichols. "There are so many people who feel valueless. They don't have very much, they're not able to have very many life-enriching experiences, so if we can give them hope because of the way we are demonstrating God's love, that's what we really hope to accomplish."
Living Water Community Church is a mission start of the Lutheran Inter-City Network Coalition of Dallas Fort Worth, a group of 24 LCMS congregations and the Texas District that supports urban evangelism and ministry, especially cross-cultural ministry.
If there's a lynchpin to Living Water, it's Nichols—a gregarious 74-year-old who sleeps just four hours a night, enjoys a chocolate donut every morning, and drives a red Mustang convertible. The car was a gift from his former congregation, Concordia Lutheran Church in nearby Garland, in honor of his retirement in 1998. (Nichols had joked about getting himself a "little red convertible" for years.)
In fact, when Nichols came out of retirement to start the mission in Richardson, several Concordia families joined him in the venture.
"He drew us all together—we love him so," says Living Water treasurer Niki Melear. The handful of worshipers bonded with one another in a big way, meeting in each other's homes for Bible study and fellowship.
"Then we started developing our ministry [to the community] and that hooked us," Melear says. "The need is so great and the appreciation is so great, how can you not [serve others]?"
Instead of helping with gifts of money—which members admit isn't plentiful (even so, the church sends 10 percent of its offerings to the Texas District and an additional 10 percent to other local missions)—"we give ourselves," she says.
Though they number fewer than three dozen, Living Water members take part in numerous community-service projects every month. It's too bad they have jobs because if they didn't, they could be of service full time, they say, laughing but not really joking.
"I doubt that there's ever been a church this size— ever—that's been involved so extensively in community service," says Nichols. "To be this committed, to stay with it without a lot of outward growth, has got to take a commitment that is just unusual, and I would even call miraculous."
Indeed, in its first year the tiny congregation already has received three awards from Dover Elementary for its "outstanding volunteer service" and "dedication."
"We're still reaching people for Christ, regardless of how large our congregation is," says Jonie Walters, who received one of the awards for her service on the school's PTA board.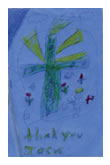 "D" Murphy, Nichols' daughter, agrees: "When you're the one out there at Kidz Pointe, or at Dover, and you see you're making a difference, numbers don't bother you very much."
Still, more worshipers would mean more hands to serve, and the needs are there—Nichols already has been contacted by two other public schools seeking volunteers. In an effort to attract more members, the congregation recently moved its worship site from a downtown office building to the gym of a public school in a culturally diverse middle-class neighborhood about 10 miles from Dover.
The intent, says Nichols, is "to be a training center where we can start little churches in various neighborhoods," each replicating the vision of Living Water: to be "ablaze with love for God and for our community."
When it comes to helping—and sharing your faith with your neighbors—size really doesn't matter, Nichols says, but attitude does: "We're just a small group that's saying 'we can do it.' We strive to plant the seed of faith through our service and our witness, and we pray that the Holy Spirit will bless our efforts."