It is critical to remember that our work in Jesus' name has value because of His resurrection victory over sin, death, and the devil!
by Rev. Jerry Kieschnick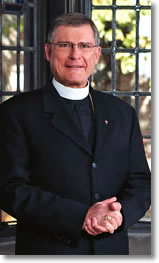 Missions, higher education, and human care are three major focuses of the Synod's work. These are areas in which the national church body enables congregations and individual Christians to do much more together than any of us could do by ourselves.
In January, a special enlarged edition of The Lutheran Witness that highlighted missions and Gospel outreach was sent to an expanded audience. This month brings another special edition with a wider circulation than normal, this time focusing on higher education and human care.
As I think about what we do together, I am struck by the vital importance of the work our Synod accomplishes in so many ways and places for the sake of the Gospel of Jesus Christ. This is something to celebrate! At the same time, it's critical to remember that our work in Jesus' name has value because of His resurrection victory over sin, death, and the devil!
Some powerful words of Holy Scripture come to mind. St. Paul writes in 1 Corinthians 15:
"For what I received I passed on to you as of first importance: that Christ died for our sins according to the Scriptures, that He was buried, that He was raised on the third day according to the Scriptures (vv. 3–4 NIV). . . .
"And if Christ has not been raised, your faith is futile; you are still in your sins. Then those also who have fallen asleep in Christ are lost. If only for this life we have hope in Christ, we are to be pitied more than all men.
"But Christ has indeed been raised from the dead, the firstfruits of those who have fallen asleep (vv. 17–20). . . .
"When the perishable has been clothed with the imperishable, and the mortal with immortality, then the saying that is written will come true: 'Death has been swallowed up in victory.'
"'Where, O death, is your victory?
"'Where, O death, is your sting?'
"The sting of death is sin, and the power of sin is the Law. But thanks be to God! He gives us the victory through our Lord Jesus Christ.
"Therefore, my dear brothers, stand firm. Let nothing move you. Always give yourselves fully to the work of the Lord, because you know that your labor in the Lord is not in vain" (vv. 54–58).
It is because of the resurrection of Christ that what we say and do as Christian people is not said or done in vain. The assurance that we, too, will be raised from the dead and live with Christ forever makes it possible for us to stare death in the face—whether it comes late in life when we expect it, or if it strikes unexpectedly or prematurely.
The hope and assurance of the resurrection through the grace of God in Christ Jesus our Lord provides the motivation and power for Christian life and service. As we seek to reach those who are unreached or uncommitted, as we provide leadership in Christian education, and as we endeavor to alleviate suffering of all kinds throughout the world, we do this all in the name of the resurrected Christ.
As the apostle says, "Always give yourselves fully to the work of the Lord, because you know that your labor in the Lord is not in vain."
e-mail: president@lcms.org
Web page: www.lcms.org/president