by Rev. Jerry Kieschnick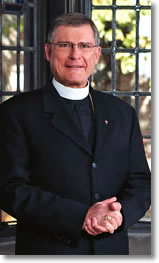 News reporters and investment advisors make it clear that the worldwide economic crisis still is with us. Employment is uncertain, home foreclosures continue, and some once-strong companies are teetering on the brink of bankruptcy.
The church isn't immune to the effects of a weak economy. Even as this is written, I am in the midst of budgetmeetings that have been less than happy occasions. The Synod and many of its congregations, schools, and other ministries are facing significant economic challenges—at a time when God is providing us with a multitude of mission and ministry opportunities, many of which require additional financial resources.
For example, we get calls, letters, and visits from around the world with requests for help. These contacts come from other Lutheran church bodies or from conservative, confessional groups that have begun when the church bodies to which they belong moved away from faithfulness to the Scriptures. These church bodies and groups come to the LCMS, which they recognize as a biblical and confessional Lutheran church body, looking for assistance from us in such areas as theological education, mission planting, and pastoral support.
Because we have been greatly blessed by God, it's hard to turn away from such requests. He has placed our Synod in a position to provide evangelical and confessional leadership with a Christian presence and proclamation that the world needs to experience and to hear. We are neither afraid nor apologetic in speaking His whole truth—sin and grace, Law and Gospel, the whole counsel of God—with great clarity and charity.
One way you can respond to God's grace in your life and help our Synod take advantage of such opportunities is through Fan into Flame, a campaign authorized by the 2004 Synod convention. With a goal of $100 million for new mission work at home and abroad, Fan into Flame so far has received more than $46 million in pledges and gifts for sharing the life-giving Gospel with others.
Here are two examples of how these funds are helping to reach people with God's Good News in Christ Jesus:
Shauen and Krista Trump are serving with Rev. Jacob and Michelle Gillard in East Africa, where the two missionary families are helping the Lutheran Church Mission Uganda plant new congregations and fill clergy shortages in this growing mission. New churches recently were dedicated in Mbarara and Ibanda, and Jacob Gillard is teaching a two-year theological leadership program in which 24 men are enrolled. Fan into Flame provided the initial funding to place these missionary families in Uganda.
On Easter Sunday, the Lutheran Church Concordia— Kyrgyzstan (LCCK), a developing church, held its first services in a new multipurpose building being completed in Bishkek, Kyrgyzstan. The building serves as the meeting place of the Bishkek congregation and as the national church-body headquarters. It also will house Central Asia Lutheran Seminary. Funds from Fan into Flame are being used to complete the construction and to furnish the building. The LCCK began with 14 people in 2001 and has grown to 35 churches and home groups with more than 1,000 members. The Bishkek congregation itself numbers about 250.
To learn more about Fan into Flame, go on the Web to www.fanintoflamelcms.org. To give to the campaign, call 800-977-2017 or send a check payable to Fan into Flame to 1333 S. Kirkwood Road, St. Louis, MO 63122-7295.
As we celebrate Father's Day this year, I think about my own father, Martin Kieschnick, who has been in heaven for 26 years. He loved his wife and children, worked hard, and provided a good and godly home for us. I thank our heavenly Father for my earthly father and for all the other blessings He has bestowed on us—including the gift of His own Son, our Brother, Lord, and Savior, Jesus—who perfectly fulfilled the Law for us, took our punishment upon Himself, and sealed His victory over sin, death, and the devil by His glorious resurrection.
"How great is the love the Father has lavished on us, that we should be called children of God! And that is what we are!" (1 John 3:1). As His children, it is our privilege to tell others what our Father in heaven has done also for them. "We are therefore Christ's ambassadors, as though God were making His appeal through us" (2 Cor. 5:20).
May we all be moved by our Father's love to share that love with others, even and especially in these times of great challenge and opportunity!
e-mail: president@lcms.org
Web page: www.lcms.org/president