by Gretchen Roberts
Gorgeous vistas of rolling hills, rows of vines weighed down with clusters of ripe, juicy grapes—the vineyard is sweet indeed from a wine-country tourist's perspective. For a Lutheran, who may view the vineyard through the lens of Christ, the allusion runs deeper. "I am the Vine, you are the branches," Jesus said. His very first miracle turned water into wine. He gives us wine at His supper—His most precious blood.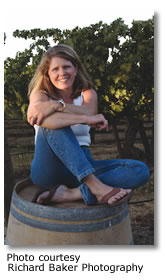 The vineyard is a blend of romance and reality for Cindy Steinbeck Newkirk, a fifth-generation farmer and at least a seventh-generation Lutheran who with her parents, husband, and son runs Steinbeck Vineyards in Paso Robles, Calif.
"As long as we can keep the myth of the romance of the vines alive, we'll keep our business viable," Cindy says. Managing a 500-acre vineyard operation is more a story of hours on the tractor, hard work through every season, and tough agricultural decisions than a story of long walks through the vines, lovingly fingering the growing grape clusters and dreaming of the good vintage ahead.
There's no doubt the wine industry has changed Paso Robles for the better, Cindy says. When she was a child, the town was no more than a bathroom stop halfway between San Francisco and Los Angeles. Without the green of the vines, the region was dusty, dry, and hot most of the year. Paso Robles' mayor, Frank Mecham, says 10 years ago you could throw a bowling ball downtown and not hit anyone, but that's all changed, too. As the wine region has grown, Paso Robles has metamorphosed from a dusty cow town into a destination with quirky shops, fine dining, and vibrant life.
Green Acres
Howie and Bev Steinbeck, Cindy's parents, sowed some of the first seeds of the region's renaissance. In 1982, Howie planted his first vineyard block of 50 acres, which he has expanded to 500 acres over the past 25 years. Howie had farmed barley and raised cattle since taking over the farm from his dad, but he could see the potential of the wine industry in the Paso Robles area and decided to lead others into the wave.
By 1996, Howie and Bev were ready to take additional family into the vineyard fold. Over Thanksgiving, the couple sat their four children down and offered a share in the family business to whichever sibling was most interested.
"Everyone pointed at me, and I raised my hand," Cindy says. "My brother is a Lutheran pastor in Illinois, and my sister and little brother are not farmers at heart."
At the time, Cindy was working as a director of Christian education at a Lutheran church in southern California, and her husband, Tim, was an air-traffic controller. They were excited at the idea of raising their two children, Ryan and Stacy, in a small town like Paso Robles. "I grew up on the farm, and the property was a virtual playground for me," Cindy says. "The freedom and ability to explore made for an amazing childhood."
The couple's biggest challenge was deciding whether such a radical life change was good for them. "We wanted to make sure this was realistic. People say air-traffic control is stressful, but so is working for your father-in-law," Cindy says.
Finding Her Niche
It turns out Cindy, not Tim, had the toughest time adjusting back to life on the farm. Like the old saying "even good change comes hard," Cindy grieved over the move. "It was tough for me to leave my job as a DCE," she admits. "I questioned my motives. It felt like I was giving up some sort of calling, so I wrestled with that the first few years of working in the vineyards. My brain was constantly asking, 'What are you doing? What is your vocation?'"
Hours on the tractor gave Cindy plenty of opportunity for prayer and contemplation. She read the Scriptures each morning before work and pondered them through the day. "My heart was crying out, saying, 'What have I done?' I prayed to God that He would help me put my skills to use."
Cindy began making plans to complete her master's degree in 16th-century reformation theology, which she'd started at Concordia, Irvine, while living in southern California. She was halfway through the program when the family moved to Paso Robles. At first, completing the degree seemed like a closed door, but eventually Cindy worked out a distance program with Concordia and graduated in 2002.
Still, her interests in theology and farming remained incongruous, and Cindy struggled with the question of her true calling. Finally her mind turned back to the romance of the vineyards, though not through rose-colored tourist's glasses. She began looking at the vineyard like a true farmer—and a true Lutheran.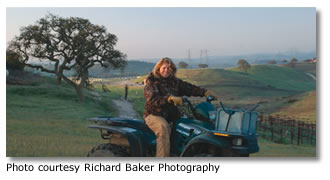 Field Discovery
All the vines in Steinbeck Vineyards are grafted onto rootstocks, which produce hardier, disease-resistant plants. One day, as Cindy watched grafters working in the fields, a worker made a slice in the wood and it "bled," a horticultural term for sap that oozes out at the site of a cut. She thought of 1 Peter 2:24: "By His wounds you have been healed" (NIV), and an idea began taking root.
Cindy developed a talk she entitled "My Father's Vineyard," using the vineyard as an analogy for our life in Christ. "I began with Paul's language of who we are in Christ Jesus, and I began connecting those thoughts with the flesh-on-flesh union in Christ that we have in Baptism," Cindy says. "Then I started putting my own language and experiences into it, and I developed five different vignettes that relate the vineyard to our life in Christ."
For her talks, which she's given to such diverse groups as the Oklahoma District Convention and an LWML convention in California, Cindy brings in the tools of the vineyard: pruning shears, coveralls, boots, knife, and even a blinding white jumpsuit. "When we spray the field, we wear a white jumpsuit to keep us safe from the chemicals. I use that with Revelation 7: "'These in white robes—who are they, and where did they come from?' . . . And he said, 'These are they who have come out of the great tribulation; they have washed their robes and made them white in the blood of the Lamb.'"
Cindy's audiences usually have two reactions: one, they fall in love with the vineyard theme and the idea of a life grounded in the soil; and two, they are stunned to see the intangible concept of our life in Christ made both tangible and spiritual through her presentation. "People say it makes them laugh and cry within a 10-minute period," Cindy says.
A New Mision Field
The romance of the vine persists: the majority of questions after Cindy's presentations aren't Scripture-related; they're vineyard-related. And so another idea was born: The Wine Yard, a two-hour educational presentation and tour of Steinbeck Vineyards that takes wine lovers beyond the tasting room, from an empty plot of land to the finished wine.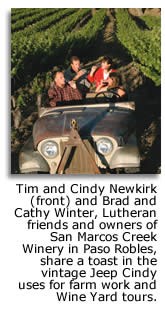 Even at The Wine Yard, where Cindy's audience isn't other Christians, but wine lovers who have come to learn about the grape-growing process, Cindy finds herself teaching through the lens of faith. "God brings me all kinds of people through this adventure. He has allowed me to build a mission field right here," she says. Perhaps most important, she has reconciled two seemingly incompatible vocations into a satisfying symbiotic relationship.
"We live in the mercy of God, and we live in our callings, and it looks different for every single person. I have found mine, presenting the truths of Scripture through the vineyard, and then running the family business through those eyes."
Gretchen Roberts (www.gretchenroberts.net) is a wine and food writer and the wife of an LCMS campus pastor. She is a member of First Lutheran Church, Knoxville, Tenn., where she is the president of the LWML society.
Cindy Steinbeck Newkirk, a member of Trinity Lutheran Church, Paso Robles, Calif., will present her talk, "In My Father's Vineyard," a Concordia University System reception at the 33rd Biennial Convention of the LWML June 25–28 in Portland, Ore.
---
Her Cup Runneth Over
As if she's not busy enough running a huge farm operation, serving as a member of the Concordia University, Irvine, Board of Regents, and speaking all over the U.S., Cindy Newkirk has several other projects up her sleeve that feed into her desire to teach and serve others as a mask of God.
As vice chairman of the Paso Robles Wine Country Alliance, Cindy helps promote the region by serving as a host and spokesperson for the wine industry.
Steinbeck Winery is the family's first foray into winemaking after 25 years of supplying grapes to winemakers around the region. "I wanted a bottle of our own wine for my talks," Cindy explains. They've produced a Viognier, a fragrant and powerful white wine, and a bold, elegant red blend called Crash, both available in California.
The Steinbeck family has teamed up with the international Urban Farming organization to grow fresh fruits and vegetables for families in need in a human-care effort called Vineyards Growing Veggies. The one-acre plot, adjacent to the family home, is tended by about 30 community volunteers, who have harvested tomatoes, peppers, squash, melons, cucumbers, and herbs to feed more than 5,000 meals to the hungry in San Luis Obispo County.
NEWK-IT!, Cindy's daily inspirational/devotional e-mail, goes out to hundreds each morning with a reflection on a daily Scripture reading. To join the list, write Cindy at cindynewkirk@yahoo.com.