by James Heine
These days, when Whitney Sabrowsky plays for services at Immanuel Lutheran Church in rural Albany, Minn., the 15-year-old, by her own admission, plays the organ with more confidence and skill, thanks to an intense four-week program she attended last summer.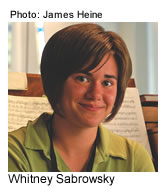 Sabrowsky, from Freeport, Minn., was one of some 150 students, ages 14–18, attending the 26th session of Lutheran Summer Music (LSM), held last year on the campus of Gustavus Adolphus College in St. Peter, Minn.
"My mom read about LSM in The Lutheran Witness," Sabrowsky recalls. "She casually asked me over breakfast what I thought about a four-week music program for high-school students. I immediately replied with something like, 'I'm not leaving for four weeks!' Well, I was wrong. By noon, I was signed up."
Sabrowsky explains that the opportunity to begin formal organ studies changed her mind. "Before LSM, I had never had a lesson in my life. I just started playing the organ at my church after many years of piano lessons."
Even though her congregation is small, Sabrowsky says it is dear to her, and its members love to sing. "That is one of the reasons I love being their organist," she says. So doubts about being away from home for four weeks notwithstanding, Sabrowsky exchanged part of her summer in Freeport—the real-life inspiration for Garrison Keillor's fictional Lake Wobegon—for a month of intense study at Lutheran Summer Music.
"When we dropped her off [at Gustavus], I asked Whitney if she would want to come back next year," recalls Michelle Sabrowsky. "'No,' she replied, 'one time will be enough.'"
But that view changed.
A Place to Grow
Founded in 1982 through the vision of Dr. Ewald H. Mueller, Dr. Martin L. Koehneke, and Dr. George S. Schultz—and with the help of Aid Association for Lutherans (now Thrivent)—the Lutheran Summer Music Academy and Festival (LSM's formal name) provides young musicians the opportunity to improve their music skills in an intensive residential environment that intentionally links music and worship.
Held each summer at a Lutheran institution—this year at Luther College in Decorah, Iowa, June 21 to July 19—LSM accepts about 150 high-school-age students for band, orchestra, choral, keyboard, and vocal training. The program draws its faculty from top-rated institutions and ensembles around the country, and the student to faculty/staff ratio is about 3:1.
Music from the Bach Cantata Worship Service
Gathering Hymn: "All Depends on Our Possessing"  (first 29 seconds)


Your browser does not support inline frames or is currently configured not to display inline frames.

Cantata: Erschallet, ihr Lieder, erklinget, ihr Saiten! VI. Chorale

Your browser does not support inline frames or is currently configured not to display inline frames.

Cantata: Erschallet, ihr Lieder, erklinget, ihr Saiten! VII. Chorus (reprise)

Your browser does not support inline frames or is currently configured not to display inline frames.

The program "allows students to connect their passion for music with their faith," says Beth Burns, LSM executive director. "We seek to improve their music skills, their interpersonal skills, and their awareness of God's Spirit in their own lives and in the world around them."
To apply, students must submit a musical recommendation, a personal recommendation, and an audition tape, Burns explains. Most often, the musical recommendation comes from a student's music teacher and the personal recommendation from his or her pastor. In some cases, students may also be able to audition live at selected locations around the country.
While LSM is open to students from all backgrounds, Burns says most come from Lutheran homes, and some follow brothers and sisters, or other family members, through the program. The return rate of students is high also, she adds.
Perhaps typical of both trends are 16-year-old twins Laura and Jocelyn Hansen from Fort Wayne, Ind. Last summer, they followed in the footsteps of their older sister, Joy, by attending LSM. Now they are looking forward to another summer at LSM—right after their father, Glenn, receives his first call and graduates from Concordia Theological Seminary.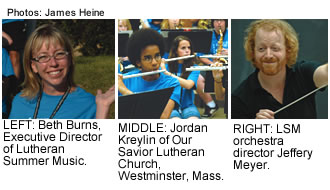 "Our daughters grew both personally and musically," explains mom Deborah Hansen. "They became more responsible and independent. They had to attend rehearsals and lessons, schedule practice time, and make sure they got to the cafeteria for meals and washed their clothes. And their musical skills developed wonderfully under the challenge of preparing for several levels of performance."
Hansen, who recently earned a master of arts in religion from Concordia Theological Seminary, also appreciates that LSM's staff strives to provide a wholesome, balanced environment for its students.
"We seek to be a supportive Christian home for young musicians," Burns says.
Leaving the Nest
For many students, LSM is, in many ways, a life-changing experience, Burns says. First, she explains, LSM is a big step into the outside world, especially if you're, say, 14 or 15. "Think about it. Four weeks is a long time to be away from home. You may think you're ready, but suddenly being away from Mom and Dad for a month is challenging. We always have our share of homesickness at first, but most everyone adapts. Our counselors are a big help, and we work hard to create a genuine community."
Second, and perhaps more important, according to Burns, students discover that they are not alone in their love for music and in a desire to connect that love with their faith.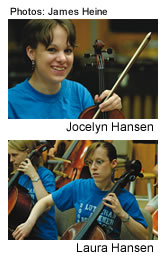 "It's wonderful to watch that change. Suddenly, they discover there's a place for them apart from the normal emphasis on sports and other activities we normally associate with teens. Here they discover others like themselves, from all around the country."
Laura Hansen, who, like Sabrowsky, was initially a bit skeptical about LSM, agrees. "I liked having a whole group of people my age who loved music," she says. "We were all strangers, but we had one thing in common—the music."
Turning on the Light
The benefits of LSM extend beyond the students, observes program director Peter Wessler. Congregations benefit, too, he believes. Wessler, a member of Mount Calvary Lutheran Church in Peoria, Ill., and the director of the adult choir at Trinity Lutheran Church in Pekin, Ill., points to LSM's emphasis on the Lutheran liturgical tradition and on Lutheran church music.
"The light goes on, and it can go on in a lot of different ways," he says about the young people who attend LSM. "They might have it in their head that liturgical services and traditional Lutheran liturgy are not exciting or not worthwhile, but you can see how they sing, and how they can take to it."
Dr. Rich Bimler concurs. Bimler, a past executive director of the LCMS Board for Youth Ministries, a former president of Wheat Ridge Ministries, and a well-known writer and lecturer, is LSM's board vice president. In the past, his own children, now adults, have attended LSM's summer program. Yes, he says, LSM helps young people develop their musical gifts, but more important, it helps them connect their gifts with Lutheran worship and begins to equip them for using these gifts in their congregations and communities. "LSM emphasizes the historic and theological importance of music and worship in and for congregations," he says.
A Return Visit
Sabrowsky, like the Hansens, will return to LSM this year. It is an opportunity she is looking forward to in spite of her initial reservations in 2008. In fact, "The first day back home, she was 'LSM sick,'" recalls Michelle Sabrowsky. "She missed her friends and music. She knew that she would be going back in 2009."
"The faculty, staff, and counselors were wonderful," explains Whitney. "One of my favorite parts of LSM was coming together with other students for Evening Prayer. It was amazing to sing with a group of musically gifted people every day. Being a primary organ student was one of the best decisions I have ever made. I was exposed to a whole new world of great organists and music."
Ditto for Immanuel Lutheran Church. "We've heard things come out of the organ we've never heard before," says Rev. Fred Kutter, pastor of Immanuel. "It's wonderful. Whitney is a real blessing."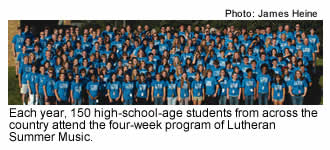 ---
Music Partners
While tuition for Lutheran Summer Music is about $3,000, and while scholarships are available, many congregations choose to participate in LSM's "Young Musicians Partnership," a program that allows a congregation to underwrite the cost of attending LSM. Beth Burns, LSM executive director, sees the program as an opportunity for congregations to "build the future musicians of the church."
As a member of the Young Musicians Partnership, a congregation provides a scholarship for a local student. That scholarship is then matched by LSM at the rate of 33 cents on the dollar.
"Congregations raise the scholarship money in a number of ways," Burns says. "Some provide a line item in their budget; others hold fund-raisers, seek direct donations, or participate in other activities."
Scholarship levels begin at $500, Burns adds. Typically, they might also be established at $1,000 or $1,500.
On the Web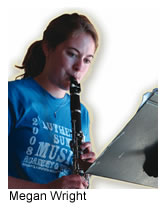 Left: LCMS intern Megan Wright, a music-education major at Concordia University, Irvine, and principal clarinetistin the Concordia, Irvine, Wind Orchestra. Click here to read more information about Megan in our Web-exclusive story.
For More Information
To find additional information about Lutheran Summer Music, or to apply, visit the organization's Web site at www.lutheransummermusic.org. You may also call toll-free: 888-635-6583.
---
Beyond LSM: Preparing Musicians for the Church
by Kurt J. Krueger
The colleges and universities of the Concordia University System offer coursework, internships, and other practical experiences that prepare students to assist in worship in a variety of settings in Lutheran congregations. Hundreds of Concordia graduates currently serve as directors of parish music, organists, choir and handbell directors, instrumentalists, and soloists throughout the Synod.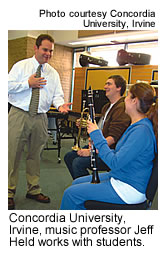 Most Concordias offer church-music majors or minors, and many provide training that leads to certification as a Director of Parish Music (DPM). The DPM program, which requires four years of study, including theological and liturgical training as well as a practicum in an area church, prepares graduates to be a music resource for pastors as they plan worship services.
Concordia University System music faculty are highly trained teachers and musicians, many of whom regularly compose and publish choral and instrumental music. Full-time faculty are augmented by scores of part-time faculty who are professional musicians from the community.
Concordia music students normally master their instrument in private lessons as they develop a sense of teamwork in ensemble work. Those involved in vocal or instrumental ensembles enjoy the benefits of national and international performance tours, often a highlight of their collegiate study.
In addition to performance experiences, Concordia music students assist in worship services on campus or in local churches, giving them a chance to learn while under the supervision and guidance of professional church musicians.
Our Synod's Concordias offer significant music scholarships to students who have the ability to participate at a high level of performance in vocal and instrumental ensembles and who show promise as church musicians.
Individual Highlights
Is situated in the city of Austin, home to a unique andvibrant Christian music community—Concordia Texas
Offers a new minor in worship arts, available to any church career student—Concordia Irvine
Provides a master's degree in church music—Concordia Wisconsin
Offers a personalized music degree as part of a liberalstudies program—Concordia New York
Features five vocal and nine instrumental ensembles—Concordia St. Paul
Is accredited by the National Association of Schools of Music—Concordia Chicago and Concordia Nebraska
Is enjoying the new installation of a 38-rank Casavant Freres organ—Concordia Nebraska
Warns on its Web site: "The friendliness, compassion, and generosity of our students and faculty are contagious"—Concordia Ann Arbor
Is fielding a new marching band dedicated to the HBCU (Historic Black College/University) style of marching—Concordia Selma
Dr. Kurt J. Krueger is president of the Concordia University System and executive director of the LCMS Board for University Education.