by Roland Lovstad
Specific Ministry Pastor (SMP) is the newest LCMS program for preparing pastors to fill an identified need in a congregation, cultural setting, or other ministry. SMP uses distance education, local pastors as mentors, and an annual week of study on a seminary campus.
Last fall the two LCMS seminaries enrolled their first students in the program, which involves close collaboration between congregations, districts, and the seminaries. Beginning with an identified need, a congregation, a circuit, or a district may invite a man with the scriptural qualifications to apply for the SMP program. The district examines the application and submits a completed application package to the seminaries.
Before being admitted, a man must demonstrate basic competencies in the Old and New Testaments, Lutheran doctrine, worship, preaching, teaching, and Christian witness. These competencies can be acquired through lay training offered by districts, our Concordia universities, and our seminaries.
Once admitted, an SMP student serves as a vicar during his first two years in the program. He takes instruction (mostly by Internet) and meets with an assigned pastor-mentor. After completing eight seminary courses during that period, he will be eligible for ordination and a call to his vicarage site. During the next two years, he completes eight more courses while continuing under the supervision of a mentor pastor. Even after completing the program, he continues under the supervision of a general pastor.
Earlier this year, both seminaries received preliminary approval from the Association of Theological Schools for a comprehensive distance-education program and may now offer courses for academic credit. This enables SMP students to receive credit for their work if they choose to continue study toward a master of divinity degree.
For more information, see our seminary Web sites: www.csl.edu or www.ctsfw.edu.
---
Clarence Riley: Taking Another Plunge
As a young Navy hospital corpsman, Clarence Riley jumped from helicopters to rescue people at sea. At 54, he's taking another plunge—into the Specific Ministry Pastor (SMP) program of Concordia Seminary, St. Louis.
"I figured that having earned a Ph.D., I was through. I rather enjoyed not being a student," says Riley, an assistant professor of health and physical education at Fort Valley State University in Fort Valley, Ga.
Another confession: Twelve years ago, he basically attended church on Sunday—until his family joined Mount Calvary Lutheran Church near their home in Warner Robins. "I went through a metamorphosis. I got to know the people, the genuineness, the love, and the caring," he says. Realizing that Christian faith was more than a Sunday activity, he became an evangelism caller, an elder, and a hospital chaplain.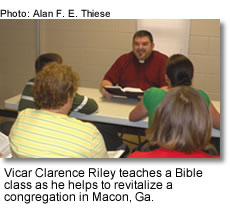 Discovering his gift for evangelism, he also sensed God was calling him to be a pastor. For six months, he didn't even tell his wife, Carrie. "I wanted to be sure this was God calling me and not me trying to make that decision," he explains. Finally, he told his pastor, and within 24 hours, three people suggested he become a pastor—which, he says, helped confirm his sense of calling.
Riley started with biweekly trips to Atlanta to complete 10 courses that were preliminary to entering our Synod's Distance Education Leading to Ordination program (DELTO, now being phased out). With the advent of SMP, Mount Calvary fully supported Riley and sponsored his application.
As a vicar, with Rev. David Brighton as his mentor-supervisor, Riley preaches and teaches at Mount Calvary and Lutheran Church of the Holy Trinity in Macon. "My ministry is to help revitalize a congregation whose numbers have dwindled over the years and to motivate them to grow both spiritually and in membership," he says.
Riley is enthusiastic about SMP: "I think this is a tremendous opportunity to match the needs of congregations with the gifts of people who have been selected by God to fill those needs."
Discipline is required, he says, to work 40 to 50 hours at the university, spend 15 to 20 hours on SMP courses, five to 10 hours on vicarage, and still find time with family. He and Carrie have two teenage sons at home, and he also has four adult children.
Riley says he feels "a tremendous sense of community" with his fellow students. "I can truthfully say the professors in the SMP program are shining examples of what educators are all about," Riley says. "None of the SMP guys are slackers either."
---
Rennie Kaufmann: Answering the 'Tugs' to Pastoral Ministry
"The office has been pursuing you."
Rennie Kaufmann recalls those words from his pastor, Rev. Randy Duncan, when they talked about the new SMP program. Comparing himself to Jonah, Kaufmann, 48, says he's felt the "tug" to pastoral ministry since his 20s. Twice, he enrolled in seminary programs, but circumstances kept him from continuing his studies.
"I am blown away by the servant hearts I have witnessed in those implementing and teaching this new program," says the now-seminarian in the SMP program at Concordia Theological Seminary, Fort Wayne. "The seminary staff is extremely accommodating and show their care and servant hearts by consistently being available. They are open to suggestions for making this program better."
The son of a U.S. Army officer, Kaufmann spent his high school years in Iran (before the revolution), walking or hitch-hiking to find a Bible study, youth group, or worship service. During 18 years traveling the world as an "Army brat" with parents who loved history and archeology, he lived in Thailand, backpacked in Egypt (at 16), went on digs in Iran, and visited Israel.
Kaufmann's home was always filled with music, and that became his secular career. "I grew up singing and playing. I played piano at officers clubs and eventually did private and corporate events," he says. "In addition, I was always in worship arts—music and drama."
In the past year-and-a-half, Kaufmann was hired twice by the U.S. State Department as a cultural envoy to Azerbaijan, bringing music, magic tricks—he calls them "Gospel illusions"—and stories to refugee camps, orphanages, entertainment centers, and embassies. "I also had a chance to minister to the very active 'underground church' there," he adds.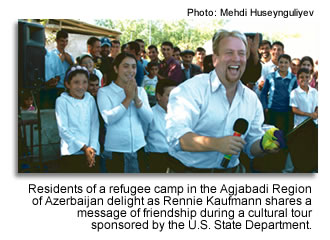 Today, he is an SMP vicar, elder, and pastoral assistant to Duncan at Living Word Lutheran Church in Plymouth, Mich. He preaches occasionally and conducts visitation, local and cross-cultural evangelism, and helps with the music ministry. He and his wife, Karen, also lead junior-high ministry. (He and Karen have five children, ranging in age from 22 to 13.)
"The knowledge I am gaining is immediately useful in the context of my life and ministry," Kaufmann says. "It has helped me clarify my ministry calling, and I have gained new friends for life in the teachers and students. I feel part of a team of teachers and students who are united in storming the gates of hell together."