by Earl Rogers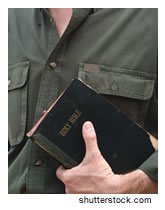 Four years ago Matthew Jordan came to our church, apparently looking for something missing in his life. In Bible class, he never said much, but now and then he would ask a question. I am told he asked a lot more questions in the new-member class, where he learned about the tenets of the LCMS, tough questions that sent our pastor back to his concordances. Whatever it was that Matt was looking for, his inquiring mind demanded more answers.
Matt Jordan was 51 years old and single when he died of a heart attack alone in his apartment. Not many of us got to know him on a personal level, because it just wasn't his nature to socialize following Sunday worship.
After the funeral service that was held in our worship center, I spoke with his father and some of his relatives. He had two brothers, two half-sisters, and no children.
"Had he ever been married?" I asked one of his half-sisters.
"A long time ago," was her cryptic answer.
He worked in the building trades. He held a union card in a local carpenter's union and a journeyman carpenter's certificate. Those two items, along with a commendation from the U.S. Army, a homemade model airplane, a surprisingly good self-portrait, and a few photos, were displayed on a table.
I wondered if those few artifacts represented the sum total of a life spanning some 40-odd years, from the picture of a handsome towheaded boy to the man. Not likely, though they may have shown us an ordinary life uncluttered with the baggage of achievement.
Matt was likeable, though not given to opening a conversation. He was always polite, a friendly loner, but by no means reclusive. When he did speak, the words came out in a smooth baritone voice like the rumble of an idling engine. No doubt he was a witness to the neighbors of his apartment complex, who came to his funeral with tales of Matt urging them to attend his church.
At some point, Matt entered into the life of our congregation. He read Scripture, handed out bulletins, ushered, ate the bread and drank the wine of Communion, and attended a Thursday-night Bible class regularly.
Our pastor, Rev. Dan Buringrud, recalls that Matt was dogged in the pursuit of truth, never asking the easy questions, never accepting the easy answers. Apparently, a seed was planted at an early age, because we learned from his father, a career Navy officer, that Matt was raised in a strict Lutheran home until his parents divorced. Sometime after that, he became unchurched and estranged from his father. For the last 25 years of his life, a spoken word never passed between the two. Matt admired his father, according to Pastor Dan, and he never spoke ill of him. The father honored his son by coming to the funeral, albeit too late to break the silence that existed between them for so many years.
Following Matt's funeral service, we adjourned to the fellowship hall, where, after a light lunch, some testimonials were offered. The most surprising testimonial came from a brother-in-law who stood up with great hesitation and a certain amount of emotion to explain about sorting through Matt's meager belongings and finding a license-plate holder referring to 1 Cor. 1:30. Matt had made the license-plate holder for his truck.
During the week after the service, I wondered why Matt had chosen that particular Bible verse. It seemed a little awkward and out of context, as if his thinking were incomplete, like a house without paint. We tend to think of John 3:16 or Psalm 23 as the more eloquent passages with universal appeal, but why 1 Cor. 1:30?
"It was totally in character with Matt," Pastor Dan told me. "In Bible class, his line of questioning never followed conventional thought."
Still, the verse he chose to frame the license plate on his pickup truck continued to puzzle me until I read the preceding three verses and the verse following. Then it all came together like a mirror held up to Matt's life.
But God chose what is foolish in the world to shame the wise; God chose what is weak in the world to shame the strong; God chose what is low and despised in the world, even things that are not, to bring to nothing things that are, so that no human being might boast in the presence of God. And because of Him you are in Christ Jesus, who became to us wisdom from God, righteousness and sanctification and redemption, so that, as it is written, "Let the one who boasts, boast in the Lord" (1 Cor. 1:27–31 ESV).
We can never know if Matt Jordan saw himself reflected in those words as I did, but of one thing we can be certain: He wanted those who followed behind him in traffic to know that because of Him you are in Christ Jesus.
My memory of Matt is of a man standing apart, a diamond in the rough, walking down the walkway away from the worship center on a Sunday morning to the parking lot, alone, without a companion. A lonely life saddens me and, yet, some members of Matt's family who lived far away remarked on how fortunate he was to have his church family close by.
I believe Matt Jordan found what he was looking for after he came to our church, while we members of the congregation learned a few lessons from his life. We confirmed the benefits of a church family. We learned the importance of planting a seed. We saw the powerful witness of small things. We observed the patience and perseverance of someone seeking the truth. We experienced a Christian's commitment to the work of the Church.
Still, there was one thing Matt left unfinished. How do we break the ice of estrangement from someone we love? I have no easy answers, but maybe Matt was on the right track, starting with 1 Corinthians. If we scroll ahead to the 13th chapter, the Apostle Paul reminds us that love is patient and kind; it is not jealous; it does not brag, nor is it arrogant; it keeps no record of wrongs but always hopes, trusts, perseveres, and so much more.