by Kim Plummer Krull
At Concordia Historical Institute, the discovery of a Lutheran pastor's Civil War diaries spotlights an 'amazing story' and an enduring ministry.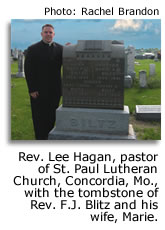 When Pastor Lee Hagan is having a tough day, he can recall the ministry of a predecessor at St. Paul Lutheran Church in Concordia, Mo., nearly 150 years ago.
On Oct. 5, 1862, after trudging through the rain to baptize twins at the home of the town blacksmith, Rev. Franz Julius Biltz was enjoying supper with the blacksmith's family and some guests. Suddenly, shouting, cursing men on horseback surrounded the house. Bushwhackers—Confederate guerillas—took Biltz and 10 others hostage.
The bushwhackers killed or wounded six of their hostages. Biltz lost only his overcoat, his watch, and some money before he was set free. When he returned home later that night, he found his home had been ransacked. His wife and children stood outside, crying and praying.
"Nothing I've faced comes any-where near what Biltz faced," says Hagan, St. Paul's current pastor. "One minute he's celebrating Baptisms with the family, and the next thing he knows, he's kidnapped by bushwhackers. It's an amazing story."
Today, that "amazing story" finds itself in the spotlight with the recent discovery of six of Biltz's Civil War-era diaries at Concordia Historical Institute (CHI), the Synod's official department of archives and history. The slim, bound volumes document a remark-able—and perhaps remarkably little-known—story of German Lutheran immigrants who abhorred slavery but, ironically, founded one of the Synod's oldest congregations in the heart of one of Missouri's staunchest slave-owning counties.
A Rare Find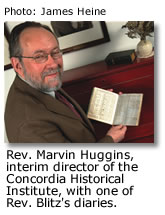 Earlier this year, CHI Interim Director Rev. Marvin Huggins found the Biltz diaries while looking for another document. For decades, the books were mistakenly assumed to have belonged to the late Rev. Theodore Walther, whose widow donated papers to CHI in 1960. Walther was the grandson of both Biltz and Dr. C.F.W. Walther, the first Missouri Synod president, and the two family trees intertwined with the marriage of Biltz's daughter and Walther's son.
While few people outside of Concordia, Mo., may know about Biltz, Huggins is an exception. He immediately recognized the journals' significance to both Synod and Civil War history. Reproductions of pages from the diaries will be on display when the new Concordia Historical Institute Museum opens at the LCMS International Center in St. Louis July 26. (See related story.)
Huggins expects the diaries—which include a volume for each of the Civil War years, 1861 through 1865, and also for 1869—to catch the attention of Civil War buffs, especially as hoopla builds for the 2011 sesqui-centennial of the beginning of the deadliest war in American history.
Writing with what Huggins surmises was a steel-tipped pen dipped in ink, Biltz records troop movements and fights in western Missouri as well as famous battles such as Bull Run and Gettysburg. On April 14, 1865, Biltz wrote: "President Lincoln shot, 10:45 p.m.; died 15th at 7:22 a.m."
While Biltz used the books much like diaries, Huggins explains that the volumes were actually a yearly publication similar to today's Lutheran Annual. Printed in German in Allentown, Pa., the books listed every Lutheran pastor in America for that year, including Biltz, and included an almanac-like calendar with blank pages for personal notations. It's on these pages that Biltz recounted Civil War-related activities and made general notes about Baptisms, burials, and purchases. One example of the latter: "Tea, 35 cents; matches, 10 cents; pencils, 20 cents."
Longtime St. Paul's member Ed Nierman is pleased the Biltz diaries highlight a little-known chapter in early LCMS history. "This was a unique community of German Lutherans who settled in a county full of slave owners and southern sympathies," says Nierman, whose ancestors helped found St. Paul's in 1840—seven years before the Synod's founding. "I don't think many people know how influential Biltz was to this community and to our church. Certainly a lot of the younger people don't."
Nierman points out that even before the secessionist raiders targeted the German Lutherans, Biltz faced challenges. As a 13-year-old orphan, he left Saxony for America in 1839 with a half-sister and some 700 other Lutherans led by Martin Stephan. Arriving first in New Orleans, and then St. Louis, the group eventually settled in Perry County, Mo.  Later that year, Biltz enrolled in the first class of the "Log Cabin College" in Perry County, the predecessor of today's Concordia Seminary.
Called to a Frontier Congregation
In 1860, the 35-year-old pastor answered a call to serve St. Paul's, a growing congregation of German Lutherans in western Missouri's Lafayette County. Since the 1830s, immigrant families had been drawn to Lafayette County by the area's rich, productive farmland.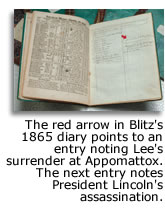 When Biltz arrived, Lafayette County was a stepping-off point for pioneers heading to the frontier. The county also held the dubious distinction of being among Missouri's top slave-holding communities. While the German Lutherans supported the Union, many of their neighbors sided with the Confederacy.
The new pastor's annual compensation "was something like $300 a year, plus firewood—which doesn't sound like he was getting paid enough to get shot at," says Nierman, referring to the repeated assaults on Biltz and hiscongregants.
Biltz wrote only brief notes in his diaries, mostly in German. Greater detail about several Civil War episodes are filled in by Huggins and Nierman, plus two written sources—a history compiled for St. Paul's 150th anniversary and Independent Immigrants: A Settlement of Hanoverian Germans in Western Missouri (University of Missouri Press, 2007) by Robert W. Frizzell, a book in which Biltz and his flock play prominent roles.
Biltz's post-Baptism kidnapping on Oct. 5, 1862, marked a gruesome attack on the German Lutherans. In his diary, Biltz calls the date "a remarkable day," and lists the name of each person killed or wounded. The pastor also notes his payment for baptizing the blacksmith's twins: $2.50.
Another incident is noted on July 13, 1863, when guerillas captured and killed four of St. Paul's young men. As Biltz officiated at the funeral, news of approaching Confederates interrupted the service, prompting mourners to flee into nearby woods and cornfields. The funeral resumed when another report confirmed that the approaching troops were Union soldiers, not Confederates.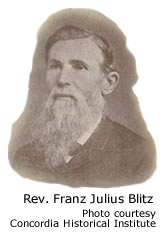 Biltz documents a third atrocity on Oct. 10, 1864. After a bugle sounded a bushwhacker alert, 100 citizens gathered at St. Paul's. One group rode on horseback to confront the enemy, and a fight ensued. "Attacked by guerillas, 24 of our men slain, mostly after wounded or captured," Biltz wrote.
The diary's Oct. 11 entry: "Buried 13 in our graveyard."
Those 13 tombstones still stand in the St. Paul's Cemetery, located just over a mile from the current church. But the markers are only one of many reminders that Concordia's Lutherans paid a heavy price for their anti-slavery beliefs—and persevered with a faith and commitment that endures nearly 150 years later.
The Civil War ended in 1865, leaving behind a shadow of lost lives, burned homes, and looted businesses. Still, according to St. Paul's history, the church continued its steady growth as "the congregation stood united in faith and prayer, and Pastor Biltz faithfully led his flock with the Word of God."
From Yesterday to Today
Today, St. Paul's remains a thriving congregation of 1,700 members. Many current members bear the same family names as those served in Biltz's day: Brackmann, Frerking, Fiene, Oetting.
Even Concordia's name is part of the Biltz legacy. When he came to St. Paul's, the community was vaguely known as "Cook's Store." In 1865, Biltz was appointed to serve as post-master, giving him the opportunity to name the post office. His choice: a solidly Lutheran name but, considering the violence of the Civil War, a bit ironic. Biltz called the post office (and, subsequently, the town) Concordia, a Latin term that means "hearts in harmony."
Biltz remains St. Paul's longest-serving pastor (1860– 1901). As a pastor, he had a zeal for missions and education. Under his leadership, St. Paul's founded daughter congregations, including churches at Emma, Alma, and Norborne, all towns where LCMS members still worship today.
Biltz's leadership also expanded beyond Missouri. As president of the Synod's Western District (an area that included all land west of the Mississippi River), Biltz recognized the need to train pastors to serve bands of German Lutheran immigrants and others settling the rapidly expanding frontier. In 1883, he urged his congregation to shoulder the financial burden for opening a Lutheran preparatory school, St. Paul's Academy. Today, Saint Paul Lutheran High School is a boarding high school that continues to prepare students for Christian leadership. The school draws students from throughout the world, and alumni include more than 1,000 pastors.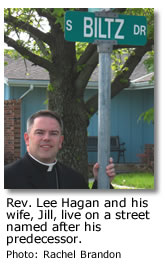 "We continue to prepare leaders to declare Christ to a dying world," says Rev. Paul Mehl, Saint Paul's executive director. "We still maintain the same purpose that began with Pastor Biltz in the 1880s."
Also located on the Saint Paul campus is the Rural Ministry Leadership Center, an LCMS program aimed at strengthening existing congregations and starting new ministries in rural areas and small towns. The center, quite appropriately, is based in Biltz Hall.
Other reminders of this Lutheran pastor pop up in more unlikely spots— at the local McDonald's, where Biltz appears in a Concordia history mural, and on the street sign marking "BILTZ DR." In another appropriate meshing of history with the contemporary, Pastor Hagan and his wife, Jill, recently moved to the street named for his St. Paul's predecessor.
And most Wednesdays find Ed Nierman and other members of the Saint Paul Lutheran High School Historical Society at the school, sorting through papers and pictures, including many that reference the institution's founder. The group's goal is to archive a collection for display and presentations.
Nierman hopes one day to visit the new CHI Museum in St. Louis and see the pages reproduced from the Biltz diaries. Despite the passage of nearly 150 years, the actual diaries remain amazingly sturdy—much like the ministry of a pioneering German Lutheran pastor whose faith, commitment, and leadership continues to touch lives today.
---
A New CHI Museum Shares LCMS History
Reproductions of pages from theCivil War-era diaries of Rev. Franz Julius Biltz will be among the pictures, documents, and artifacts that will be on display when the Concordia Historical Institute (CHI) Museum opens at the LCMS International Center in St. Louis. The dedication is set for 2 p.m. CDT, July 26.
The 3,500 sq. ft. museum will provide an overview of LCMS history, beginning with the Reformation through the 20th century. Five rooms will each focus on a different emphasis:
The Reformation, including many 16th century items pertaining to Martin Luther.
Immigration, highlighting groups that composed the early Synod, including the German Lutherans who settled in Perry County, Mo.
19th century, beginning with the Synod's founding in 1847 and organized by various ministries related to education, outreach, music, worship, and publications. (The Biltz diaries will be in this room, included with an exhibit on ministry during the Civil War.)
Missions, beginning with early ministry with Native Americans and African Americans in the United States and in major foreign mission fields.
20th century, highlighting the transition from a predominantly German-language to English-language church and auxiliary organizations such as the Lutheran Women's Missionary League and the Lutheran Laymen's League.
The new museum enables a major increase in space for exhibits by CHI, the Synod's archives and history department. The CHI headquarters remains on the grounds of Concordia Seminary, Clayton, Mo., where CHI continues to feature rotating exhibits about LCMS history.
The CHI Museum at the International Center will be open 8 a.m. to 4 p.m., weekdays. Tours are self-guided, and admission is free.  No reservations are required, but groups are encouraged to give advance notice. For more information, call 314-505-7900 or visit http://chi.lcms.org.