O Lord, our heavenly Father, almighty and everlasting God, You have safely brought us to the beginning of this day. Defend us in the same with Your mighty power and grant that this day we fall into no sin, neither run into any kind of danger, but that all our doings, being ordered by Your governance, may be righteous in Your sight; through Jesus Christ. Your Son, our Lord, who lives and reigns with You and the Holy Spirit, one God, now and forever.
(LSB, p. 228)
by Rev. Christopher D. Hall
This prayer, or one like it, can be found in Catholic, Episcopal, and Lutheran rites. It's an ancient prayer, dating before A.D. 600. Similar prayers can be found in the Eastern Orthodox rites. Millions of Christians have prayed this prayer for more than a millennium.
 
But as ancient and beautiful as this prayer is, it is also audacious and completely unrealistic.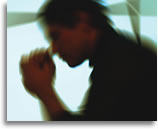 Photo by DesignPics
By the time I pray this at the close of Matins, I've usually been impatient with my children and with other drivers, and irritated that more people don't come to Matins with me. But even if I prayed this before Matins, while still in bed, even before opening my eyes, I'm not sure this petition to live a day without sin could happen.
When our sins are so ingrained in our thoughts, when one sees sin as woven into the fabric of our perceptions and intentions, our very being has sin attached. St. Sisoes (d. A.D. 429) reflected this in his final words: "Indeed, I know not if I have clutched at the very beginning of repentance."
True repentance is lifelong, and godly repentance must go as deep as the sin that ails us. A day without sin would be a day without words, a day without actions, a day without others, even a day without thought—an impossibility. The prayer is a completely unrealistic petition, so far outside our experience it is nearly insulting in its presumption.
That is the point of the prayer, however.
Christians are to flee from sin. St. John could be bold enough to write, "My little children, these things I write to you, so that you may not sin. And if anyone sins, we have an Advocate with the Father, Jesus Christ the righteous" (1 John 2:1 NKJV).
However unrealistic it is, the desire of the Christian is to follow after Christ, to be "perfect, just as your Father in heaven is perfect" (Matt. 5:48). The definition of "repentance" involves a determination to turn one's back on sin, to strike out in a new direction, to change the mind, to set it "on things above," to be strangers to this world and our sin-stricken flesh.
And so this petition to live a sin-free day is a prayer of humility. It is impossible for anyone to accomplish this; we sin by "thought, word, and deed," as we say in the general confession. Praying for something so far out of our experience can only be an admission that God must accomplish it for us. It is only our Lord who may grant such grace and strength. So in humility it is our prayer that God would give us such grace as to accomplish this.
Despite the faithfulness and humility of this prayer, our "inner pragmatist" still tells us it is ultimately useless. Pragmatism tries to convince us there is no use in doing something or trying something that cannot be done. Goals should be realistic, else disappointment and despair may overcome. No matter the scriptural integrity or the beauty of this prayer, in the end it is impossible, and therefore pointless.
That's what our inner pragmatist tells us. There is no point in praying this way, that we should live a day without sin, because it can never be done. So should we submit our faith to only those things that are of proven value, of demonstrated usefulness? Should we be practical, pragmatic Christians? After all, even devout Christian parents will caution their children from praying for the impossible—or what seems impossible for us.
To test this pragmatic function, we can ask, "Would a Christian pray the opposite?" Would a Christian pray that God would grant us our request to fall into sin? Should we keep our prayers within the limits of what may actually happen, within what we can reasonably expect? Should we measure what is possible and confine ourselves to that?
Praying that practical, realistic petition—that God would allow us to sin—would certainly be practical and realistic, but also completely satanic. Our faith is impractical, our hope is unrealized, our visions unseen, our lives one of striving, but not yet attaining. This is a major theme of the New Testament; the apostles remind us not to sacrifice our hope in things unseen (2 Cor. 4:18) for what is immanent and tangible. "Now faith is the assurance of things hoped for, the conviction of things not seen" (Heb. 11:1 ESV), and the Christian faith is one not of pragmatism, of realism, but of striving for the salvation that is ahead.
Martin Luther once wrote this:
This life is not godliness, but growth in godliness; not health, but healing; not being, but becoming; not rest, but exercise. We are not now what we shall be, but we are on the way; the process is not yet finished, but it has begun; this is not the goal, but it is the road; at present all does not gleam and glitter, but everything is being purified. (AE 32:24)
Hope is not hope if the thing hoped for is easily realized or immanently revealed. Faith is not faith if the things believed in are seen. The Christian who has received this faith and hope in things to come is a most unrealistic man or a most idealistic woman.
So for more than a thousand years, Christians everywhere have begun their mornings praying that they would not sin that day, hoping against hope that God would do the impossible for us, putting to death our inner pragmatists who warn it is impossible, and hoping that perhaps today, through God's great help, we will conquer the sin that crouches at our door.