by Rebecca Hillebrand
How many times have you heard the familiar words from Chapter 12 of Paul's first letter to the Corinthians and thought, "I want to be a missionary, but . . ."?
I realize the thought may never have crossed your mind. Yet, when we think of "missionaries," we often think of pastors, medical people, and teachers. We seldom think of accountants, communication experts, or administrative assistants. However, in the mission field there is room and great need for such skills.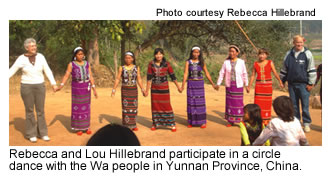 Heeding the Call
Let me tell you about my mission experience. First, however, here is a little bit about who I am. I am first and foremost a child of God. I am a wife and mother. In my working career I am a certified public accountant. As I was preparing to slow down in the area of gainful employment and spend more time with my husband, I felt the call. Do you know it?
Perhaps it is that still, small voice or that nagging feeling of missing something, or perhaps it is someone telling you there is a need, and you want to respond. Maybe it is hearing about activities in far-off lands or places nearby and wanting to be a part of something bigger. It can be as simple as visiting the LCMS Web site (www.LCMS.org) and scanning the "Volunteer Opportunities" section. (On the www.LCMS.org home page, point to "Get Involved" and then click on "Volunteer Opportunities.") That is how I became involved.
I am writing this while I am staying at the LCMS World Mission office in Kowloon Tong, Hong Kong. I have been here several times over the course of a year. Most of my time in the mission field has been spent in the Philippines, working with the Lutheran Church in the Philippines (LCP). They were in need of an accountant to help them get their accounting and government reporting back on track. I spent six months there and returned to the U.S. to tend my garden and cook for my family. I am back here for a one-month Philippine mission follow-up—and to see where else I can help.
I have worked hard, but I have also had time to explore and relax. I have visited China, Macau, Hong Kong, Singapore, and, of course, several places in the Philippines. I found I love snorkeling (the Philippines have some great coral reefs), and I hate cockroaches (they are enormous in the Philippines). I have seen God's providence in the timing and election of His call. I have felt the overwhelming support and enthusiasm of my home church (Immanuel Lutheran) and a neighboring church (Hope Lutheran) in Arizona as they sent me to this mission. I have had the opportunity to visit several countries in Asia and meet with members of other organizations doing good work out here. I have been protected and led by wonderful members of God's team in His harvest fields.
Remember to Ask
One item I want to stress: If you have a specific skill that does not match a mission opportunity, don't just go away thinking you are not needed. After many days spent in prayer, when I first looked at the mission opportunities, I thought, "OK, I can do the short-term ESL (English as a second language) trip." It did not require much skill, and I could speak English.
However, instead of just going forward with the ESL opportunity, I sent an e-mail to LCMS World Mission using the "Contact Us" button on the "Short-Term Missionaries" Web page. That got me in touch with a wonderful person named Jennifer Mustard, who "put the word out" that I was available and explained what my skills were. Jennifer and her World Mission colleagues found an opportunity that used the specific gifts God had given me.
More Work to Do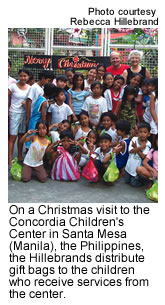 My stay in the Philippines has generated an additional request from the LCP. The president of the LCP, Rev. James Cerdenola, is in great need of an administrative assistant. This person will be instrumental in completing the work that began with the accounting assistance. The LCP needs additional help in getting the organization of the church in good working order. Our skills in administration are a gift from our Savior and Creator. The blessings He has given us can be used to further His kingdom throughout the world.
So have you felt the call? Do you have what it takes to travel to exotic locales or even just a few miles in the U.S? God equips us for His tasks to be completed in His time. Our gifts, whether teaching, nursing, accounting, or organizing an office to be as efficient as possible, are all needed in the great harvest field.