The February article about Philip Melanchthon by Dr. Robert Kolb reminds us again how important Melanchthon is to us as Lutherans. While we see him as a brilliant theologian, others think of him as a "horologist"—a collector and admirer of watches and clocks. Many individuals, businesses, and governments gifted him with a clock or a watch following a presentation, negotiation, or theological defense.
It is believed that the watch (clock) he received for his defense at Augsburg in 1530 remains to this day. It is on permanent display at the Walters Art Museum (www.thewalters.org) in Baltimore, Md. It is engraved on the bottom as follows: PHIL. MELA. GOTT ALEIN EHRE 1530 ("Philip Melanchthon, God alone the glory, 1530").
This is a very important timepiece because it is the earliest dated watch or clock known to horologists or historians.
As a longtime member of the National Association of Watch and Clock Collectors, I am humbled to stand in front of this watch/clock. Just maybe Martin Luther asked his friend, Philip, "What time is it?" Philip, perhaps, answered by looking at this very timepiece. In historical circles it is a rare gem.
Dr. Richard L. Alms, Emeritus
Ellicott City, Md.
Ed. note: Below please find two views of Melanchthon's "table watch," which is the description the Walters Art Museum gives the approximately 2-inch-diameter timepiece. Perhaps manufactured in Nuremberg, the watch is gilt on brass with a gilt-on-brass dial and an iron movement. According to the museum, a single winding kept the watch running for 12 to 16 hours. The watch recorded time to the nearest half hour. As Dr. Alms notes, it is the earliest dated watch known.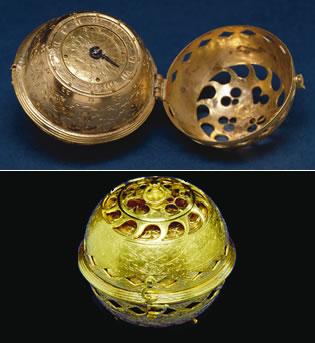 Photo © The Walters Art Museum, Baltimore
Read More Letters to the Editor
Send letters to "Letters,"
c/o The Lutheran Witness,
1333 S. Kirkwood Road,
St. Louis, MO 63122-7295;
or send them via e-mail to Lutheran.Witness@LCMS.org.

" />