by Kim Plummer Krull
One year after a magnitude 7.0 earthquake devastated Haiti, more than 1 million people remain homeless, and the Western Hemisphere's poorest country has struggled with a cholera epidemic. But amid huge challenges, LCMS World Relief and Human Care's (WR-HC) Rev. Glenn F. Merritt says that the Synod's mercy ministry, with the help of partners and donors, is making positive steps to assist suffering Haitians. While news reports say that many aid organizations have left Haiti, WR-HC has continued working there ever since the Jan. 12 quake. In November, Merritt, director of Disaster Response with WR-HC, was making plans for his 13th trip to Haiti since the temblor to work on a new project—partnering with a water filter company that has LCMS ties to help Haitian families kill cholera-causing bacteria.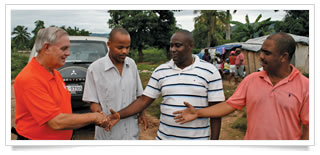 Merritt is a former police officer with critical incident training from the FBI and the Federal Emergency Management Agency (FEMA), among others. After graduating from Concordia Theological Seminary, Fort Wayne, Ind., he served as a missionary in West Africa and pastor in Montana and Texas. Since joining WR-HC in 2006 as the Synod's first Disaster Response director, Merritt has helped the church reach out to people in need in the wake of more than 240 calamities worldwide.
The following is an edited Lutheran Witness (LW) interview with Merritt (GM).
LW: Jan. 12 marks the one-year anniversary of the devastating earthquake that killed some 230,000 people and left more than 1 million homeless. How do you describe Haiti today?
GM: Haiti is a country filled with complex challenges for today and unique opportunities for tomorrow. The majority of Haitians are resilient and determined to survive day to day without any real hope for improvement in the future. The entire nation staggers under the enormity of the burdens it must bear, yet there is a real eagerness for the Gospel.
LW: How has the Synod's earthquake response changed in Haiti from those first days when LCMS partners focused primarily on providing emergency supplies and medical and pastoral care?
GM: Working with our Haitian Lutheran partners, the LCMS has developed a comprehensive, seven-point Haiti recovery plan that centers on long-term, sustainable projects, including a medical strategy for preventative health care, a micro-finance program for economic stimulus, enhanced training programs for pastors and lay ministers and a permanent housing development for safe and secure communities. It takes time and patience to establish credibility so that positive changes can occur through supporting local Haitians in their own recovery.
LW: Cholera, a preventable disease caused by contaminated water and food, is Haiti's latest challenge. I understand you are working with a company that makes water filters for underdeveloped countries.
GM: LCMS WR-HC and Lutheran Church Charities (an LCMS Recognized Service Organization [RSO] based in Addison, Ill.) are partnering with FilterPure to distribute "ceramic pot" water filters in Haiti. FilterPure's executive director, Lisa Ballantine, is a former missionary in the Dominican Republic and a Chicago-area native with LCMS ties. [Ballantine attended St. Peter Lutheran School and was married at Faith Lutheran Church, both in Arlington Heights, Ill.]
The filters cost $30 each and are a simple, effective way for Haitians to treat contaminated water. We are working through local Haitian Lutheran congregations to distribute these life-saving filters into communities. But we need donor support! We are asking families in the United States to support a Haitian family, making a $30 gift that will purchase a filter and provide clean water for up to five years.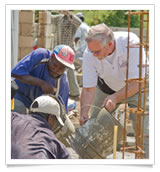 LW: Haiti's problems sound overwhelming. How do you know that the LCMS is making a difference?
GM: When you see the faces of men, women and children who have just received medical care, a home, food or heard the Gospel, we know that we are making a difference, one person at a time. With our partners, we have helped clean up debris, built homes, provided nutritional meals and clean water and shared Christ's love. We are making a difference, and, by God's grace, we will continue to do so. Compassion and mercy are the call of the church, not optional activities.
LW: On your many treks to Haiti, you have seen bodies pulled from rubble, comforted people who lost loved ones and prayed with homeless families living in squalid camps. When you see such suffering, what does it mean to you to be a Lutheran?
GM: As a Lutheran Christian, I understand that the theology of the cross ultimately points me to Christ's suffering when I am faced with the tragedy of a suffering world. In the cross, we find the courage to encourage others, the presence to persevere and the mercy to be merciful to the helpless and hurting of our world.
LW: When the Disaster Response director isn't assisting people whose lives are turned upside down, what does he enjoy doing?
GM: I enjoy being home in Arlington, Texas, with my family, and restoring old cars. [Merritt and his wife, Linda, have five children and six grandchildren.]
—
To donate, call WR-HC, 800-248-1930, ext. 1380.
About the Author: Kim Plummer Krull is an editor-at-large for The Lutheran Witness.
January 2011