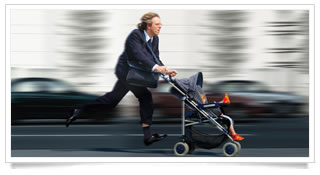 by Rev. Dr. John W. Oberdeck
Between running to ballet lessons and soccer practice, how can Lutheran parents pass the faith on to their children?
Child safety is important, and I'm thankful for the progress that has been made in the field, even if I haven't a clue how to get the car seat properly buckled. Nevertheless, I am still anxious about childhood safety, but safety of a different kind.
The difference in our culture today between the efforts of parents to keep their children physically safe and efforts dedicated to their children's spiritual welfare seems seriously out of whack. Is there as much concern that children learn to pray (and pray with their parents), worship (and worship with their parents), and attend Sunday School (and observe their parents attending Bible class)? Are children reminded of their Baptisms by parents and sponsors? What about the spiritual safety of the child?
Recently I've noticed a renewed emphasis on the responsibility of parents in this regard, all driven by the recognition of the spiritual authority God has placed within the home. Eph. 6:4 readily comes to mind: "Fathers, do not exasperate your children; instead, bring them up in the training and instruction of the Lord." So does Deut. 6:6–7: "And these words that I command you today shall be on your heart. You shall teach them diligently to your children, and shall talk of them when you sit in our house, and when you walk by the way, and when you lie down and when you rise." Yet assuming these responsibilities within the home hasn't been easy.
This challenge is nothing new, however. Every generation finds itself challenged to pass on the faith to its offspring. Martin Luther raised the alarm in 1524. Writing in an open letter to the councilmen of Germany, Luther outlined three major obstacles that stood in the way of parents fulfilling their educational responsibilities toward their children. In volume 45 of the American Edition of Luther's Works, Luther notes that the first difficulty is that "there are some who lack the goodness and decency to do it, even if they had the ability."
The next problem is that "the great majority of parents unfortunately are wholly unfitted for this task," a reference to parents' own inability to pass on what they themselves lack. The third obstacle sounds very contemporary. "Even if parents had the ability and desire to do it themselves, they have neither the time nor the opportunity for it, what with their other duties and the care of the household."
In his open letter, Luther was concerned about more than just religious instruction. He was writing about all of education, and he used his analysis of parental competency to argue that it was the responsibility of the cities to provide public education for the next generation, quite a radical suggestion in his day and age. When I look at Luther's list of obstacles, however, I see a mirrored reflection of the challenges we face today for children's spiritual education, for their spiritual safety.
Each of the three issues that Luther identifies—parental care, ability and time—could be seen as a strength or as a weakness. Some families appear to care very little about their children's spiritual welfare while other families care a great deal. Some families lack a strong background in the faith and knowledge of the Scriptures and are unprepared for the task of training their young. Many other families are very familiar with the catechism, know the faith well and can pass it on with ease. Similarly, there are families in our stressed economy that don't have time to share the faith, while others do.
What are we to make of Luther's observation? Does it suggest something for our own families? With a great deal of charity and understanding, let's recognize how complicated the spiritual lives of families can be today.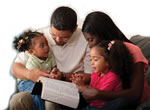 There are families that care a great deal about their children's spiritual growth, have the ability to guide that growth, and take the time to do it. I call such households "Foundational Families" because their feet are on solid bedrock. Pastors and other professional church workers come to rely on these households and pray that their own families might be so blessed.
Other families also care a great deal but do not have the resources to guide the growth nor the time to give. "Frustrated Families" describes this category. The educational and family ministries of congregations are especially important for these families because of limited resources.
Families that care and have the ability but no time are "Busy, Busy Families." They may need to reconsider their priorities and look for alternatives that enable their behaviors to match their values.
Less often there are families that care and have the time but lack the knowledge necessary to guide their children's spiritual growth. I like to call these "Sponge Families" because they will participate in whatever is offered, ready to soak up whatever they can from the congregation.
Spiritual safety for children in our families is no stroll in the park, not in Luther's day and not in our own. The design for the ultimate spiritual stroller requires reliance on the Holy Spirit working through the Word, to be sure. But the design must also account for the places that Word will be used. Family ministries need to be flexible enough to respond to the needs of multiple family types. And families need to care.
—
Did You Know? According to the u.s. census Bureau (2002), "7 of 10 children in the u.s. live in two-parent homes, though the 'parents' are not necessarily married."
Ideas on understanding today's family, see Family Ministry Basics, available at www.cph.org.
For more resources, go to www.familyshieldministries.com.
About the Author: Rev. Dr. John W. Oberdeck is assistant director for lay ministry at Concordia University Wisconsin.
---
FAMILY RESOURCES FROM CONCORDIA PUBLISHING HOUSE
Here are some resources for every age—from toddlers to adults—that will help your family grow together in God's Word!
The Lutheran Study Bible. Delve into god's word with your family, and learn from notes and commentary that are uniquely lutheran.
The Lutheran Service Book. Joining scriptural truths with song, the hymnal is an excellent tool for teaching the faith to all members of the family.
Luther's Small Catechism with Explanation (esv). The catechism is simple enough that small children can understand it but complex enough to challenge adults, joining entire families together around god's word.
Happy Times. Each monthly issue is filled with christian stories, poems, colorful activity pages, and special projects for active 3-to 5-year-olds and their parents.
My Devotions. This wonderful magazine for school-aged children helps youth interpret the contemporary world from a lutheran viewpoint.
Portals of Prayer. Whether you read it online or in print, this daily devotional offers scripture, meditation and a brief prayer.
Family Faith Walks. Parents and children learn together from a book filled with devotions and activities in which they are encouraged to meditate on god's word, talk to each other and pray for god's guidance as their family grows in faith.
Icky Sticky, Hairy Scary Bible Stories: 60 Poems for Kids. Written for the little ones, this collection of silly poems based on Bible stories is sure to give families plenty to discuss!
Find these and more at www.cph.org.
January 2011