Lutheran Malaria Initiative: Learn. Pray. Connect. Protect.
by Nikki Massie
A health worker from Nigeria, amateur bowlers from Maryland, and a pastor from Tanzania may seem worlds apart, but they are all connected in the global fight against malaria, a preventable and treatable disease that takes nearly a million lives a year.
Just as the Good Samaritan could not leave the man wounded by the side of the road (Luke 10:25–37), Christians are moved to help stop malaria from claiming lives and stealing futures.
"Malaria is the number one killer of children globally, claiming one child every 45 seconds," says Rev. John Nunes, LCMS pastor and president of Lutheran World Relief (LWR). "We have to work to stamp out malaria so that children might learn, grow and thrive with the dignity God gives all people."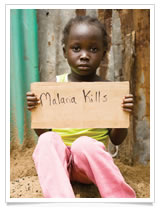 In response to the global malaria epidemic, LWR and The Lutheran Church—Missouri Synod have teamed up to form the Lutheran Malaria Initiative (LMI), an unprecedented nationwide effort to mobilize millions of Lutherans in the United States to raise funds and awareness to help end malaria deaths in Africa by 2015.
At the 2010 Synod convention, LCMS delegates voted nearly unanimously to encourage the church through its agencies, congregations, schools, universities, and seminaries to support LMI. The LCMS will work in partnership with Baltimore-based LWR, a pan-Lutheran relief and development ministry, to accomplish the goals of LMI, including raising $45 million for education, treatment and prevention. The Evangelical Lutheran Church of America (ELCA), while originally pro-posing a $30 million contribution and partnership with the LCMS and LWR in this initiative, withdrew from the project in September. Lutherans in both the United States and Africa are responding to the call by finding ways to fight malaria and protect lives.
"LMI gives Lutherans an opportunity to work with international partners to end malaria deaths. Specifically, we'll work with our partners in Africa to help promote awareness of malaria symptoms and encourage people to seek timely treatment," says Rev. John Fale, interim executive director of LCMS World Relief and Human Care. "We do this in response to the Gospel call to action, showing the mercy of Jesus Christ and responding to His call to relieve suffering."
'Wii' fight malaria
When St. Paul Lutheran Church in Annapolis, Md., was invited to be an LMI pilot congregation, the members decided there was really only one thing they could do: Have a Wii bowling tournament!
"It seemed like a great idea and a good way to have fun and get everyone involved," said Rev. Josh Hatcher, St. Paul's pastor.
The tournament brought together church members of all ages and gaming abilities to raise money and awareness for malaria work.
Putting together the tournament was easy, Hatcher said. Church members brought in three Wii gaming systems to accommodate the 70 people who participated in the tournament. "It was very casual. People came, ate pizza, bowled and learned about malaria."
Each tournament player paid $10 a game to play. "We told people, 'Buy a net. Bowl a round,'" Hatcher explained. Adult members sponsored younger members to play and joined in the fun themselves.
A few years ago, when Hatcher and his wife, Melissa, a high school English teacher, went to Tanzania, they saw first-hand the impact of malaria. Because of that experience, Hatcher is excited that his congregation is involved in LMI.
The tournament was a successful first step, raising $1,500 for malaria work. But the church isn't finished. St. Paul plans to make March "malaria month" for its Sunday School students, using LMI materials and other resources to engage the children further.
Lutherans are encouraged to get involved in malaria work, Hatcher says, "because we can. God promised to Abraham that his people would be a blessing to the world. We can do that. Fighting malaria is faith through grace in action."
Preaching the Gospel and spreading the Word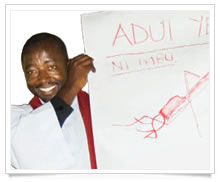 "Wherever I go, I am talking about malaria," says Rev. David Ngogo. "Many people have lost their lives because of ignorance about malaria. Through education, we could save a lot of people."
Ngogo is pastor of a rural parish in the Evangelical Lutheran Church of Tanzania (ELCT). With support from the United States Agency for International Development (USAID), LWR partnered with the ELCT to educate church members about malaria prevention, how to recognize symptoms and what to do if they or their children became ill.
Ngogo is one of more than 1,600 ELCT leadership and staff trained to deliver malaria messages in their congregations and parishes. Now Ngogo teaches simple malaria messages to all three of his congregations: Malaria kills, it is spread by mosquitoes, sleep under a bed net to protect yourselves and go to the hospital right away if you get sick.
Ngogo also encourages church members to practice caring for their neighbors by asking each other if they have malaria signs and symptoms. "God has empowered us to know how to avoid diseases like malaria," he says. "Because of this empowerment we can defeat bad things like malaria."
His work is paying off. The messages that started in God's house have spread through the community. Now more people seek treatment when they first become ill.
"Since we started, more than one person [in my parish] has gotten sick and recognized the symptoms early enough to seek treatment," Ngogo says.
Crucial connections
Philip Kajang Adeh is not a man of great means. But as a member of the Lutheran Church of Nigeria, he is a man of great faith and through that faith he works tirelessly to help the people of his community.
As a health worker, Philip knows the signs of malaria well and that seeking timely treatment is essential to survival. But in his community, many people don't seek out treatment for illness until symptoms are critical. To help, he runs a small village clinic that provides basic medical services and dispenses medications.
"Many of the people who come to the clinic are infected with malaria," says Kama Bernabo, director for international mission planning and operations for LCMS World Mission, who had the opportunity to visit Philip's clinic. "But some also have typhoid fever. The two have similar symptoms and giving the wrong treatment can weaken the body's ability to fight either disease."
With few resources, Philip does his best to help. But without proper diagnostic equipment and training, his options are limited. When a person's symptoms become critical, he must refer them to the government clinic or nearest hospital. Government clinics run on limited, and often restricted, resources. The nearest hospital is not in walking distance and transportation can be a challenge.
Still, Philip vows to keep providing essential health services and effective medications. Using his faith as his guide, he's become a tireless soldier in the global fight against malaria. "Philip stands as an outstanding symbol of God's love," says Bernabo. "He serves the Lord by serving others in his community."
—
Did You Know? Malaria is the second leading cause of death from infectious diseases in africa after HIV/AIDS. It is preventable and curable.
Visit www.lutheranmalaria.org for more information.
The Lutheran Malaria Initiative is a partnership of Lutheran World Relief and The Lutheran Church—Missouri Synod to mobilize U.S. Lutherans in the global effort to eliminate malaria deaths in Africa by 2015. LMI is made possible through support from the United Nations Foundation.
---
RESOURCES FOR FIGHTING MALARIA
Get connected!
Visit www.lutheranmalaria.org to download worship resources, fundraising ideas and much more to start educating your congregation and community about malaria.
Team up!
Through LMI's partnership with the Nothing But Nets™ campaign, $10 buys a net for a family in africa and trains them on its use. Imagine how many families you could reach by teaming up with your friends and family through Lutheran Nothing But Nets. visit www.lutheranmalaria.org/nets to get started.
Remember that children make a big difference too!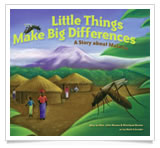 Little Things Make Big Differences: A Story about Malaria. It's a great way to begin talking to children about malaria and how they, too, can help. Order online from Concordia Publishing House at www.cph.org or call 800-325-3040. Be sure your children attend Vacation Bible School this summer. LMI will be the mission focus for CPH's 2011 VBS curriculum.
About the Author: Nikki Massie is a staff writer at Lutheran World Relief.
January 2011