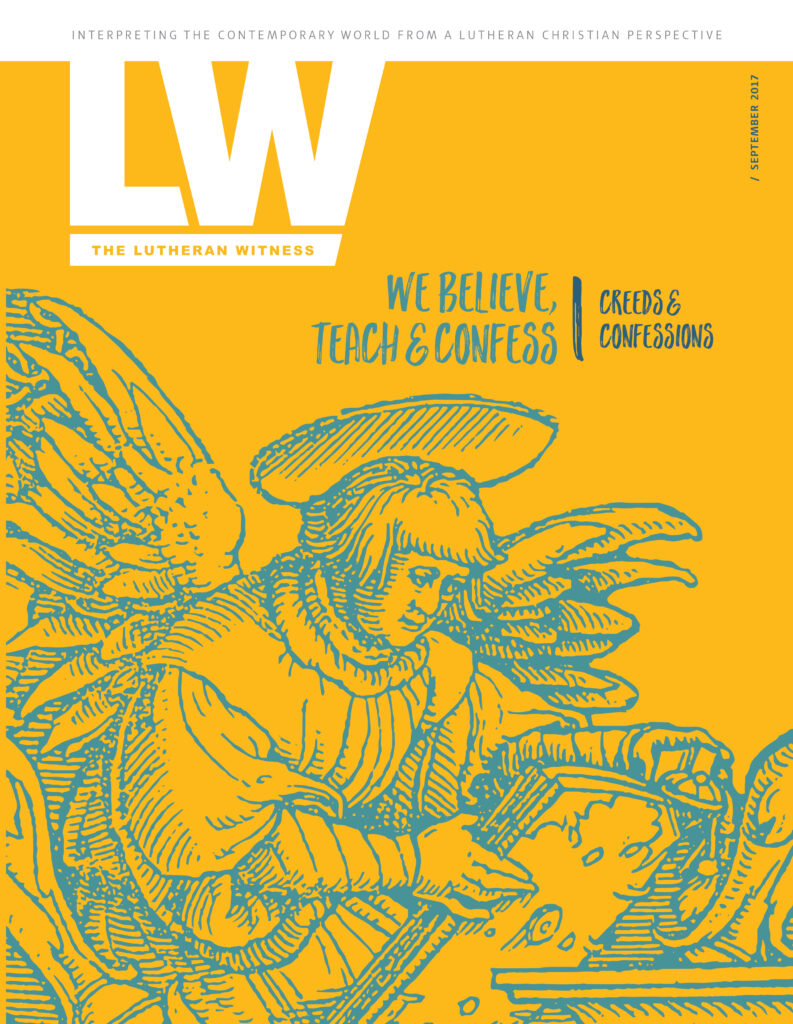 Learn more about our shared creeds and confessions — what we believe, what we say about what we believe, and why and how exactly we say it — in this month's issue of The Lutheran Witness.
Contents
Features:
Rehearsing the narrative of salvation — Joel Elowsky
Learning the faith by heart — Geoff Boyle
Five good reasons to read the Book of Concord — Kurt Onken
The Creeds: A brief history — William Weinrich
We're Lutherans. We sing! — Leigh Ann Whitson
God, not me — Christopher Neuendorf
Timeline: Creeds and confessions — Robert Smith
Departments:
this we believe: Creedal misconceptions — Jonathan Huehn
family matters: ABCs and "I believe" — Christopher I. Thoma
vdma: What does the name "Lutheran" mean? — Christopher Maronde
searching scripture: Confessing before men — Joshua Conradt
From the editor
Greetings in the Lord!
The peculiar way in which this month's issue of The Lutheran Witness has been put together brings to my mind 1 Corinthians 3:6: "I planted, Apollos watered, but God gave the growth." In this case, outgoing editor Adriane Heins laid the groundwork for the pages that follow, our capable colleague Kevin Armbrust kept the project moving forward after she left, and I arrived on the scene as the new managing editor just in time to finalize and send the files off to the printer. May God give the growth.
While careful readers may notice one or two minor irregularities that are sure to result from this odd relay race of a publication process, they shouldn't notice anything amiss where it counts: in the substance of the content. Why is this? Because Adriane, Kevin, I — and all those whose words you will read herein — share a common set of creeds and subscribe to a common set of confessions.
Our Christian creeds and Lutheran confessions unite us. They ground us. They color how we see the world. And they are what this issue — and, in a larger sense, every issue — of The Lutheran Witness is all about.
Rachel Bomberger, Managing Editor
The Lutheran Witness